A spot of Bubble Tea
Fun in a cup. / he company imports only the best quality ingredients from Taiwan for a truly authentic experience.
From the far East to Eastern Europe – Bubble tea is here to stay.
Bubble tea is the latest phenomenon to sweep Europe. Originating from Taiwan in the 1980's, this bubbly beverage concept is crazy popular in South Asia – where the average person drinks about four cups of bubble tea every month. Bubble tea has also fruitfully made its way across to North America and Australia thanks to their large Asian populations. Now, due to its popularity on social media, the alternative drink concept is now fashioning queues across the European continent and in the UK.
As the name suggests, Bubble tea is a tea-based drink which is mixed together with milk style products or juices, creating a unique blend of exciting flavours. A range of bubble toppings are then famously added to the drink; including, chewy tapioca pears and flavoured jellies. When assembled, the drink is shaken, sealed and served with a big (eco-friendly) straw.
Crazy Bubble was born in Poland in 2012, after witnessing first-hand just how popular the concept was in Asia. Crazy Bubble is the only brand in Poland serving the unique style of Taiwanese drinks. The company imports only the best quality ingredients from Taiwan for a truly authentic experience.
Jakub Woźniczka, Franchise Manager of Crazy Bubble, says while the youth is their main target market, due to the wide range of flavours and products there really is something for everyone to enjoy. With a recent rise in popularity the franchise has exploded to keep up with demand. The company now has 103 stores across Poland, Lithuania and Romania. The bubble tea market has been predicted to grow by up to $1 billion over the next few years. Now, that's a lot of bubbles!
Mr Woźniczka, told Franchsing.eu that Crazy Bubble are currently looking for franchisees all over Europe. "We are strongly focused on expansion into foreign markets," he said. Remarking for example, they're actively exploring business options for Spain.
"Anyone can be a franchisee with us," says Jakub. "As long as they have a willingness to work, a positive attitude and some free cash to invest. The bubble tea industry is very profitable these days, so I believe it's a great place to invest your capital," he said.
The company's stores are best suited for places such as shopping centres and malls, amusement parks, large university campuses, parks and swimming pools, etc. Crazy Bubble also caters for special events throughout Poland, which could be incorporated all over. Going into business with Crazy Bubble you will receive the company's full proven support -from finding a location, operations, marketing and training. But the real question is, "What flavours are you going to choose?"
FRANCHISE UNITS
Crazy Bubble has 103 stores in operation:
Poland currently has 88 stores
Lithuania currently has 8 stores
Romania currently has 7 stores
SUPPORT FOR THE FRANCHISE
Proven business model
Individual approach and dedicated support
Know-how of the brand's operation and running your own point
Free training for the franchisee and employees
Marketing activities (network and individual)
Highest quality goods imported directly from Taiwan
BASIC NETWORK REQUIREMENTS
The site must have water inflow and outflow, plus three-phase power.
KEY FIGURES
Crazy Bubble has two options for cooperation:

1. Partner option - addressed to people who already run some gastronomic activity (For example: ice cream parlour, confectionery) and would like to extend this activity with the product we offer - Bubble Tea.

The cost of the investment is from PLN 5,000 net (Approx. EUR 1,000), with no monthly fees.

2. Franchise option - addressed to people who would like to open a fully proven and operating business.

The cost of the investment is approximately PLN 65,000 net (Approx. EUR 14,000). In this case, there is a franchise fee of PLN 700 net per month (Approx. EUR 150).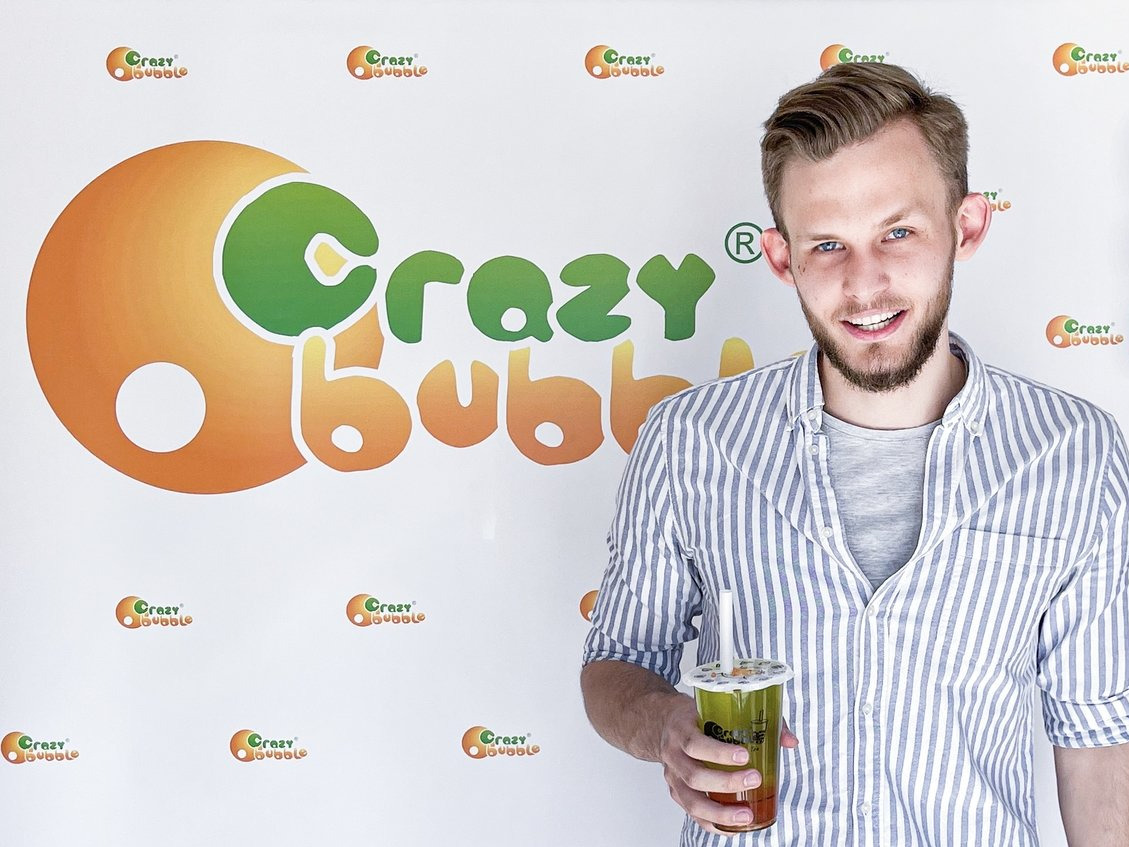 Jakub Woźniczka, Franchise Manager of Crazy Bubble /
"The bubble tea industry is very profitable these days, so I believe it's a great place to invest your capital."