Fornetti baked goods
From little things, big things grow / The Franchise Fornetti system means that with a small financial contribution and without unnecessary risk, everyone can expand the assortment in their own store or start a new, profitable commercial activity.
The Fornetti Group is working to become a leader in the franchise market of frozen bakery products not only in Hungary but also in Europe.
Since 1997, the Fornetti Group has been writing a new chapter in the history of bakeries in Central and Eastern Europe. This iconic brand was born in a small Kechkemet
bakery, where the founders produced items with a unique vision; by selling their products not simply by the number, but by the kilo. The success of the concept quickly took off with Hungarian customers and within three years the company had expanded to 1,200 franchise points across six European countries.
Every day, about one million people consume Fornetti products. This growing bakery chain is driven to be bigger than McDonalds. They currently produce more than two hundred types of frozen or half-baked products, some of which are patented, delivering them to their almost 6,500 stores. Fornetti pastries meet EU standards and are kept at the temperature of -18 degrees. The life of this frozen goods are between 90 and 120 days from the day of production. They are delivered twice a week in refrigerator trucks so franchisees don't have to hold and maintain massive on-site storage units.
Each shop front has the option to have their own "spot oven," which are easy to install. This means pastries are baked on the spot - with no previous baking experience needed. The main reasons behind the "spot oven" is cost-efficiency, mobility, easy handling, and simple maintenance. As pastries are delivered frozen in trucks, "spot ovens" are basically mini bakeries within store.
Even during the Covid pandemic, the company won national Marketing Awards with the Hungarian Franchise Association. The company also did their best to innovate under the strict government restrictions and pushed forward with a new, "Bake at home!" campaign - which saw the distribution of easily home-baked products across their various markets across Europe. The company even got around to making a vegan hotdog!
For more than 20 years Fornetti has shown a commitment to expansion and innovation. Their growing number of partnerships plays testament to their business model. Robert Irge, Franchise Development Manager at Forneti Mini Peciva Ltd, says that you don't have to be a baker to run a Fornetti. "Each franchisee receives maximum support from the company Fornetti so that the partner only needs to bake frozen goods and, of course, keep the books." In terms of expansion, Mr Irge was encouraged that Fornetti has also entered rural areas. "These pastries can now be found in places with 7,000 or 8,000 inhabitants as well," he said.
The Fornetti Group's products, currently operating under the auspices of the Swiss-Irish Aryzta AG, are available in seventeen European countries. Furthermore, through their unique franchise network model, Fornetti products can be found in non-branded retail chains across Europe as well. Their business team can help investors with their optimisation of sales with anything from existing bakeries, to a turnkey style franchise business. According to the group's website, their current expansion policy looks to involve new countries such as the Netherlands and Moldova.
SUPPORT FOR THE FRANCHISE
Fornetti is committed to helping franchisees with:
Supply with the production of quality food
State-of-the-art branding
Training programs
Total management systems
Providing planning and construction assistance
Management and marketing support
Negotiation assistance with attractive real estate locations
FRANCHISEE REQUIREMENTS
The Fornetti franchise system allows you to expand your existing business or start a new, profitable business with little investment.
The basic condition for business is a premise located in the busy area such as a city centre, school, bus stop, health care institution, etc.
Shop area of 15-30sqm
An ambition for long-term commitment
UNITS
Fornetti products can be found in England, Ireland, Sweden, Germany, Switzerland, Poland, Czech Republic, Slovakia, Austria, Italy, Hungary, Romania, Russia, Ukraine, Cyprus, Kuwait, Bosnia and Herzegovina, Macedonia, Croatia, Serbia, etc.
KEY FIGURES
No license fee for the network
Franchisees pay a marketing fee of 5% on the monthly purchase amount of the products
Start-up costs for a Fornetti franchise start from EUR 7,500, depending on the size and location of the shop
Deposit for the "Spot Oven"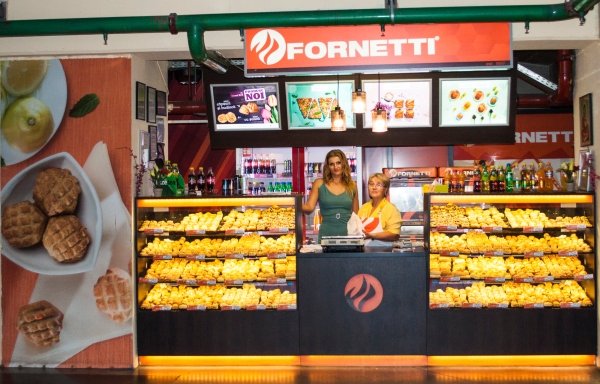 Socially active /
In 2004, Fornetti founded the Heart Sick Children Foundation, which as a non-profit organization supports the treatment of young patients in many areas.