Leonidas is chocolate royalty
Chocolatier producing Leonidas gems / Leonidas is a prestigious product with a long history.
Confiserie Leonidas is a family owned company of 110 years standing which has now morphed into a major Belgian chocolate franchise right across the globe.
Belgian chocolate is the royalty among chocolates. Since 1913 it has developed a reputation for excellence that helps all its brands. But Leonidas was distributing Belgian chocolate long before it became a fashionable product. It's a long established brand which is well entrenched in the market offering a mark of quality to all potential franchisees. It is perfectly positioned to take advantage of the growth in the luxury chocolates market in which Belgian chocolate remains dominant.
The company
The company's mission has remained unchanged since its foundation. Since 1913, Leonidas has been producing high quality pralines and chocolate products. Leonidas is a family-own company for 110 years, developing the concept of a soft-franchise store network, with no entry fees, no royalties and no advertising fees
The company has 41 stores of its own in Belgium, France, the Netherlands, United Kingdom and Germany. It now also has around 1150 franchised stores in 35 countries (Belgium, France, Netherlands, United Kingdom, Germany, Ireland, Portugal, Spain, Romania, Czechia, Greece, Turkey, Morocco, Tunisia, Senegal, Israel, UAE, KSA, Canada, USA, Chile, South Korea, Malaysia, Japan.)
It has registered rapid expansion in Romania and Portugal. Now the company is keen to expand faster in other parts of Central and Eastern Europe such as Poland, Czechia and Slovakia.
The franchise offer
There are one or several master franchisees per market, with no geographic exclusivity. For master franchisees, the Business Plan must be approved by CEO of Leonidas and the family shareholders. Once appointed as a client reseller, the franchisee becomes a part of the Leonidas family as a contractual partner and local importer. Franchisees receive deliveries and commercial support from the appointed master franchisee, along with the Leonidas central sales team.
The market
The global chocolate market size reached a value of around USD 127.7 billion in 2022. The market is further expected to grow 4.4% in the forecast period of 2023-2028 to attain a value of USD 165.35 billion by 2028.
A growing segment of health-conscious and informed consumers have started purchasing organic chocolates as a result of rising awareness of the harmful effects of synthetic products on human health and the environment. This is increasing the global chocolate market share. Furthermore, the sales of premium chocolates are significantly influenced by seasonal demand, which is contributing to the chocolate market value. Over the course of holidays like Christmas and Easter, numerous businesses release a broad variety of chocolate variations, thereby increasing the chocolate market share worldwide.
The chocolate industry's value is being supported by research into the health benefits of chocolate consumption, particularly dark chocolate. Chocolate has been known to lower the release of stress hormones such as cortisol and regularly incorporating chocolate foods into a diet can help reduce health problems. Due to its capacity to make people happy and calm them, chocolate sales are anticipated to rise in the coming years, thus increasing the global chocolate market size.
The global chocolate market is being driven by new product launches by the manufacturers Rising disposable incomes and improved living standards of consumers are also anticipated to increase the chocolate industry's market share. Moreover, the use of innovative packaging solutions is also projected to attract more consumers, which is predicted to positively impact on market growth in the coming years.
Units
41 own stores in 5 countries (Belgium, France, Netherlands, United Kingdom, Germany and cc1150 franchised stores
Support for Franchisees
2-4 days of free training (theory & practice)

Financial and commercial support .

National promotions and sampling

Appointed mentor and central sales team assistance
Network requirements
40-50k € own capital per store + bank loan according to Capex & cash-flow requirements

Experience of or aptitude for entrepreneurship

Master franchisees must have their business plans approved by CEO and shareholders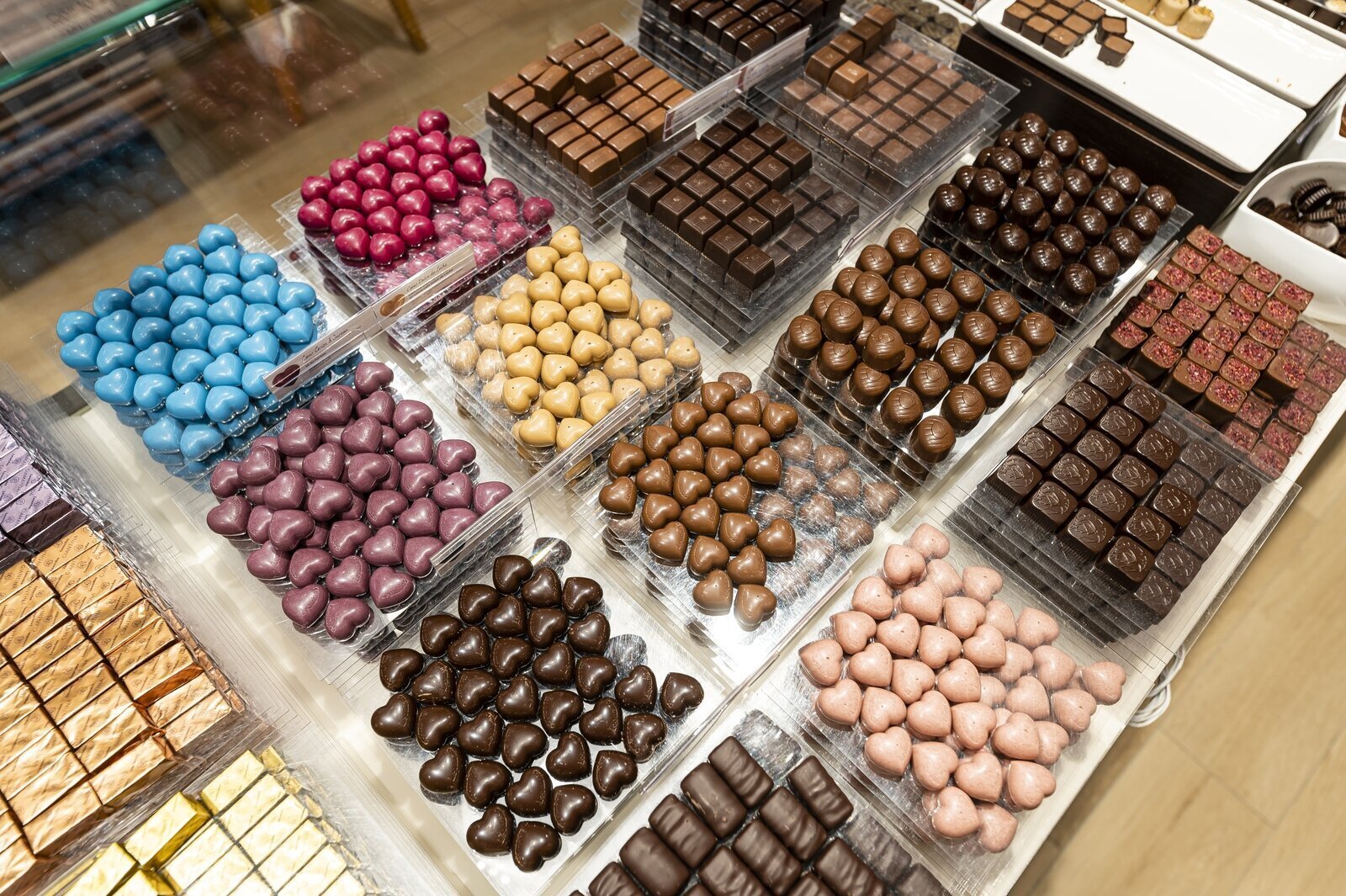 Leonidas assortment /
Leonidas is an eye-catching franchise with a long track record of success.