Under control with Orkin
Setting you up for success / Orkin delivers franchisees over 160 hours of award winning training.
Did you know that there are more than twenty-eight species of small animals that regularly threaten homes?
Constant cleaning and tidying up won't actually deter them at all. In fact, it's completely wrong in thinking that only dirty and shabby houses and apartments are threatened by pests. It can happen to anyone, making the potential market for Orkin Pest Control huge.
Orkin is a US-based pest control company which was founded in 1901 by a 14-year-old Latvian immigrant Otto "The Rat Man" Orkin. His legacy company, Orkin, is a true industry leader with 120 years of experience in pest control services. The company specialises in the protection against common pests, including termites, rodents, and insects. In addition to pest control, the company also offers integrated plans to help protect the whole home, including insulation and moisture control services.
Orkin conducts franchise activities on all continents in the world. They deal with pest control both in private apartments and in companies. Orkin has over 2.1 million customers worldwide. Services provided are essential to the food industry, healthcare, food services, pharmaceutical manufacturing, supermarkets and many more.
This pest control business is now represented in over 76 countries worldwide. Orkin is owned by parent company Rollins, Inc. (NYSE:ROL) which is the largest pest management company in the world, who posted their annual revenue at USD $2.16 billion in 2020.
Orkin is committed to the future of the industry by studying pest biology and applying scientifically proven methods. The company collaborates with the Centre for Disease Control and Prevention (CDC) and eight major universities to conduct research and help educate consumers and businesses on pest-related health threats.
Marcello Romeiro, director of Orkin franchise development, says the pest control giants are ready to cooperate with existing pest control companies in Europe. "We are looking for entrepreneurs, investors or companies currently operating in the service industry that want to increase their range of offerings on the market by adding pest control services," said Mr Romerio. "We offer a very affordable price for branding, training, and access to marketing and sales tools. The price depends on the area covered by the license," he said.

"As a part of the package," Marcello added, "We offer various tools and manuals so that the franchisee can run his business professionally. The training program is divided into two parts: the technical part, which includes pest control methods, and the part devoted to appropriate regulations and sanitary requirements. The franchisee, however, must have premises for an office and a car to travel to customers."
Orkin are famous for their award-winning industry training program. So much so, that Orkin have been recognised consistently on Training magazine's prestigious, Top 125 list and has been featured among the magazine's Editor's Choice honourees. The international brand are currently looking for franchisees to train in but not limited to, Poland, Bulgaria, Macedonia, Slovakia, the Czech Republic, Ukraine, Belarus, Lithuania and Austria.
FRANCHISE UNITS
Orkin has more than 600 company owned units and 200+ franchises in the United States, Canada, Mexico, Europe, Central America, South America, the Middle East, the Caribbean, Asia, the Mediterranean, Africa, and Australia.
SUPPORT FOR THE FRANCHISEE
A detailed, initial training program prior to the launch of your new business.
Training programs and manuals.
Ongoing training facilities for your employees.
Professional administrative, marketing, and sales materials.
A high-quality call centre service.
Excellent technical support services.
Access to our database of existing and potential customer.
The purchasing power of our group.
BASIC NETWORK REQUIREMENTS
What they are looking for:
Orkin Pest Control will consider potential franchisees with a minimum of three years of previous experiences in pest control and business management, and the desire to start and run their own pest control business under our established brand name.
KEY FIGURES
Initial franchise fee of approximately £36,000.
Set-up costs estimated between £60,000 to £200,000.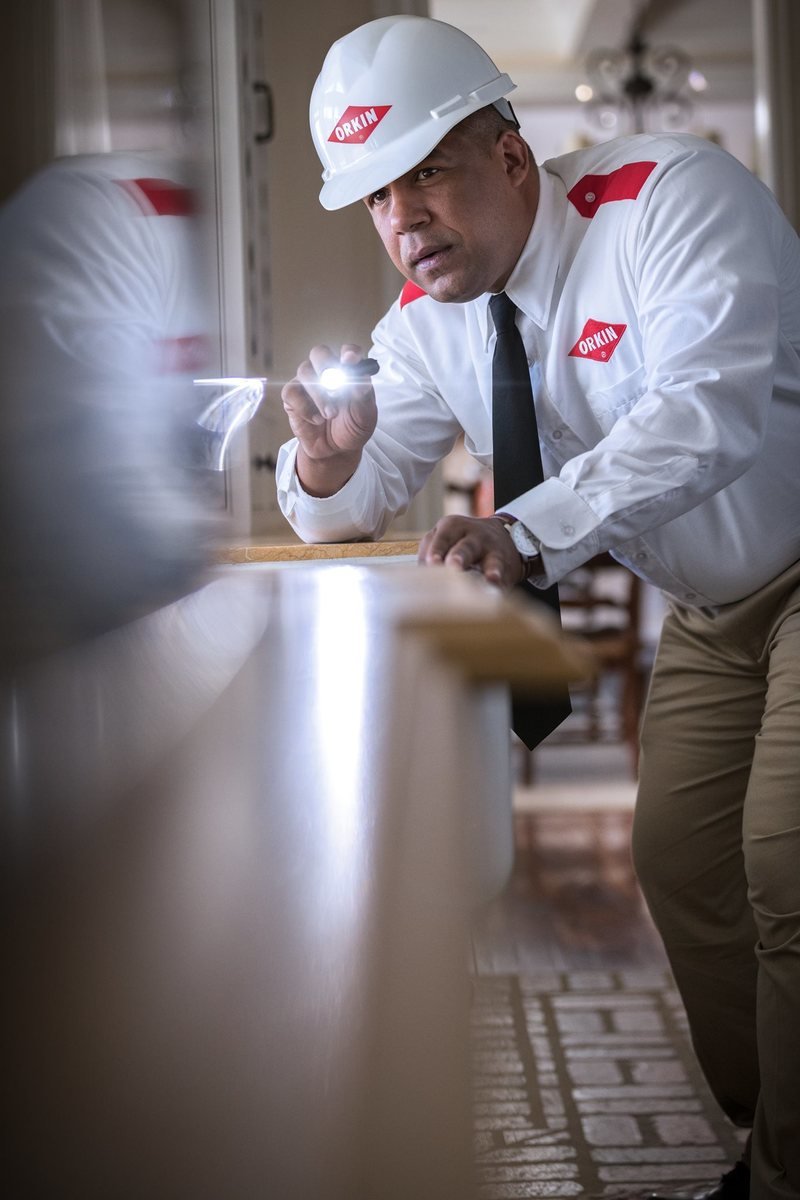 Prevention is key business /
Orkin don't just terminate bugs and rodents, they offer integrated plans to help protect the whole home.