Friendly Fire: The Generation Z Game
David Cosir, founder of Friendly Fire / "We are looking to expand through master franchises for individual countries or regions. But we are also ready for single units managed by enthusiasts of the brand".
Founder of "Friendly Fire" David Cosir says that his franchise is for both investors and enthusiasts, even though it services mainly the young
Where did the idea for the name come from?
Originally we had a more generic name but decided to go with "Friendly Fire" because it resonates with gamers as the term "friendly fire" is much used in many of the games. I realize it also has real battlefield connotations and might not be the best name in the Middle East of the USA, but so its a global gaming term and works well in Europe and beyond.
What is your strategy for the roll-out of the franchise brand?
We are looking to expand through master franchises for individual countries or regions. But we are also ready for single units managed by enthusiasts of the brand. However, obviously master franchises can help us grow quicker and we are engaging with franchise brokers in some countries to achieve that. We are already in four countries: Austria, Bosnia, Croatia and Mexico…
Was Mexico planned or has it happened by accident?
One of our team has links with the country. It could grow very fast there, it's a big market.
What is unique about you offer for the potential franchisee?
The key ingredient of our offer is the software which is actually a whole suite of programmes and devices managed by algorithms that can do the work for the business and supply it with the data it needs.It allows "Friendly Fire" to match similar customers, create customized push notifications, to automatically adjust dynamic prices , personalized offers and make predictions. The software is made from over 20 different modules integrated to work together in order to create an experience that is smooth and easy to manage. Another vital ingredient building the brand and the business is the app which has been positioned in such a way that it is required for clients to be able to take full advantage of the whole games offer that we have. In this way the app helps to market the service, promote it and gather data which enables us to improve experience for the client and to communicate with them at programmed times. The franchise has a fully dynamic pricing model which combines demand and customer loyalty through the Coin. It is the company's own virtual currency replacing time and money and giving customers an incentive to collect the coins. Instead of a traditional loyalty program as a way of getting customers to spend more money, this franchises whole system is based on automatically rewarding loyalty via the algorithms used.
What about training of the staff?
Everyone says they have good training with lots of training tools. But we find people don't read things like operational manuals and don't learn from them. We have developed a series of training videos that we believe do the job faster. This is an industry and business in which staff turnover is relatively quick as the staff are often students doing part-time work.
Internet cafes were once all the rage and they have been displaced by developments within the industry. What makes you think that esports bars can survive for long?
Actually gaming has been around for a long time and the esports arenas are not about gaming as such just as cafes are not about coffee. You can play games at home. But many young people want to play the games while socializing in a bar style atmosphere. It is the interaction that gives them a buzz of doing something they like doing and doing it in a setting in which they can bond with others. An esports arena is a place for socializing that is fun with a competitive element attached. It's an active place for hanging out with friends for a generation that perceives gaming to be an integral part of its identity and even personality.
You mentioned a relatively high staff turnover, but what about the prospects for profitability?
The franchise generates revenue from both services and products at a high margin. It has relatively low operating costs and is low on staffing needs making it resistant to crises and recessions. The sophisticated and integrated software makes managing the hardware, computers and consoles a smooth experience. The average franchise generates more than 100 daily visits.
What kind of people are you looking for as your franchisees? Do they have to be gaming enthusiasts and young?
We're flexible. We have people who are investors looking to diversify their business portfolio and who will not get involved on a day to day basis. Our biggest investor is actually someone who is well over seventy years old. But we do have single unit franchisees who are indeed young gaming enthusiasts and prepared to put in a lot of work into their units. There's room for both approaches with us.
Do you need a prime location to make the business a success?
An ideal location for a Friendly Fire franchise outlet is in a populated area with a high proportion of young people. An ideal space size for a gaming arena is from 100 to 300 m2. But it does not need to be a prime location as long as you have good access to parking and public transportation.
Finally, how dynamic is the esports market?
The gaming and esports industry is growing rapidly by 20% each year. According to market research it is estimated that 8 in 10 in Generation Z are gamers. This means that gaming is no longer a niche, it's a mass market. The annual global revenue for esports has now exceeded 1 billion USD and the audience for global esports is now 474 million and growing at a rate of 8.7% per annum. Now that the pandemic is over the prospects are good.
Key information about the franchise
Units
12 locations in 4 different countries
Support for Franchise
Management and staff training including training videos

IT (hardware and software)

Marketing including ads, instagram use, flyers and tournaments

Prepared plan for construction, media, ventilation+air con, furniture, IT

Equipment such as computers, consoles and furniture can be rented
Key requirements
Initial investment from €70,000 to €250,000

Initial franchise fee: €15,000

Densely populated area with minimum of 20,000 inhabitants and high proportion of youth

100 to 300 m2 of space for the arena with parking and public transport close-by

Royalties:

10% of the net value of the services sold

3% of the net value of the products sold

Marketing:

Global - 3% of the net value of services sold

Regional - 1% of the net value of the services sold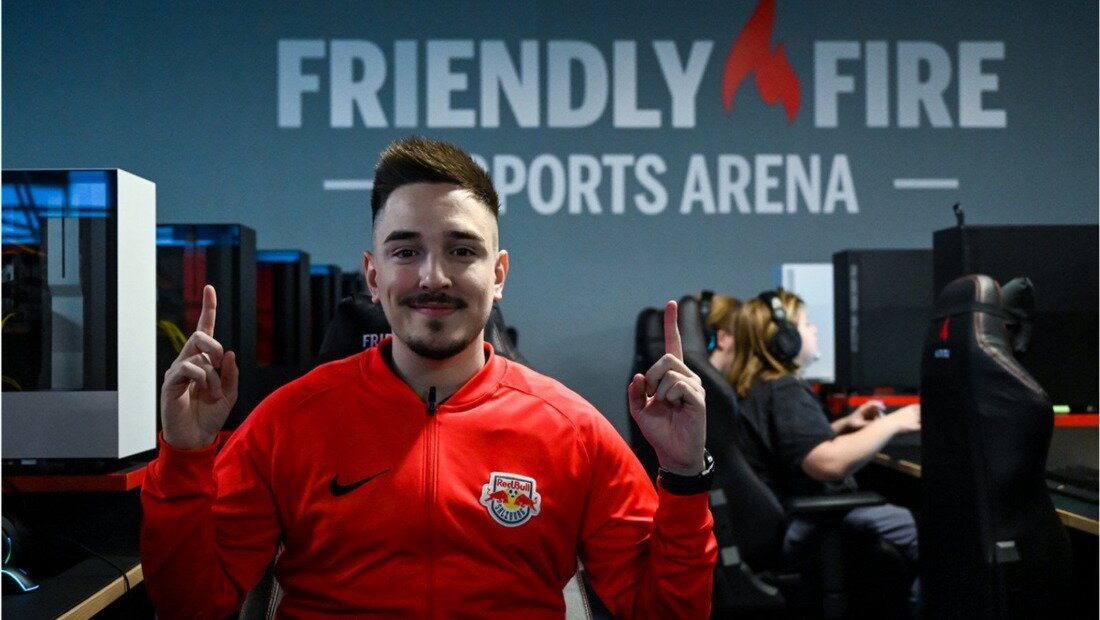 Game lovers /
"Friendly Fire" is an Esports arena franchise servicing a generation for whom gaming is their second nature.