Stava - Efficient and reliable delivery
Achieve profits from a small scale / The branches can be profitable from as little as 30 deliveries a day.
We live in a world more reliant on home deliveries than ever before.
Every bar, restaurant, café and store in your city is a potential client which can bring you a piece of the global delivery pie. Stava is the first gastro-courier in Europe and the largest gastro-courier franchise network in Poland. Stava offers restaurants and shops a delivery service for both meals and shopping to customers in their operating areas. Since 2014, they have been developing and adapting to industry know-how and can be found in dozens of cities of various sizes and populations in Poland and are currently expanding into Europe.

Over the last 8 years Stava has industrialised a unique set of IT tools to optimise and automate the distribution of orders to drivers as well as the sales and department management system. Thanks to these developments, franchise operations are able to profit from the very beginning. Franchisees have an advantage over potential competition running with a much higher operational efficiency, which translates into up to 50% lower costs.

Stava is a publisher of annual industry reports on the food delivery market. The latest edition of Stava's food delivery market report states the food delivery industry grew by as much as 42% in 2020, compared to 2019. This is backed up by the latest European Online Food Delivery Market Analysis & Forecast by Research and Markets which predicts the European online food delivery market is set to be worth over €17 Billion by 2026.

Paweł Luty is Stava's PR and Marketing Manager. Mr Luty believes this growth is primarily a result of the restrictions placed on food service operations – where restaurants were only allowed to operate takeaway and delivery. He also suggested our patterns of ordering food have changed. "Analysing the whole of 2020, it can be noticed that the daily peak ordering time has become significantly longer. It started around noon and lasted until 8pm," said Paweł.

"These changes have happened because during the lockdowns we moved less frequently between the home and office, around the 4pm and 6pm mark. While at the same time we are ordering delivery meals more frequently than previous years," he said.

"We have also observed a different approach from restaurateurs about food delivery. Restaurateurs are more increasingly aware of how much their deliveries really cost, what challenges they face, and what optimal logistics in the delivery channel should look like. Before the pandemic, unfortunately a large number of restaurant owners didn't pay due attention to these issues. Now, the situation forces restaurateurs to carefully analyse their logistics solutions, as poorly planned deliveries can now impact the whole business."
Despite the writing on the wall, this type of gastro-courier service is still yet to be found in many cities - which is why Stava claims 'now' is the best time to join their community of franchisees. Stava are currently strengthening the Polish market while actively working on the German market. They are currently onboarding a manger to be responsible for franchise development in Germany, after setting up a legal entity in the EU state this year.
FRANCHISE UNITS
45 branches across 41 cities in Poland.
Several more to be opened this year, including branches in Germany.
SUPPORT FOR THE FRANCHISE
A specialised IT system exclusive to Stava. The system automatically manages couriers and supports tasks such as supervision over equipment, recruitment, arranging schedules or settlements - which translates into huge time and cost savings related to the management and administration of the branch.
Theoretical and practical training package in one of their branches. A total of one-month training, where you will learn all aspects related to running a branch.
Central customer service office thanks to which you do not have to answer calls on current matters related to individual deliveries.
Support in the field of sales and valuation of services.
Support in the field of optimal arrangement of courier schedules.
Support in the selection of equipment, special fleet offer for car rental.
Ongoing training to improve the qualifications of the franchisee and staff, exclusivity for a given city or district of a large city.
Access to central contracts with restaurant chains.
In selected cities, they will guarantee the service of top restaurants such as McDonald's.
BASIC NETWORK REQUIREMENTS
The owner's personal commitment to the development and running of the branch.
A city with over 40,000 residents.
KEY FIGURES
The initial amount of investment to start a business outside Poland is approx EUR 20,000 (includes, among others: 3 vehicles, courier and office equipment, initial payment).
As the development of the branch requires the purchase of more vehicles and equipment, the required capital is at least EUR 4,500.
The remaining part of the necessary funds may come from various types of subsidies, which they will help to obtain.
The ongoing fee depends on branches delivery volumes. There is a flat fee accounted for in every delivery.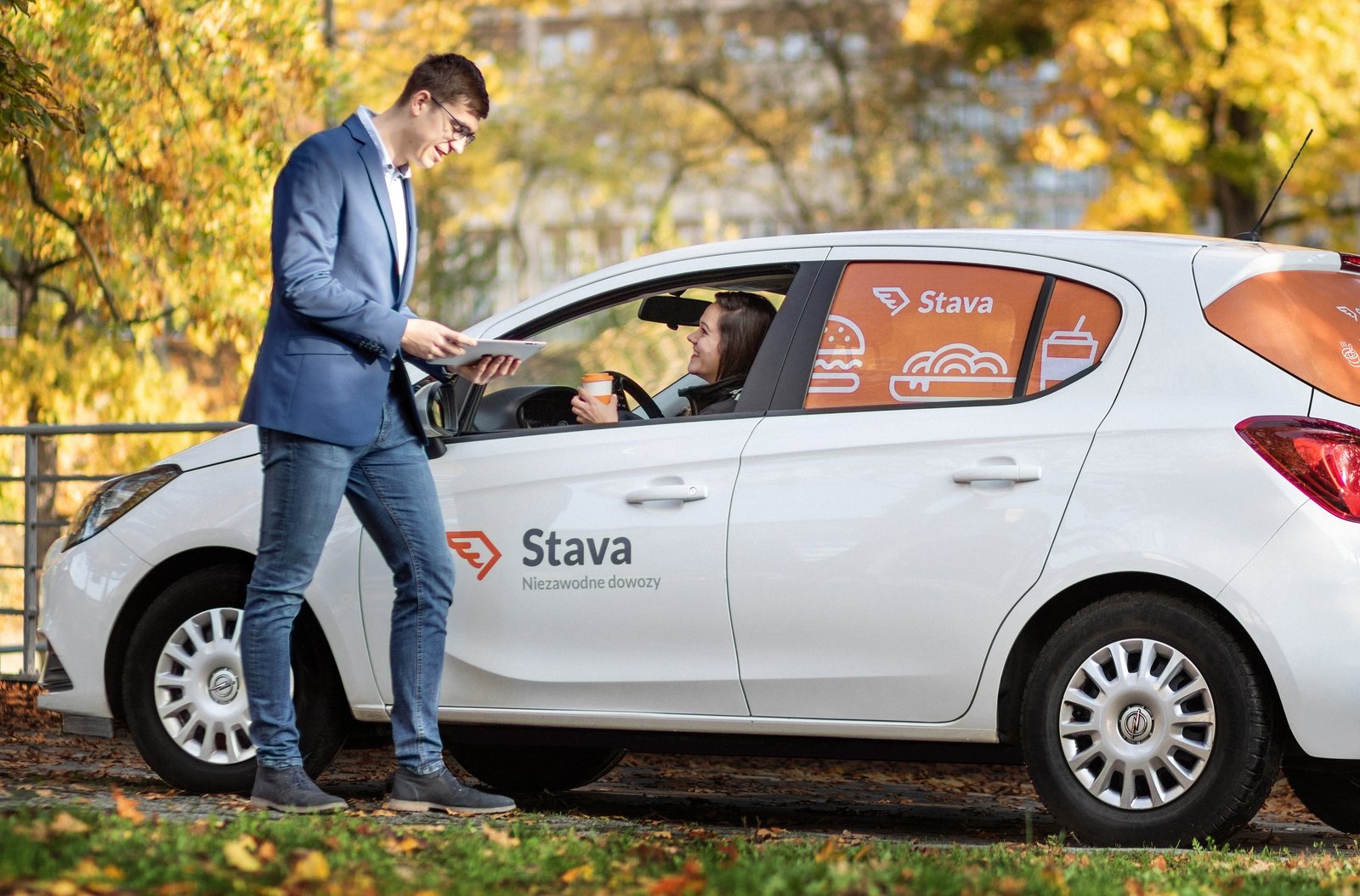 Reducing time and money /
Strava aims to provide franchisees 20-25% lower costs and significantly shorter delivery times.