New wave potato fries
Fun fries / The Croatian founded company have now served fries to over 1 million people worldwide.
Surf 'N' Fries reinvention of Belgian fries has people licking their fingers the world over.
Surf 'N' Fries is the innovative next-gen of fast-food franchisors. The concept started a little over 10 years ago in the beach town of Rijeka, Croatia and has quickly grown into an international franchise success story. Surf 'N' Fries sells gourmet style fries in an original designed cone shaped package, and offer a choice of 15 sauces. (They also offer chicken nuggets, mozzarella sticks, as well as various other Surf 'N' Fries specialty products).
Essentially, Surf 'N' Fries have reinvented the Belgian Fries concept with specially designed packaging and unique potato cut. Their colourfully designed fries cone also contains sauce and drink holders, meaning that you now have extra dipping sauce beyond what you normally get on the top layer of fries. You are also able to hold the user-friendly cone in one hand, making it easy-as-chips to takeaway and eat on the run.
The company's fries are cut in the shape of a surfboard – which makes them perfect for scooping up their different sauce flavours. Surf 'N' Fries are also unique in the sense that their fries are cooked with an air fryer (using hot air), rather than deep fried in saturated oil - making them a guilt-free pleasure.
Their "Walk & Eat. Repeat" philosophy has now transcended Europe with a growing customer base around the globe. To date, they have served over 1 million customers and can now be found in over 60 locations across 15 countries.
Founder of Surf 'N' Fries, Andrija Čolak, said his ever innovative team are also developing a machine that throws freshly cooked fries into the cardboard packaging – which is now being trialled in Croatia.
Furthermore, they are also working to transform their menu offering. "We are strengthening the chicken segment, which is increasingly popular in the fast-food business, with the stagnation of beef," says Čolak.
"In addition, we are expanding the menu from 'snack' to 'full menu', introducing breakfast, while our focus is still on quality ingredients and local suppliers," he said.
"We are also working on the introduction of retail products in the offer such as chips, which will be based on the already well-known brand of our fries."
Surf 'N' Fries is a flexible concept for the franchisee, offering several different trading formats; from fixed store, to mobile and trailer units, to "shop in shop" retail options. They are currently seeking energetic entrepreneurs who have experience within the food and beverage industry, that have the drive to bring a new concept to existing market and build a successful brand.
FRANCHISE UNITS
Over 60 locations in 15 countries
Croatia
Germany
Ireland
Romania
Russia
Slovenia
UK
Georgia
Jordan
Kuwait
Egypt
India
Vietnam
South Africa
Chile
SUPPORT FOR THE FRANCHISE
Surf 'N' Fries offers direction and ongoing support for its franchisees at every stage. They are constantly available to answer your questions or help you meet problems. Here is a breakdown of some of their support structure:
Verification Service – Site Selection professional support, 10+ years verification experience.
Logistics for supply – They will link you to their trusted food service providers, who provide quality products and ensure preferable pricing supply.
Store Setup Support – Based on a 10+ years of experience, they will provide you with full architectural support and standardised drawings.
Support for Marketing – They guarantee promotional guidelines and marketing materials for your launch day for your social media and press coverage that can be readily adapted to your geolocation Marketing support.
Full on-site training – They deliver seminars and training courses for management and staff, making skilled professionals with little experience or full QSR beginners.
Brand identification head-to-head – They have already set up the SNF brand and incorporated the trademark rights for you.
Documentation franchise – They supply franchise documentation, standard branding books, operations manuals, success guidelines, etc.
KEY FIGURES
Total investment: € 18,000-150,000
Franchise Fee: € 2,500-10,000
Royalty Fee: 5%
Advertisement fees: 0
Return on Investment: 20 months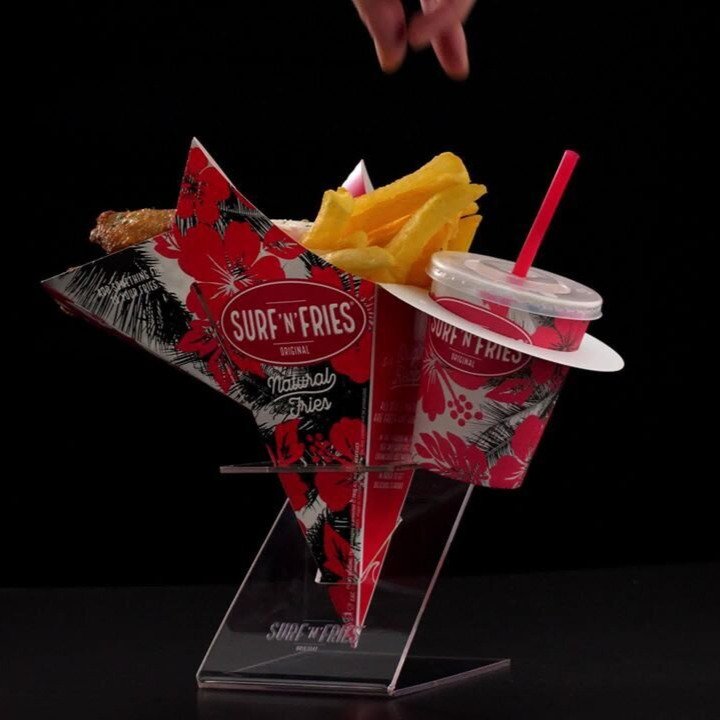 It's all about innovation /
The Surf 'N' Fries originally designed fries cone also contains sauce and drink holders for ultimate convenience.