Fit and healthy ice cream
Ewelina Choińska with Fit Cake employees / "The pandemic was a very creative time for the company," says Ewelina Choińska, President of the company's management board.
Fit Cake franchisees now have a new source of income - sugar-free, gluten-free and lactose-free ice cream.
Fit Cake specialises in the sale of sugar and gluten-free sweet treats, eliminating the dreaded worry about junk calories. Founded in 2016, the company today has 13 operational branches, most of which are licensed.
This year, Fit Cake extended their range of sugar, gluten and lactose-free ice cream to their franchisees. 'Fit Ice Cream' doesn't exist as a standalone business, but complements the Fit Cake franchise. New franchisees to the business will receive a license for Fit Cake Ice Cream free of charge. From next year, it will cost about EUR 1,000 extra. The only investment of the franchisee is the purchase of the ice cream maker machine.
"Fit Ice Cream is a response to the needs of our customers. Many of them cannot eat sugar or products with lactose and gluten, while others are simply fit and conscientious about their diet. It is also an idea to make the offer more attractive, especially in the summer season," says Rafał Kościuk, founder of the Fit Cake brand.
Fit Cake during the pandemic
When asked about the company's situation in connection with the coronavirus epidemic, Rafał Kościuk told Franchising.eu that in the first days after the announcement of the pandemic, the traffic in the premises had significantly decreased. However, he believes that it will not last long, and not as much as in ordinary pastry shops as it's a niche product for those with health or fitness needs. He told us that Fit Cake immediately shifted to take-away and delivery services. The owner of the brand explains that people come to a classic cafe mainly to sit and meet friends.
"It's different with us. Fit Cake is sugar-free and gluten-free sweets, and our customers include many diabetics, allergy sufferers and vegans. They come primarily for a product that is still rare on the market, and the demand is constantly growing. We have our regular customers who want to buy Fit Cake, because they have a guarantee that they will get the highest quality product, 100% gluten-free and sugar-free. Therefore, the isolation in the houses did not cut us off from our clients," explains Mr Kościuk.
Ewelina Choińska, President of the company's management board, adds that the pandemic was also a very creative time for the company. For example, the company introduced sweets in jars. Cakes and desserts from the Fit Cake were closed in a jar with a wooden spoon attached. It was a signal to customers that Fit Cake products are completely safe. It's worth noting that the jars are reusable, therefore meeting "zero waste" conditions.
One location, or two?
According to the Fit Cake franchise, "not sweet" is a business for both large and smaller cities. The premises connecting the café with the production area should be approximately 70 m2 in size and located in the city centre, with access to parking. An alternative set-up is also possible, in which the franchisee rents two smaller premises in different parts of the city. One premises (away from the centre) is adapted to production and has a small area for placing orders, while the other (in a mall or shopping street) serves as a cafe where customers can spend time with Fit Cake sweets and coffee.
"Thanks to this solution, the franchisee appears in two places in the city at a relatively low cost, reaching a greater number of customers," says Rafał. "Our concept is well thought out, both in terms of the offer and logistics - and despite the difficult times, it still enjoys great interest from investors."
FIT CAKE BUSINESS CARD
Outlets selling sugar-free and gluten-free sweets:
Number of units: 13
Optimal size of the premises: 70 m 2
Exclusivity for small towns and large city districts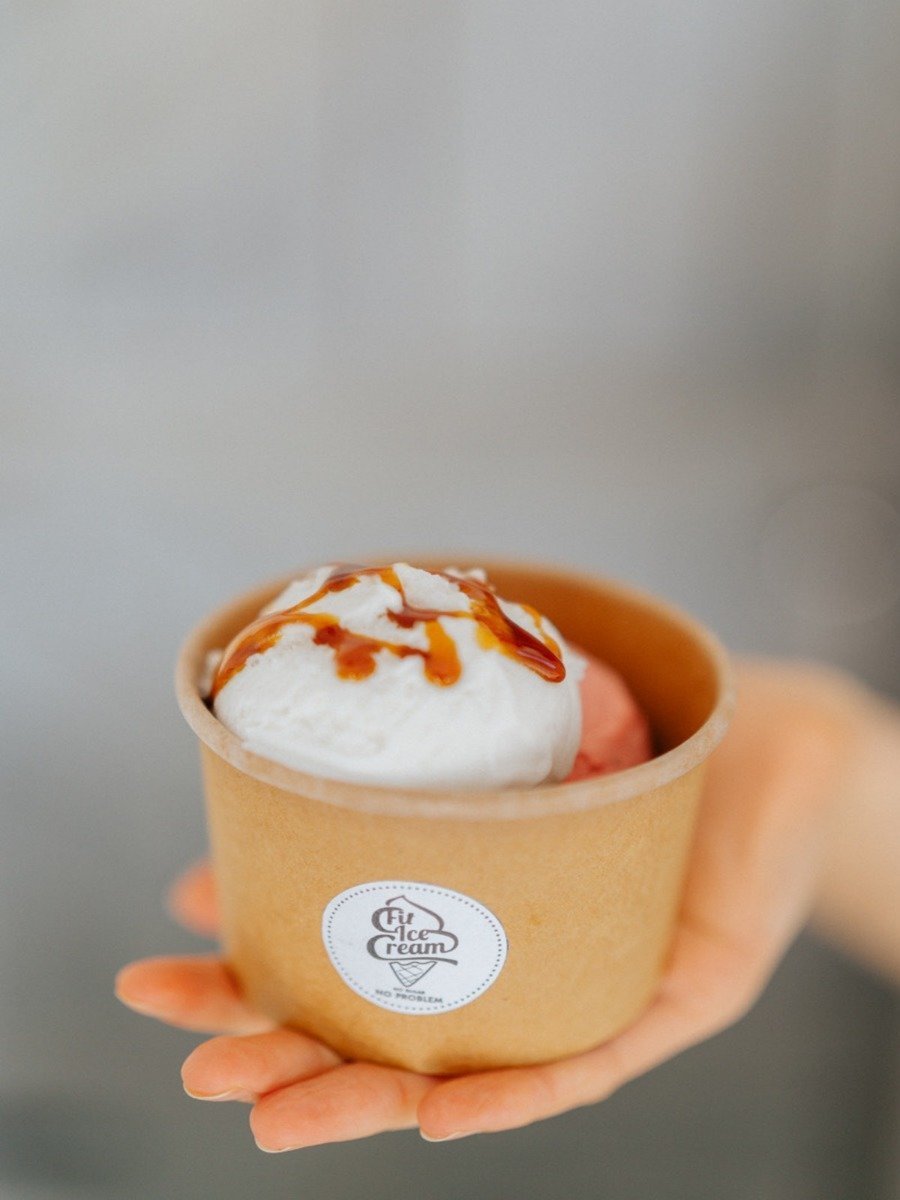 A sweet offer /
For its franchisees, Fit Cake has proposed to extend the range of ice cream without sugar, gluten, lactose and with reduced calories this year. Fit Ice Cream, as the ice cream concept is called, does not exist as a standalone business, but complements the Fit Cake offer.