Pasta Conquering The World
Quick & Casual / Makarun is looking to expand globally with franchise locations currently in Dubai, Algeria and the United States.
Makarun's fresh pasta will whisk your taste buds away to Italy under a minute!
Makarun was created as a solution to a problem: how to bridge the gap between health, convenience, and cost. The Spaghetteria is a unique pasta chain that began in Krakow, Poland. With the a beautifully designed orange box, the company focuses on providing fast and inexpensive pasta dishes to modern consumers.
This Krakow-based company serves fresh pasta prepared to the specifications of the customer. The goal is to constantly offer a reasonably nutritious, accessible, and delicious food. Makarun serves genuine Italian pasta where the customer get to select the kind of noodle, sauce, toppings, and cheeses. What's their secret ingredient? In less than a minute, everything is prepared directly in front of the client.
The young entrepreneurs, Marcin Szworak and Przemysław Tymczyszyn, founded Makarun as university students to address an issue. They were dissatisfied with the unhealthy and uninspiring food that students usually consume. The food was either unhealthy and cheap or of high quality but too expensive. They decided to take action with a very specific vision for their restaurant. Although they appreciated the "quick" and "cheap" aspects of the fast food industry, they refused to sacrifice quality.
"We started this business as students. This is our foundation and roots," said Mr Przemysław Tymczyszyn, co-founder founder of Makarun, "We aim to broaden our franchising options, such as the Food Truck initiative, so that individuals who cannot afford a big investment may benefit from such opportunity. We want to provide prospective franchisees the same chances that we wished we had as students."
Makarun operates in Dubai, California, and 18 cities across Poland. However, if you invest in a Makarun Food Truck, it may be located wherever you want. The network is rapidly expanding its food truck business, which is now offered at a lease with a starting price of €10,800. There is a monthly fee of €545. Given that the food truck's monthly income may exceed €4000, a year's return on investment is possible.
"We are expanding with our concept of Food Trucks. We have franchisees that successfully established food trucks during the pandemic in Wroclaw. Because this business model is inexpensive, potential franchisees may start profiting right away."
The key takeaway is that Makaruns millennial co-founders have no plans to slow down. Makarun is a well-known brand both in Poland and abroad with their unmistakable modern style and a clear statement that no one can deny: the simple joy of fresh Italian pasta.
OWN UNITS
FRANCHISE UNITS
SUPPORT FOR THE FRANCHISE
Assistance with site scouting and assessment.
A proven and successful "fresh casual dining" concept.
A well-known, emerging brand on a global scale.
A distinct business brand that is gaining worldwide recognition.
Contemporary and elegant design.
Assistance in operating the franchise.
Comprehensive training program in the areas of food preparation, recruitment, and customer service.
Marketing support.
Assistance with estimating costs, planning processes, and drafting business documents.
BASIC NETWORK REQUIREMENTS
Makarun is seeking individuals with initiative, drive, and enthusiasm. Experience running a business is not required, but it is certainly helpful (particularly in the area of managing a team of workers). Makarun is also looking for partners who have some experience in gastronomy and a keen eye for excellent commercial sites. The most essential aspect is that the franchisee is not only interested in acquiring a single location.
Key Figures
Minimum investment: EUR 50,000 - 70,000
Monthly Fee: 7% turnover
Franchisee Fee: negotiable
Marketing Fee: negotiable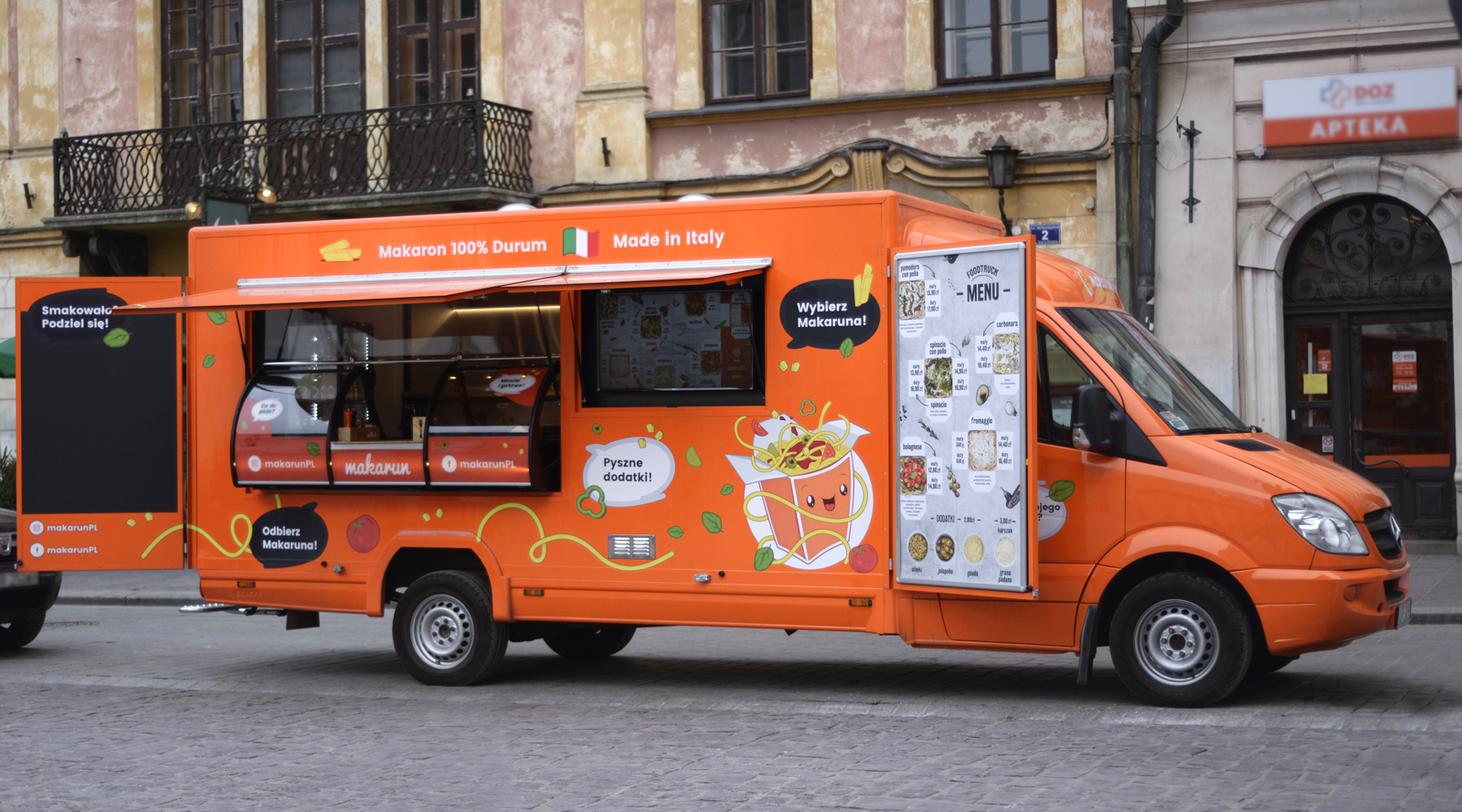 Capturing A Rising Trend /
Food trucks are a popular way to provide tasty and fast meals to large audiences without incurring significant overhead costs.