Coders Lab are bridging the labour gap
What's your market? / Coders Lab IT School offers the right franchisee an exclusive right to establish and develop Coders Lab in a country market of choice.
Our internet dependency has given rise to a whole new sector seeking skilled IT workers.
Over the last quarter of a century, we have witnessed a technological revolution. At the heart of this gargantuan technological acceleration is the IT sector. According to Global Knowledge, the world's leading provider of IT and professional training services, as much as 70% of global industry faces a shortage of necessary IT skills. *Coders Lab has entered the chatroom.*
Coders Lab IT School is an international chain of new-world educational information technology schools. Founded in 2013, the company has an extensive franchise portfolio and has already transformed over 6,500 careers through innovative education techniques. Coders Lab offers full-time online and stationary classes which focus on practical training while working on portfolio building projects.
The idea of 'IT accelerated learning' made its debut in 2011 and since then has been gathering momentum as a preferred method of learning. Coders Lab bootcamps are highly-intensive compact programs focusing on software development and IT skills. The syllabuses are designed for people who are motivated to learn and want to get out into the work force as soon as possible. In a traditional setting this information can take years to learn, however in this intensive course, students are able to master the material in a matter of weeks.
The mission of these coding bootcamps is to not only to equip students with practical knowledge but also to support them in their search for jobs. According to Coders Lab, 82% of bootcamp graduates manage to find jobs in the IT industry within a few months of completing the course.
Even with the current global disruption afoot, the company has proven to be somewhat pandemic proof, says Coders Lab Franchise Manager, Grzegorz Morawski. "Last year proved we can move our presence online 100% without the need for physical contact, so we have mastered these marketing techniques and are teaching our franchisees how to leverage and use them also. Every time we develop new skills in sales and marketing, we are sharing these with our franchisees," Mr Morawski said.
The Coders Lab's franchise concept is designed for companies and entrepreneurs looking for a way to expand their portfolio by entering the dynamically growing EdTech market. According to Technavio, the coding bootcamp market is expected to grow by USD 453.59 million during 2020-2024. Therefore, if we take anything from the current situation, it's that the future is online.
FRANCHISE UNITS
Poland x 5
Austria x 1
Spain x 1
Romania x 1x
Czech Republic x 1
Indonesia x 1
SUPPORT FOR FRANCHISEES
Learning materials for programming and testing courses.
Proprietary, dedicated Learning Management System.
Proprietary, dedicated Course Organisation System.
Marketing Starter Pack including sample blog articles, social media posts and ads, newsletter templates and more.
Customisable website.
Support at the stage of recruitment of educational team.
Complete initial training process for the operational team and teachers.
Ongoing training and constant operational assistance.
Effective marketing and sales strategy.
Complete online Franchise Operations Manual.
BASIC NETWORK REQUIREMENTS
Coders Lab is looking for:
Companies ready to expand their business with a portfolio of educational products.
Organisations with developed sales and customer support skills.
Entrepreneurs with knowledge about current education trends on their domestic markets.
Partners ready to dedicate their assets and time to set up and develop a dynamic business countrywide.
Companies active in the educational industry, such as language or vocational schools, as well as private universities would make a perfect fit.
Software development companies willing to enrich their service portfolio with educational services.
KEY FIGURES
Total set up cost: Approx. €50,000. Includes branding, initial marketing, salaries of stuff before receiving first payments from sale of courses and initial franchise fee.
Ongoing franchise fee.
Average gross sales per unit: 60% gross margin.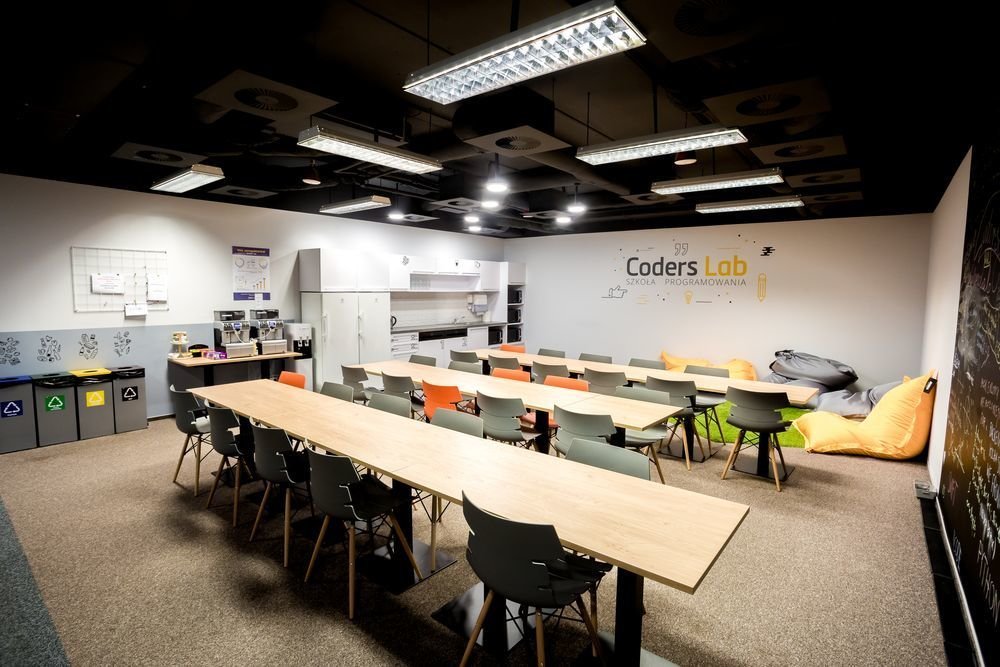 Changing lives with code /
In 2019, over 23,000 developers graduated from tech bootcamps in the US alone.