Ice and Roll - The 2-in-1 business
Waiting for you / Sweet Gallery has approx. 50 free locations that can be taken over by franchisees at any time.
A low investment turn-key that works both ends of the seasonal spectrum.
This summer marks the ninth season of Sweet Gallery's Ice and Roll and Cake and Roll network. In the last nine years, this seasonal brand has climbed the creamy peaks of the ice cream industry to become a street food icon in Poland. They have also used their national success in Poland, branded as Lodolandia and Kołacz na Okrągło, to push forward in foreign markets under the international names, Ice and Roll and Cake and Roll. In under a decade, more than 600 business points have been created, helping hundreds of budding entrepreneurs start their own businesses.

Ice and Roll/Cake and Roll is an all-year-round concept. The summer side brings classics such as ice cream and waffles. While in the winter the company serves the likes of Hungarian cakes. Due to the flexibility and demand for seasonal delights, they were able to cleverly combine two brands within one point of sale.
Ice and Roll is the largest and the most recognisable network of mobile sales points with sweets in Poland. Their mobile business network uses high quality products in all locations. Their flexibility allows them to be located in housing estates, promenades, squares as well as supermarkets and shopping malls. Sweet Gallery's concepts, Ice and Roll and Cake and Roll can be found in Poland, but also in Romania, Germany, Spain, Slovakia and the UK.
According to Krzysztof Olesiak, president of Sweet Gallery (owners of the Ice and Roll/Cake and Roll chains) said that March is the best time to invest in the Ice and Roll business concept. "The sale of ice cream begins in April, so it's worth taking steps earlier to start at the beginning of the season," Mr Olesiak said.

"As soon as the first rays of sunshine hit, ice cream sales skyrocket. This is why our franchisees start to generate amazing revenues as soon as April," Krzysztof added. "In good weather, our points generate PLN 30,000 (EUR 6,650), and some even PLN 50,000 (EUR 11,000) and more. The return on invested funds takes about three months."

If you're worried about the effects of CV-19 on this business structure - don't be. Compared to the summer of 2019, Ice and Roll saw an increase of 20% turnover in the 2020 season. This is likely attributed to more people staying at home and enjoying the simple things with expendable income in their pockets. Furthermore, market research indicates that ice cream is more of a leisure purchase than a calculated visit.
Filip Bachowski is a Ice and Roll (Lodolandia & Kołacz in Polish) franchisee with two business points. Mr Bachowski uses both the Ice and Roll and Cake and Roll concepts to run his businesses all year round. "I run both concepts at the same point of sale. When the ice cream season ends in September, I start selling cakes," Mr Bachowski said. The external visualisation of the point and the equipment are quite literally change overnight. "Instead of an ice cream and waffle machine, we install a cake oven and we can start selling the next day," he said.

The best thing about this concept is that no matter your experience or profession, anyone with the right attitude and start-up capital can join the franchise. The company trains franchisees in every aspect of a mobile business and offer ongoing support, guiding you on every step of your business journey. It's a great CV builder and fun way to get a hands-on experience running your own business - using Ice and Roll's experience to start building your own!
OWN UNITS
10
FRANCHISE UNITS
640
SUPPORT FOR THE FRANCHISE
Ice and Roll/Cake and Roll provide their franchisees with:
A modern, fully equipped trailer which is ready to go.
The best locations all over Poland, Slovakia, Germany, Romania, Spain and the UK.
Support in setting up and running a business at every stage.
The right to use the Ice and Roll/Cake and Roll trademark.
Marketing support: social media, loyalty programs and promotional campaigns.
A theoretical and practical training package.
A comprehensive supply chain from one central warehouse.
Ongoing service support and permanent operating aid.
BASIC NETWORK REQUIREMENTS
Franchisees are expected to:
Have an entrepreneurial spirit.
Possess the required capital to invest.
Complete company training.
Sign off and be compliant with the company's internal procedures.
KEY FIGURES
No initial franchising fee.
No marketing fee.
Franchise fee from PLN 500 / EUR 110 while operating during the season.
Minimum investment for the two businesses: from PLN 40,000 / EUR 9,000.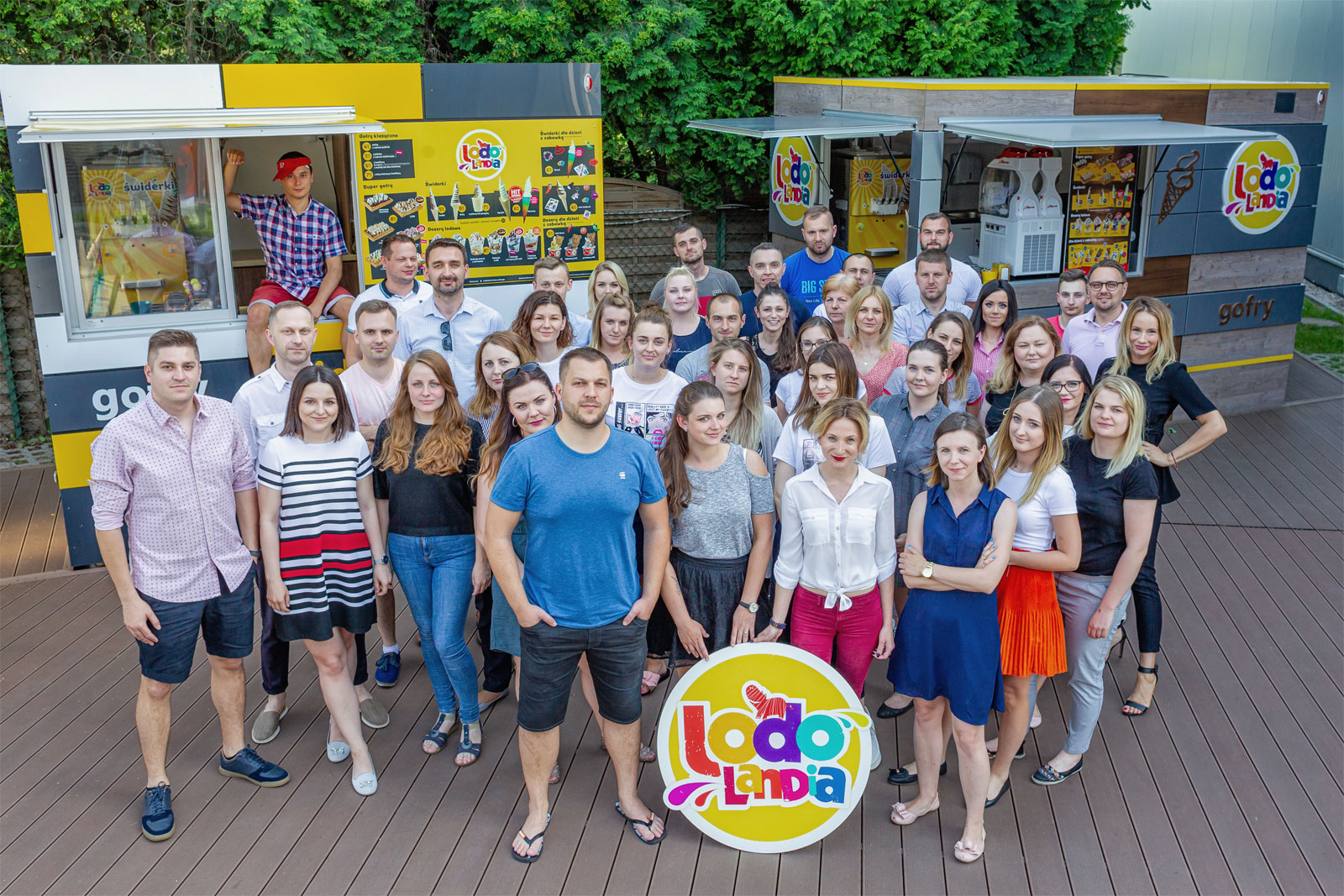 The many faces of Ice and Roll /
Sweet Gallery can also help applicants in sourcing finances (loan, lease).