The sweet success of Lviv Handmade Chocolate
Homage to heritage / Lviv Handmade Chocolate is famous for its manual production technology.
They say nine out of ten people love chocolate - but the tenth person must be lying.
Deep seeded in our society is the everlasting love of chocolate and sweet treats. In Western Europe, chocolate has long been synonymous with Switzerland or Belgium. However, in the East, Ukraine's Lviv has been known for its delicious confectionery since medieval times and has been exporting the same handmade chocolate recipes since the 19th century.

Lviv Handmade Chocolate (LHC) uses the same traditional production technology of old times. Firstly, they only use natural ingredients and add no chemicals to their products. Secondly, their focus is to involve the best chocolate specialists, not just fancy machines for the production process. Finally, they approach each product carefully and sell them only in their franchise's stores, where they can control all stages of the product lifecycle. It's not all eat in or take away chocolate; the company also offers chocolate master class workshops for adults, children and lovers.

Lviv Handmade Chocolate was founded in 2009 in the Ukraine and quickly become an integral part of modern Lviv. This brand of chocolate is now one of the classic souvenirs from Lviv – once again spreading their chocolatey goodness around the world. Within a year of it's inception, LHC had developed into a chain of chocolate shops and cafés, satisfing the sweet toothed people of the Ukraine the country over.

In December 2015, LHC expanded its chain into Asia and opened a store in Baku, the heart of Azerbaijan, where there are now three stores. A forth store is set to open in Baku this year. Founder of Lviv Handmade Chocolate, Natalia Dubova says her main mission of the company is to provide happiness and positive emotions for both their team and the customers.

"We are happy to realize that Lviv Handmade Chocolate has become one of the most successful manufactures of handmade chocolate in Ukraine over the years of its existence, but at the same time it is a great responsibility for our team and partners," Ms Dubova said.

"We are moving forward to surprise our guests with a vast unique assortment and simultaneously to confidently guarantee the quality of chocolate products. Concern about our guests is closely connected with concern of our employees, as these two factors are the main keys of our successful business"
The company is currently having negotiations to create a store in Istanbul, Turkey and also a store in Tbilisi, Georgia. Lviv Handmade Chocolate has suggested they are open for dialogue with anyone who loves chocolate as much as they do!
SUPPORT FOR THE FRANCHISE
Training programs and organization of education system for employees
Assistance of Franchising Manager to solve operational issues, answer unusual questions and contact with relevant specialists of the Company
Consistent renewal of assortment in the shop taking into account market tendency and holiday periods
Full provision of chocolate products in the shop merely from the manufacturer;
Elaboration and supply of souvenir products in the shop
Provision of branded materials and dishes
Constant menu renewal in the café
Design services
Materials for implementing marketing events
A possibility to use loyalty system
An assistance to control staff performance and keep to service standards
An opportunity to adopt experience of partners-franchisee from another regions
BASIC NETWORK REQUIREMENTS
The premises with a façade entrance and a minimum of one façade window are preferable
The premises area should be 120-150 m2, of which 90 m2 is a sales area
Large flow of people, preferably in a downtown area
Parking near the shop is desirable
Population base of 200,000 people
Priority is given to regional centres or cities in in the Ukraine, Eastern European countries and post-soviet countries
FRANCHISE UNITS
Own Units: 8
Franchise Units: 41

Total units: 49
KEY FIGURES
Franchise fee varies: Approx. 15,000 USD for European countries and the Middle East. For geographically distant countries (the Southern Asia, the Eastern Asia and other continents) the amount of a lump-sum payment will be increased according to calculated expenses
Royalties are established during the franchise agreement. Calculated between 6-8% from total turnover
First two months of operations are royalty free
Average investment varies from 50,000 USD - 150,000 USD (depending on a condition of the premises and a project design)
Franchisee funds the team accommodation expenses during project preparation
Other Lviv Handmade Chocolate products are provided with 30% discount for the Franchisee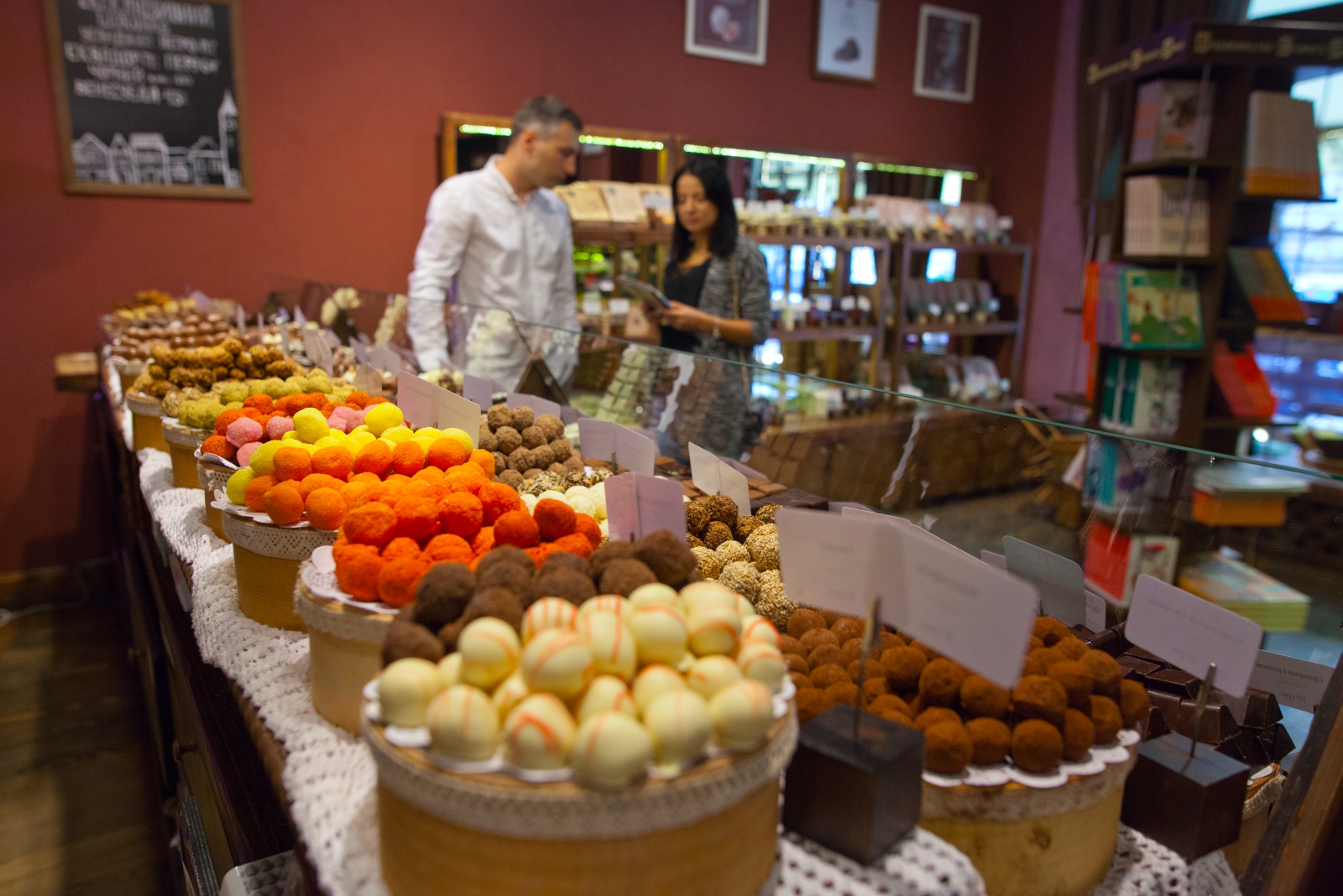 Do you have a sweet tooth? /
"We create handmade chocolate by producing happiness," is the company's main mission.