Salad days from Romania
Salad Box recipes / Salad Box servings
"Salad Box" is a franchise delivering fresh food fast without losing the commitment to quality, looking for franchisees who share its passion for sustainable and healthy eating
"Salad Box" is what 'it "says on the tin'. It's for people who want to see their food being prepared and to have a say in what goes in their… salad box. A salad bar franchise with a concept that ensures a degree of personal contact between the server and the customer who has the chance to prepare their own salad by choosing the ingredients and combining them in order to make a personalized meal. Definitely an alternative to fast food with an emphasis on creativity and transparency, as the customer sees the salad they have chosen themselves being prepared right in front of them. "The idea is to deliver fresh food quickly" says Dan Isai, the CEO of SaladBox. .
Strategic factors
According to Isai his company has a clear strategy for the franchise's development. He puts people at the center of his approach. "Firstly, we focus on selecting the right franchise partners who share our passion for healthy food and our commitment to sustainability. We work closely with them to ensure that they have the necessary resources, training, and support to successfully run their SaladBox franchise."
The second critical factor is location. " We prioritize locations with high foot traffic and strong potential for growth. We conduct thorough market research identification areas where there is demand for healthy food options, and then work to secure prime real estate in those areas."
The third factor, according to Dan Isai, is innovation. "We are constantly innovating and evolving our menu to keep up with changing consumer preferences and trends. This allows us to stay ahead of the competition and continue to attract new customers." He believes that this is the way to build a "strong sustainable franchise network that is focused on providing high-quality healthy food options" to the customers.
USP
Asked about SaladBox's unique selling proposition Isai answers that it lies in the "commitment to providing healthy, fresh, and customizable food options to customers. We believe that healthy eating should be accessible and convenient for everyone, and we strive to make it easy for our customers to make healthy choices" he adds. Isai points to the way customers are able to make their own salad or wrap to "tailor their meal to their specific tastes and dietary needs".
But he also singles out sustainability as being a vital ingredient. "We use eco-friendly packaging and prioritize working with suppliers who share our commitment to sustainability." He argues that despite this concept definitely not being fast food oriented it is highly convenient as it "allows customers to order quickly and easily, making it a great option for busy people who want to eat healthy on-the-go."He is convinced that the combination of "focus on healthy eating, customization, sustainability and convenience makes the franchise a winning concept on the market.
What the franchisee wants to know
The "Salad Box" CEO has interacted with many potential franchisees and believes that the strong reputation of the brand is a key factor in joining the franchise. "Our reputation for providing healthy and delicious food, as well as our commitment to sustainability, has helped to establish us as a respected brand in the market. This is important to potential franchisees, who want to align themselves with a brand that is well-regarded by customers and industry peers alike."
Another important factor is the availability of support and training. " We provide our franchisees with comprehensive training and ongoing support to help them successfully run their business. This includes everything from site selection and buildout to marketing and menu development" says Isai.
He acknowledges that candidates want to see evidence of growth potential and on this he feels he has a good story to tell. " With a strong brand reputation present on 3 continents, 15 countries and a 10 years proven business model, SaladBox offers significant growth potential for franchisees. This is appealing to those who are looking to build a successful business over the long-term."
He is quick to add that the offer has to be flexible to allow for sensitivity to local markets and innovation. " Our franchise model allows for flexibility in terms of location, size, and menu offerings, which can be customized to meet the specific needs and preferences of individual franchisees" he argues.
Who the franchise is looking for
He has a pretty good idea of what kind of candidates he is looking for to take on the franchise. "When considering potential franchisees for SaladBox, we are primarily interested in candidates who share our passion for healthy eating and our commitment to sustainability." But he also values a strong work ethic and entrepreneurial spirit. "Running a franchise requires hard work, dedication, and a willingness to take risks. We want franchisees who are willing to put in the effort and take ownership of their business."
In terms of experience he does not feel that prior experience in the food industry is required but business acumen is important. "We do look for individuals who have a solid understanding of business fundamentals such as finance, marketing, and operations." Last but not least he's looking for someone who has the financial resources and stability to support the initial investment and ongoing operational costs."
His vision of a potential SaladBox franchisee is clear. "Overall, we are looking for franchisees who share our values, have the necessary skills and experience to run a successful business, and are committed to building a strong, sustainable franchise network." This is because such individuals will be best placed "to execute our proven business model" of delivering high quality customized product, providing exceptional customer service, maintaining "a clean , welcoming efficient restaurant environment", managing costs and driving revenue through marketing and menu development, hiring and training staff and adapting to changing market conditions and customer preferences.
Company owned units
7 in Romania
Franchised units
66 in Romania, Hungary, France, Malta, Bulgaria, Italy, Slovenia, Czech Republic, UK, Ireland, USA, Canada, Algeria
Support for Franchisees
Pre - opening consultancy

Training

Interior plan

Product orders

Operations manual including recipes & staff guide

Social media opening package

Market research
Basic requirements
€70.000 - €150.000 depending on location

leadership skills

communications skills

Self-motivation and perseverance

Commitment to delivering and learning about healthy food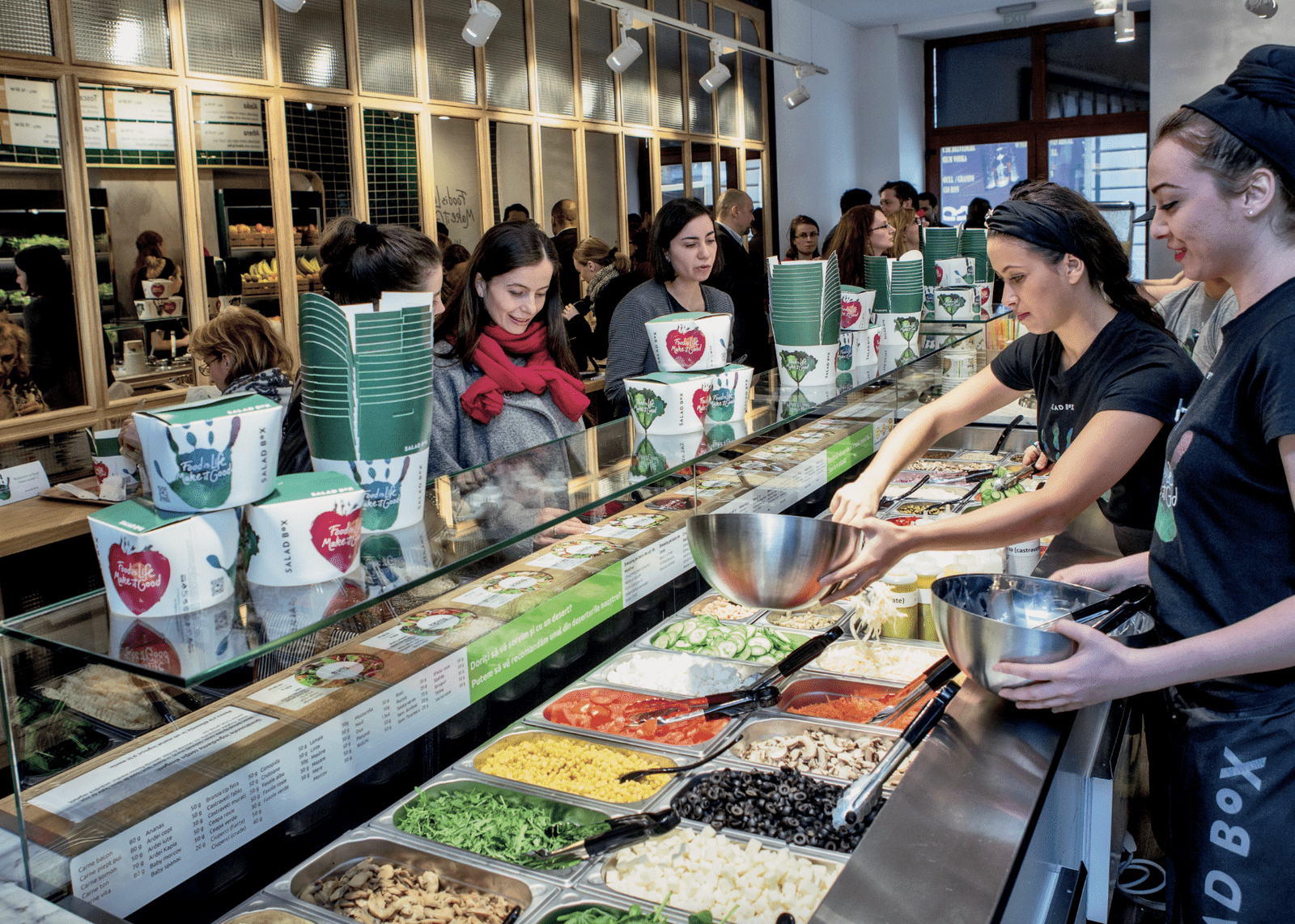 Salad Box in action /
Salad bar at Salad Box