From tennis court to franchisee
A whole new game / Today, former professional tennis player, Kamil Čapković, is a McDonald's franchisee and runs a restaurant in Bratislava.
Retired Slovakian pro tennis player, Kamil Čapković, talks about becoming a McDonald's franchisee.
It's not uncommon for professional athletes to start their own business after retiring from sport. What lured you into gastronomy?
After I finished my career as a professional tennis player, my family and I turned towards renting private accommodation in the Tatra mountains and opened our own guesthouse. I quickly fell in love with working with people, often working at the bar and talking to guests. So, in fact, I started gaining gastronomic experience even before McDonald's. The moment of decision came when we were forced to close our business for eight months due to the pandemic. Many of my friends, who are also involved in catering, found themselves with similar problems… all needing to make ends meet. However, we noticed that in front of McDonald's the queues were still quite long. Around that time, I came across an announcement in the media that McDonald's was looking for franchisees in Slovakia. I signed up, and after a year of training was given the opportunity to open and run my own store.
What key factors influenced your decision to take on your own McDonald's franchise?
There are two main reasons for this. First, McDonald's is one of the strongest brands in Slovakia, not only in the field of gastronomy, but also in general. Another reason is that we ran a boarding house in the Tatras and lived in Bratislava. It is four hours' drive there and four hours back. That's why I often told myself that I would like to have something of my own, but a little closer. And McDonald's made it possible for me.
Before becoming a part of McDonald's, franchisees undergo a one-year training course where they work through all the different jobs at the restaurant. This means that, among other things, franchisees experience working the cash register and cleaning the restaurant first hand. How did you find the experience?
At the McDonald's where I trained, I was fortunate to work with a great team. I was really looking forward to the job and even said I would love to work there if I wasn't a franchisee in training. Of course, training is very complex. I did not expect that I would have to move so much after retiring from professional sports. I lost as much as 11 kilograms in that year of training - and I ate at the restaurant everyday… so the story that McDonald's food makes you fat is a myth (laughs).
What was the most difficult part of the training procedure?
At first, I thought I was the perfect franchise candidate. I had international experience, knew business and gastronomy. I was still young and full of energy. If I were in their place, I would certainly choose myself (laughs). But throughout this whole process, the only thing that was mentally difficult was the uncertainty, because I did not know for sure which restaurant or location I would get, under what conditions and when it would happen.
Being a professional tennis player has a completely different schedule and work dynamic than running a franchise business. What has been the biggest change for you?
I notice that my attitude towards work has changed a lot. Namely, tennis is a very individual sport and everything I did, I did for myself. I was focused solely on myself. On the other hand, in business you work in a team and for a team. I work so hard so that my staff and guests are satisfied. That's how "I" becomes "we". I felt that I had a great obligation to customers and employees, since I was taking over an existing restaurant that already had its own regular customer base. My goal was for them to feel a positive change.
What advantages do you find in having a big global brand behind you, especially considering the current economic situation?
All franchisees are currently facing and struggling with inflation; as raw material and energy prices are rising. At the same time, we try to make our employees feel it as little as possible and that the work continues to be profitable. The biggest advantage I see is the fact that we have regular customers. McDonald's is very popular in Slovakia. Our customers are loyal to the brand, which means that the business is well organised. We don't have to wait three hours for someone to come in to eat. Earlier, when I was managing the restaurant within the boarding house, the traffic was very uneven. Sometimes people come, sometimes they don't - so it's great in comparison. This is a predictable and popular business.
What innovations does McDonald's have in store for the near future?
McDonald's is customer-centric and our goal is to provide everyone with the most enjoyable experience possible. We try to follow trends and progress not only in the offer, but also in innovation and digitisation. McDonald's new generation restaurants already have a self-service ordering model from digital kiosks, product customisation and a range of customer-centric services. We speed up service and processes that do not affect the quality of our services or products.
It is interesting that when planning the construction of new McDonald's restaurants, higher costs are expected for the IT system than for the kitchen equipment, which, at the same time, is technologically very advanced. We will continue in this direction - whether it is about ordering via mobile phone or picking up food from the pick-up point.
_____
* Unlike the countries of this region where McDonald's operates exclusively through one exclusive partner, who is in charge of development on the entire market, in Slovakia the American chain is expanding by giving the so-called single unit franchises. In this way, a larger number of entrepreneurs (individual franchisees) get the opportunity to open and manage restaurants of this American brand.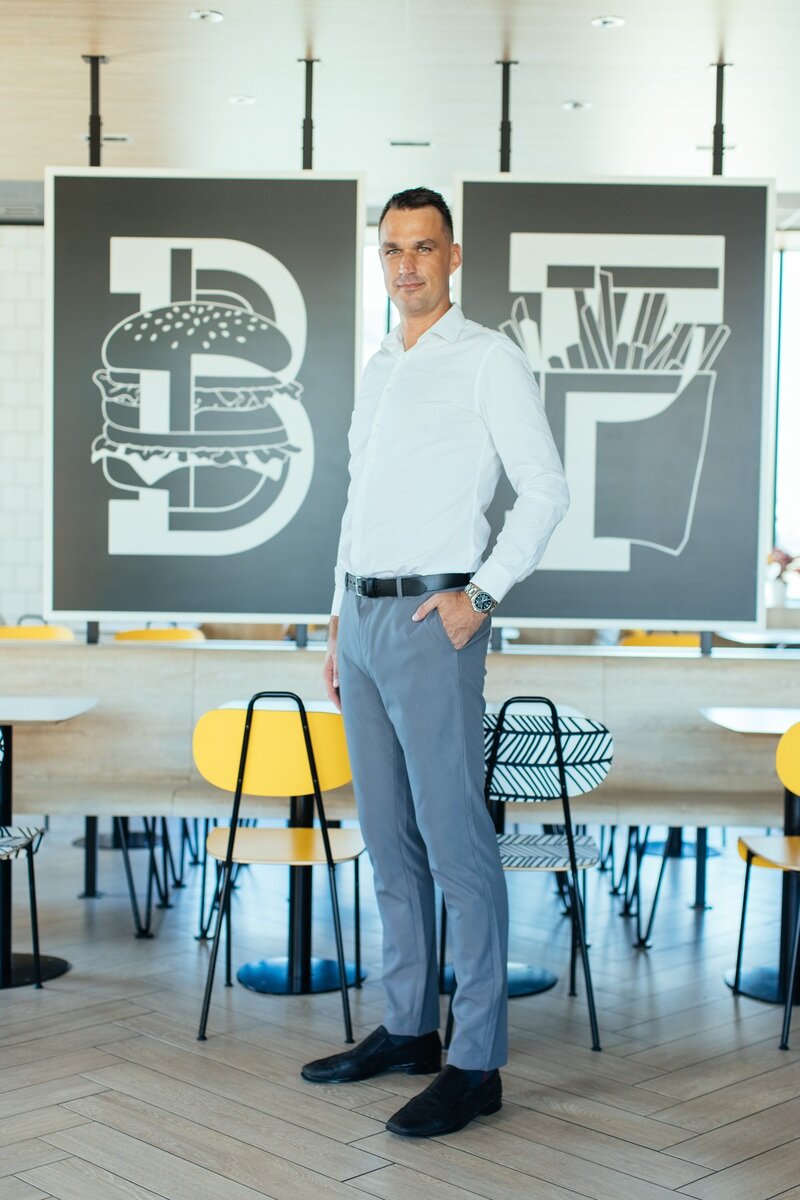 Kamil Čapković, Franchisee of McDonald's in Bratislava takes the new challenge serious. /
"I felt that I had a great obligation to customers and employees, since I was taking over an existing restaurant that already had its own regular customer base. My goal was for them to feel a positive change."