Turning counting into business
Abakus Europe team at your service / Abakus Europe is a franchise helping children to handle maths
Abacus Europe is a franchise which is counting on turning mental arithmetic education into a thriving business.
Math is the achilles heel of many school students. Teaching math is increasingly coming under scrutiny from top decision makers. Recently British Prime Minister Rishi Sunak said he will make improving math teaching one of the key priorities of his government. Improving arithmetic skills will be a vital part of that. This is why a teaching system that combines learning with games to improve arithmetic abilities of students should be in demand. Abakus helps from drowning of numbers.
The model
The Abakus Europe franchise is part of an international school of mental arithmetic, Abakus Centre in London. It has 300 educational centers in 25 countries serving 30,000 students. It is one of the first companies specializing in mental arithmetic courses bringing this methodology to Europe, combining the curriculum with brain fitness exercises.
The methodology pursued is one of developing skills through games. It serves as a good business opportunity for those wanting to work both online and in stationary format. Income is also derived from the sale of books and counting frames. Mental Arithmetic is a tested way of developing a child's academic abilities and creative thinking in a balanced way, allowing them to reach their full intellectual potential.At the beginning of the course, an abacus is used for children to learn the techniques. Later, children learn to do calculations in their head by forming a mental image of a number on the abacus and can do all mathematical operations (addition, subtraction, multiplication, and division) with any numbers in mind.
The franchise offer
Abakus Europe has three types of franchise on offer The first is "Easy Start" with a fee of 2,490 PLN and 50 PLN per pupil covering 20 pupils and 1 teacher. The second is "Light" with a fee of 6,800 PLN, a monthly fee of 1,400 PLN covering up to 50 pupils and 2 teachers. The third is "Standard" costing 17,000 PLN fee plus monthly fee of 2800 covering 5 teachers and their teaching groups.
The franchise is particularly attractive for teachers looking for new opportunities of both work and self-development and private schools wanting to expand their offer. The franchise is able to help franchisees with sales and marketing with its team of specialists. The franchisee is able to use the registered trademark, promotional materials and a web page developed for their center.
Training is available for teachers as well as plans for lessons and teaching aids. An internet platform is available to students offering exercises, the results of which are monitored by their teachers. In terms of management support the franchise shares its financial and marketing models.Abakus Europe is also involved in domestic and international competitions at which students can compete for prizes and test their knowledge.
Number of franchised units
240 Franchise units
Support for Franchise
Professional training

Mental arithmetic program

Plans for lessons

Teaching materials

set of games for brain fitness

Access to internet platform for both students and teachers

International certificates for students and teachers

Registered trademark

Sales tools

Promotional and marketing materials

FInancial model

Webpage
Network requirements
Own or rented venue for stationary teaching

Permanent internet access

Performing services demanded by Abakus Europe

Active promotion of own center and the Abakus Europe brand

Expected investment depends on the packet chosen; individual for one teacher means a commitment of 2490 PLN. Separate "Light" packet available for 2 teachers and 50 students and "Standard" for 5 teachers which gives exclusivity rights for a given territory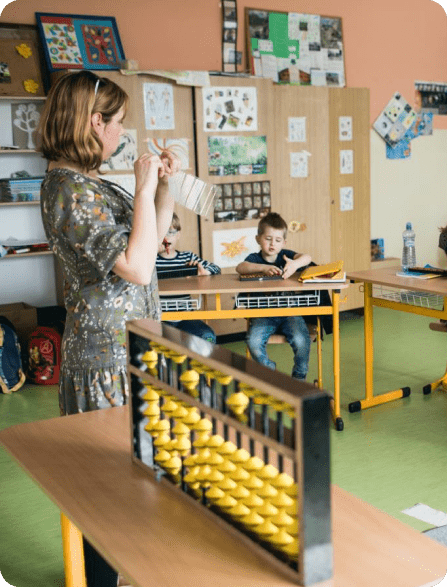 Abakus Europe lesson /
Abakus Europe teaches children mental arithmetic