Teaching kids brick by brick
Complete guidance and support / The company provides franchisees with proprietary model plans, kits, curricula and instruction materials in all areas of operations; from a thorough review of the operations manual to hands-on classroom training.
Brick by Brick brings STEM to life with Lego.
Brick by Brick offers innovative and educational based programs designed to bring the concepts of Science, Technology, Engineering and Math (STEM) to life using Lego bricks. Their programs offer hands-on learning in a fun and challenging way through classes, camps, mom's morning out preschool, after-school classes, parents' night out, events and birthday parties.
Brick by Brick was "Imagined, Created and Built" by Kendra & Matthew Randall, a dynamic husband & wife team that met when they were 13 years old, oddly enough in science class.
Matthew is a registered Professional Engineer and LEED Accredited Professional in Charleston, USA, and understands the importance of early exposure to STEM education and the impact it can have on our children's future.
No business can be truly successful without a marketing whiz at its helm – and that's Kendra. Her team managed to successfully obtain contracts with fifty-five schools in the Charleston area in less than two years, which kickstarted the company's reputation.
Kendra has a keen understanding of how to market in a way that brings in results. Not only is she a marketing guru, she is an honest, happy, caring mother of two beautiful children, with a bold and brave spirit.
"When you've got a great brand and a greater cause, great things will happen! When meeting with a new school, I emphasize why our brand is superior; because whatever business you're going into, whether it's educational services or retail, you won't be the only one. [But] Brick by Brick is truly unique, and I try to pull that out," she says.
Together they are proud to inspire children around the world to build with their natural curiosity while teaching engineering concepts. Brick by Brick has developed exciting programs that invite children to have fun while they use their knowledge of engineering and science to design, create and improve solutions to real life engineering problems. Children are natural engineers, and love building and taking things apart. Brick by Brick programs engage students with hands-on, real world engineering experiences.
The ever-growing demand for the programs provided by Brick by Bricks has led to the establishment of the Brick by Brick franchise, a great opportunity for anyone who loves working with children and promoting their educational development. Currently, Brick by Brick's corporate headquarters located in Charleston, South Carolina operates a 2500 square foot learning centre along with after school programs in over fifty-five local schools.
Brick by Brick provides project-based programs to teach the principles and methods of engineering, architecture, math and science using Lego Bricks. It takes learning out of the pages of the textbook and into an imaginative, 3-dimensional, hands-on, fun learning experience. The kids build from full-colour proprietary model plans which introduce developmentally appropriate concepts from counting, patterning and recognizing colours at the preschool level to reading plans, creating machines and programming robots at the elementary and middle school levels.
The company strives to develop effective problem-solving skills; provide an opportunity for creative expression and encourage teamwork; while building self-confidence. Their programs provide an extraordinary outlet for children to build unique models, learn new techniques and have a ton of fun building with Lego bricks.
Brick by Brick's franchises are easy to operate and can be run from home, giving you the benefit of low overhead costs. Everything you need will be provided for you. The company strive to be ahead of the curve in every sense- as demonstrated by their growth.
The franchise can be operated as a part-time or full-time business. With the high profit margins and the low fixed overhead, it can be a profitable business from the start. In addition to their classes, you have the opportunity to have year-round income with camps during the summer and school vacations along with birthday parties and events. Their elementary age camps average 24 children, while our preschool camps average 14 children per week.
FRANCHISE UNITS
Franchise Units: 320 worldwide
SUPPORT FOR THE FRANCHISE
Use of Brick by Brick name, logos and trademarks, Proprietary Model Plans, Unique to Brick By Brick that cannot be purchased by schools or customers. (New plans generated quarterly)
Large territories that include a population of 50,000 people and at least 25 schools
Support opening a brick-and-mortar location if desired
Marketing support to schools and recreation centres
Assistance obtaining school funding through federal, state and local grants
One-week comprehensive classroom and on-the-job training program
Exclusive use of the Proprietary Operations Manual
A well-managed website that will promote your Brick by Brick business
Sales and marketing training
Scheduled visits from Field Support Representatives, meetings, teleconferences and workshops
Birthday Party Guide in Digital Format
Birthday Party Games/Challenges, Invitations, Vendor Contacts
Proprietary Operations/Management Manual
Press Release Template Letter & Template to Schools
Vendor Contact Database
Templates for Marketing Materials
Three business days of set-up coordination at your creative centre with experienced Brick by Brick Staff, as well as on-site business development training and visits to local schools
10 - Engineers in Training Kits (20 students)
6 - Little Builder / Jr. Builder Kits (18 students)
Explorers / Moms Morning Out - Large Soft Blocks
Curriculum (Take Home Sheets, Model & Lesson Plans in Digital Format)
KEY FIGURES
Cash Investment: $25,000
Investment Range: $27,500
Franchise Fees: $29,350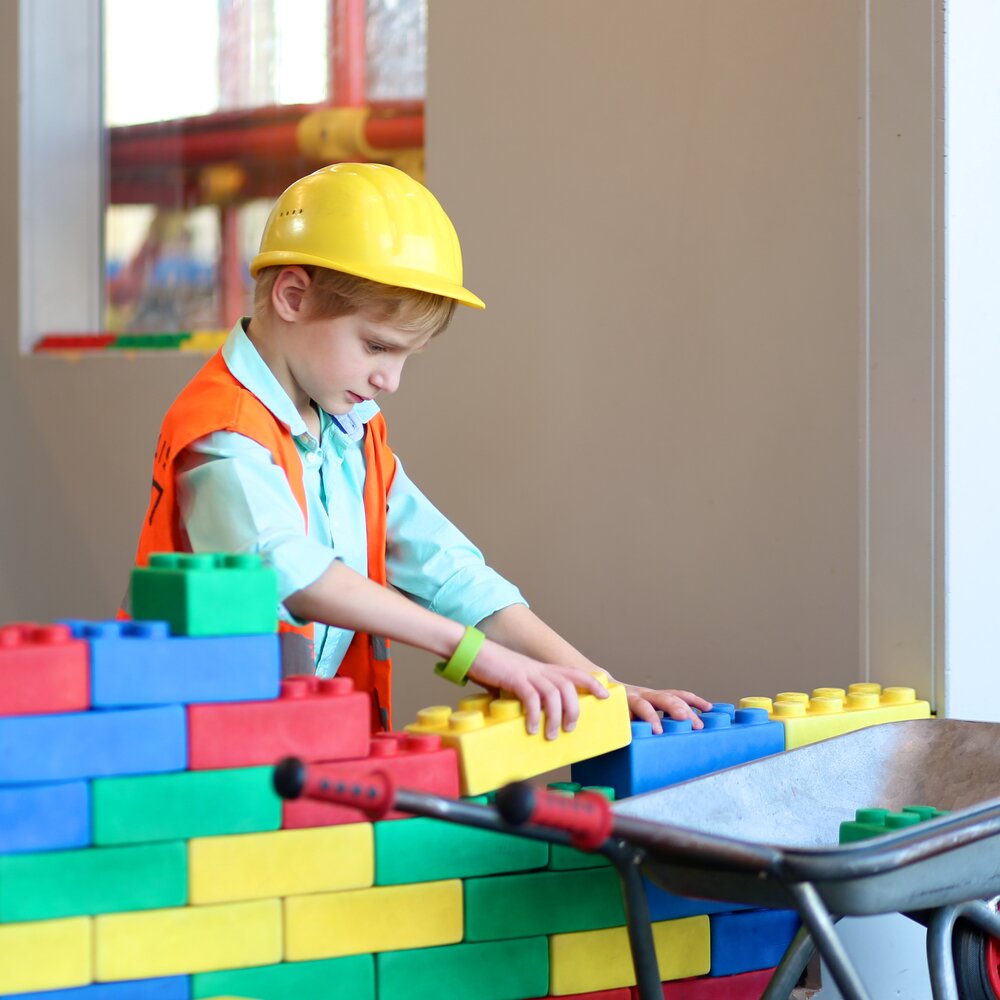 Take advantage of your child's natural creativity /
Brick by Brick incorporates Science, Technology, Engineering and Math (STEM) to life using Lego bricks.