Mr Kebab means business
Quality food meets business / Mr. Kebab took third place in the "Franchisor of the Year" in their home country of Slovakia in 2017.
There's only one Mr Kebab and it's from Slovakia.
In today's busy world, we are often left searching for a quick, delicious and somewhat healthy meal. We've all probably had a kebab before, but there is an art in getting it right. For the original, Mr Kebab, quality was at the forefront of the concept to compete in an overcrowded fast-food market. Just think of a chicken kebab roasted on a vertical spit, served with fresh vegetables, yoghurt-garlic sauce, chilli and olives. You can choose different kinds of breads or just have it naked with the meat with vegetables. This mouth-watering quality is one of many served up daily at Mr Kebab.
Over the past decade, their menu has undergone many changes, with product development trying to follow (and dictate) newer consumer demands. Of course, the backbone of the offer is still the half-dozen different versions of kebabs, a range of vegetarian dishes, as well as chicken wings, chips and snacks. You will also find the regular old soft drinks, 100% fruit juice as well as quality Illy coffee or tea.
Ľubor Lelovits, founder of Mr Kebab, started the company in 2005, building his first store in the centre of Košice. Its success meant another store soon followed in 2006, which can be found at the shopping centre GALÉRIA in Košice. There are two more stores found in Slovakia; one in Zilina and the other in Presov. With over 15 years' experience in the fast-food game, Mr Kebab is on the hunt for franchisees in Europe who want to be part of the best kebab from Slovakia.
"We want to build a strong network and a well-known brand. The right partners are essential to achieve our goal. Together, with the right knowledge and determination, you will succeed," Mr Lelovits told Franchsing.eu.
"All the franchisees undergo training, but the most questions arise in the store itself. Our team is prepared to solve surprising events immediately. Mostly, a good phone call advice is enough," he said.
Mr. Kebab franchise restaurants can be designed for several different business formats: A mall or food court; stand-alone brand store near busy pedestrian streets, junctions, and in mobile units. Depending on the size and format of the business, the total investment of the franchise averages to around 40-80 thousand Euros. According to the company's data, the estimated return on investment is recouped in 2-3 years.
Included in the total investment is the one-time franchise fee of € 10,000. There is an additional cost associated with franchise collaboration for partners, in the form of a monthly franchise fee of 5% of the sales. In return, Mr Kebab's franchise centre helps partners find the ideal location, facilitating in the creation and opening of your very own business. As the franchise system administrator, Mr. Kebab provides business management consulting, system-wide and local marketing support, an extensive training system, and continuous product development throughout the collaboration.
OWN UNITS
Atrium Optima Shopping Center, Kosice, Slovakia
FRANCHISE UNITS
Gallery Shopping Center, Kosice, Slovakia
Aupark Shopping Center - Zilina, Slovakia
NOVUM Shopping Center - Presov, Slovakia
SUPPORT FOR THE FRANCHISE
Support with finding the right location
Support during the negotiations
Support in the business development and start-up
On-going support throughout the operation
BASIC NETWORK REQUIREMENTS
Space requirement:
About 50 m 2
Approx. 100 m 2 (with seats)
In case of an outdoor stand:

35 m 2 without seat (standing only)
approx. 70 m 2 (with seating)
KEY FIGURES
Depending on the size of the business premises, the amount of the initial total investment will range between: EUR 40,000-80,000
Entrance fee: EUR 10,000
Monthly fees: 5% of sales
ROI: Estimated at 2-3 years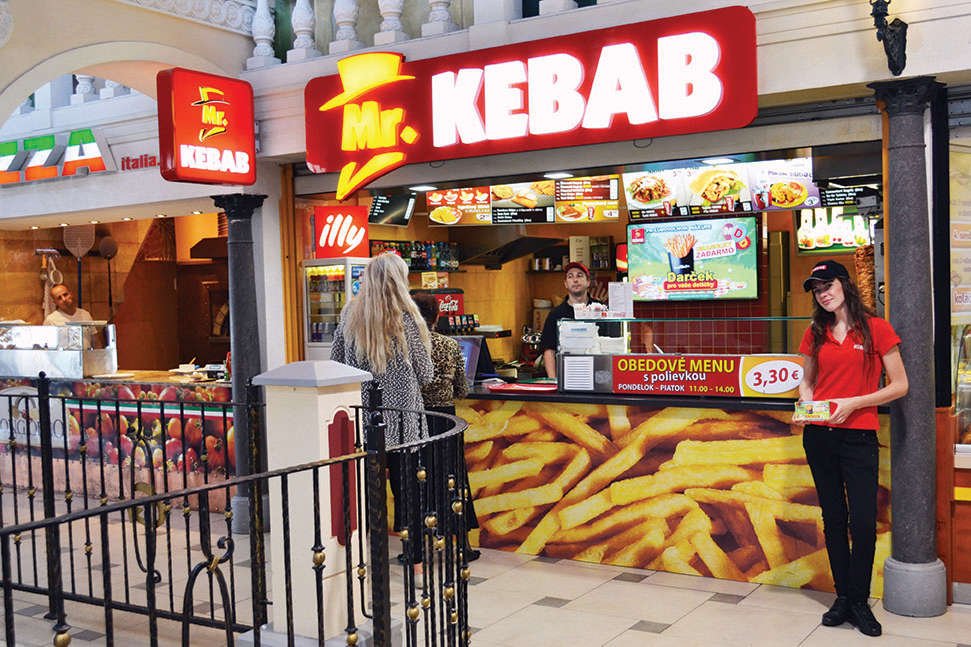 Ľubor Lelovits, founder of Mr Kebab /
"We want to build a strong network and a well-known brand. The right partners are essential to achieve our goal. Together, with the right knowledge and determination, you will succeed."