Going nuts for Donuterie
Just the beginning / The creators have developed a 'cool brand' that's continuously developing with demonstrable growth across Europe.
This funky and fun Romanian sweet treat company is winning Europe over, one bite at a time.
Donuterie opened its first store in early 2014, in Târgu Mureş, Romania. According to the founders of Donuterie, they wanted a job where everyday created happiness, but would also offer them a challenge in business. For many months they tested different donut recipes in the kitchen until they finally hit a sweet, sweet high - fluffy, creamy, and unique - their signature donut!
In June, 2015, they expanded their business to Cluj-Napoca where they were overwhelmed by the feedback of the sweet toothed community. It was then they knew they were onto a winning formula. By the end of 2015 they had three stores open in Cluj-Napoca, followed by stores in Sibiu, Baia Mare and Ploiesti.

Fast-forward five years and Donuterie is not just being enjoyed all over Romania, but is popping up across Europe, with several sites in the lands of pastry and waffles (France and Belgium), as well as a new site in the United Kingdom. The company offers a wide range of freshly-made mouth-watering sweet-treats and donuts to suit just about everyone. Their treats a coupled alongside a menu of coffee, iced tea and niche milkshakes that will have you reaching for your toothbrush.
The creators of the concept claim that Donuterie is a place for friends and all of their madness. "It's the sweet next to coffee, the good part of a beginning, middle and end of the day. It's a reason for posting, insta, snap and selfies. Donuts from Donuterie are like you - beautifully grown, sweet, with different toppings and different shapes," they said.

"Call us naive but we believe in happy sweet never-ending possibilities of growth. We created the first real donut shop from the Romanian market. We are the pioneers of this market niche and the core for all the local donuts consumers. We operate in street shops, malls and also shop productions or separate locations," exclaim the founders on their website.

Donuterie's total franchise set up costs is roughly the same as the franchise fee for Dunkin' Donuts alone. So, if you're as crazy about flavour and fun, this might be just the treat you've been waiting for.
OWN UNITS
17 own units in Romania.
FRANCHISE UNITS
6 in France.
4 in Belgium.
1 in the UK.
SUPPORT FOR FRANCHISEES
The franchisee will be offered:
Support in site selection and shop design.
Operating manual comprised of: manager manual, employee manual, franchise manual.
Marketing procedures branding manual.
Ongoing management support.
Ongoing audit system.
Software system: Sales, Production, Planning and Data Analyzer, Administration.
Pre-opening and ongoing training.
Guidance with recipes.
Business management know-how.
Access to their network of suppliers.
BASIC REQUIREMENTS OF THE CONCEPT
Experience in the HORECA field (Hotel/Restaurant/Café) is not mandatory, but the franchisee is expected to take on an expansion plan in targeted city depending on the area's potential. Knowing how to regard the local market and purchase habits is an advantage.

An optimal location has between 40 and 60 sqm. The minimum is around 30 square meters.

Location type: commercial spaces, street shops in pedestrian areas.
The franchisee has to have entrepreneurship skills, team coordination and organisation abilities and to be client oriented.
The franchisee also must keep in mind the fact that the franchise will be in need of 100% involvement in day-to-day business management.
KEY FIGURES
Contract length: 5 years (with options to extend).
Estimated total investment:
EUR 35,000-45,000
Depending on the size of the site and if there is a dedicated restaurant seating area (the investment comprises of all costs connected to furnishing and starting-up costs).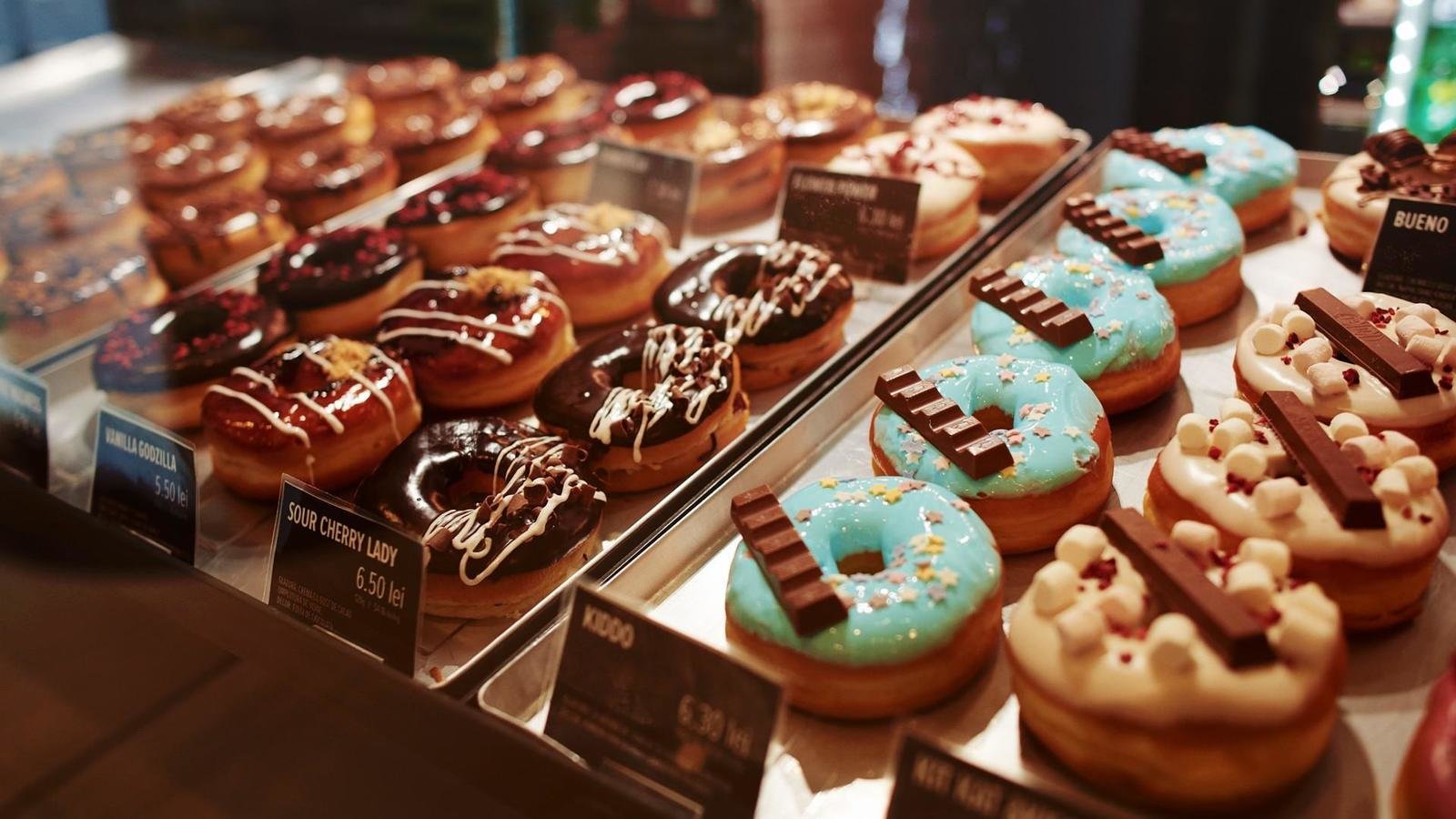 There's no substitute for freshness! /
Donuterie hand make their products on site everyday using quality ingredients.