Trampoline to franchise success
Jump Planet trampolines / Jump Planet franchise provides the latest equipment.
Jump Planet is a franchise positioned to take advantage of the growing family recreation market while offering facilities for training to sportsmen like the Polish ski jumpers.
If its good enough for Olympic ski jumping medalist Dawid Kubacki it's good enough for anyone. Jump Planet brings recreational and sport trampolining to several locations in Poland.
In these post-Covid times market research is showing that demand for recreational facilities and programs for families and individuals is increasing. Physical activation of both children and adults is also being encouraged by public policy makers for reasons of physical and mental health. But putting together recreation packages such as trampoline parks is never easy, and the advantage of joining a franchise is the support, brand and experience you gain access to making chances of success that much greater.
The product
Raid Nakdali, the manager responsible for the expansion of the "Jump Planet '' brand admits that the onset of the pandemic delayed the growth of the business. But now that this is out of the way he says that new parks are coming on stream in places such as Krotoszyn and Łódz and are already doing a good trade in Kalisz, where they have a gym and bowling alley too, and in Nowy Targ, which is close to the mountain resort of Zakopane and therefore able to take advantage of tourist traffic.
He also reports that the parks are now doing a good trade in birthday parties, which has implications for the kind of space needed so that these can be accommodated in separate rooms or spaces in the park. Another angle worth noting is the fact that all kinds of sports use trampolines for training. "We have had our Polish ski jumpers" using our premises for training" Raid Nakdali reveals. For the uninitiated, ski-jumping has become an extremely popular spectator sport in Poland thanks to marked successes of Polish ski jumpers over the past two decades and as a result the number of young people practicing the sport has risen.Dawid Kubacki who has trained at the Nowy Targ Jump Planet site is a household name in Poland.
But trampolining is also used for training acrobats and athletes. "Schools and youth groups also use our facilities as part of their physical education activities" adds Nakdali.
The franchise offer
Jump Planet's Raid Nakdali singles out the modern technology, with guarantees, and know-how in creating the trampoline and recreation parks as the major strength of the franchise. The franchise helps to ensure that the location and building identified meet the safety and legal criteria of a public building and it is prepared to lead the way on finding the appropriate site in the chosen location. The support can also include arranging the social spaces and assistance with contracting for specialized work such as ventilation systems.Nakdali also reveals that "we are also ready to sell our services to those who want to develop this kind of service without taking on our brand" but only with regard to the design and construction of the space chosen.
Another key aspect in supporting the franchisees is marketing. Establishing a brand that is recognized in this trade requires visibility and sophistication. According to Raid Nakdali this is the part of the offer the franchise is working on the most at the moment A "Jump Planet '' promotional campaign is already running in selected cinemas and is based on animated films. Nakdali reveals that part of the strategy for the marketing of the operation is participation as sponsors in sporting events. "We shall be sponsoring a KSW mixed martial arts gala in Warsaw on 3 June and we'll be making a major announcement about a strategic marketing partnership in the near future", he adds. In addition franchisees receive a sales counter that meets network standards with a sales, customer service, online payment and telephone and online reservation systems free of charge.
The franchisees
"Franchisees contacting us are mainly interested in the profitability and the numbers of returning customers" reveals Nakdali. He admits that having learned by painful experience of the COVID pandemic the franchise now asks for 10-50% capital deposits on starting the construction of the parks.
In terms of requirements what is needed is a minimum 1000 m2 for a trampoline park. A sports hall facility is estimated to require a minimum of 1200 m2 of space. The cost per square meter is 100-250 Euro. This includes attractions but not social spaces or ventilation.In terms of location Nakdali says that it is best in areas with a considerable population or locations that have tourist potential.
The franchise does not charge license fees as such. The charges a franchisee has to meet are 6% of turnover plus another 2% of the total turnover for marketing. If marketing is upscaled in the near future that percentage dedicated to marketing may have to rise.
The market
Experience based entertainment is among the top 3 industries expected by forecasters to expand in the post-Covid 19 period due to the fact that people are eager to have fun, relax, and have quality time with loved ones in attractive locations. According to analysts from Mordor Intelligence the recreation services market is estimated to witness a CAGR (Compound Annual Growth Rate) of 4.7% over the next five years. Now that the pandemic has relented, health-promoting physical activity to improve mental and physical wellbeing is driving the growth of the recreation sector.
Market growth is also expected to be enhanced by rising disposable incomes, increasing investments in parks, growing online marketing, and an increasing emphasis on combating obesity. Governments support for health and fitness and the availability of a variety of equipment and personalized fitness training programs at fitness and recreation sports centers have supplemented the market growth.
Consumers today are measuring wellness through a much broader and more sophisticated lens that includes exercise, diet, general physical and mental health, and looks. People are prioritizing the value of recreation to increase their productivity at work. They visit parks to experience excitement, have fun and to enhance their fitness.
Key support for franchisees
Design

Construction

Recruitment;

Marketing (pre- and post-opening);

Training

Support systems such as websites and sales systems

Support from experts in the field of management, staffing and service support

Provision of company equipment for sale to Park customers

Uniforms/costumes for Park employees
Requirements
No license fee;

Capital expenditure 100-250 EUR/m² including the installation of all attractions

Hall area from 1200 m² to 4000 m2;

The height of the room to the ceiling or projecting elements ≥ 5 m;

Location - must be agreed with franchise owners

Minimum loyalty period 3 years.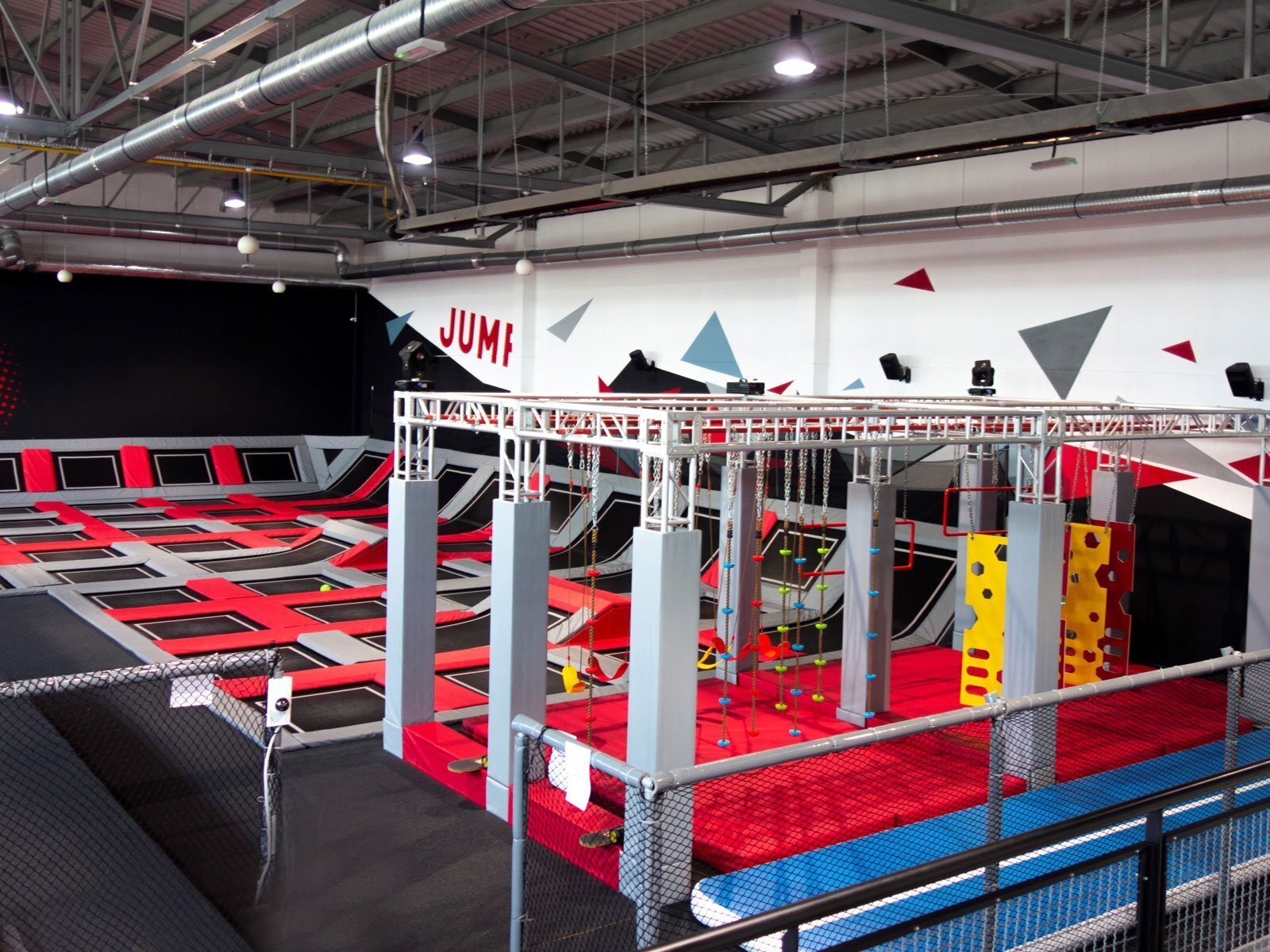 Jump for sport /
Trampolining is also used for training acrobats and athletes.