Tinker Labs educational philosophy
Growing talent / Since opening, the Tinker Lab team has been expanding and now includes developers, teachers, graphic designers and administrators. They are all working together to build a franchise system in the hope that Tinker Labs will spread around the world.
Socrates once said, "Every child has a smouldering spark of knowledge, it just needs to be ignited."
This is how the Tinker Labs ethos and concept comes to light! Learning is achieved through participation in fun experiments in a hands-on (tinkering) manner. The company believes that knowledge is best achieved by stimulating children's imaginations, encouraging them to think and search for solutions. This children's learning centre holds firmly to the aforementioned Socrates' thought that education is not just pouring knowledge into empty vessels, but lighting a fire.

Tinker Labs story begins in 2012, when the founder, Alan Mate Orlić, and his wife, Tijana, moved from New York to Croatia with their then three-year-old daughter, Adriana, where they then started a business as franchisors of an English language school. After successfully running their language school business for four years - they engaged in a great deal of planning and research to turn create their very own children's educational STEAM based company (interwoven topics from science, technology, engineering, art and mathematics) and subsequently developed a franchise system that would fill a gap in the regional market.
After years of extensive research on various education systems around the world, they noticed no common factors could be found among all institutional education systems; they all seemed to separate knowledge into different categories that are later taught as independent school subjects. They also noticed that children's innate curiosity to investigate the world around them would be better fulfilled if children had a space where they can freely explore, study and ask questions about the wonders that most interest them.
Alan and Tijana understood the importance and necessity of building block learning -from simple concepts, increasing into more complex concepts - but they also wanted to take into account children's need for their world to be designed so that their curiosity has free reign (imagine letting a child build a bridge while learning by trial and error about the laws of mathematics and physics). With this goal in mind, they designed groups of courses that serve as a metaphorical bridge between children's natural affinity for play and the structural requirements of the traditional education system.

The company is currently found across Croatia and Serbia, operating about 50 franchise units. However, Tinker Labs are on the lookout for master franchisees across Europe and abroad. But this doesn't mean you can't still open a franchise in an existing territory.

"We have the same goal in every market - to have two schools in the first year of operation, four in the second, and eight in the third, and we have followed that pace perfectly," said Alan Mate Orlić, Founder and Owner of the Tinker Labs concept.
"Further plans include expansion in Eastern Europe, as it seems to us that people from those countries are now investing more in extracurricular activities. Of course, we also have the ambition to go eventually go to America."
"We are also thinking about new programs and formats of workshops - we plan to add to standard courses workshops specially designed for birthdays, as well as escape rooms, summer camps, etcetera," he said.
The Tinker Labs Method is a teaching method for children ages 4-16 designed to introduce children to the world of STEAM (Science, Technology, Engineering, Art and Math).
Tinker Labs method:
It supports an interdisciplinary approach to learning
STEAM areas are introduced by participating in projects
Projects are springboards for student questioning, dialogue and critical thinking
Activities are designed to encourage children to take thoughtful risks, engage in experimental thinking, persist in problem solving, embrace collaboration and work through creative processes
Recognising the importance of the arts as a lever that helps elevate the STEM curriculum to a higher level
Inspiring creativity and innovation
Introducing children to the entire range of STEAM occupations and the history of science and innovation
It allows students to use the right tools to design and build their own projects
Creating a TinkerToolbox that students fill with tools and projects: also a metaphor for the process of acquiring critical and analytical tools that help make connections between disciplines
It combines rigorous theoretical concepts with fun hands-on activities
Children incorporate new concepts and ideas through practical application (not through old-fashioned rote learning or methods derived from excessive theorising)
Groups of characters (Marie, Leonarda, Nikola) and stories with which students can identify
Includes real-life inventors, scientists and innovators, Tinkerers of all kinds in lessons and in the context of their history, culture and geography
It creates STEAM literacy that facilitates connections between school, community, jobs and global entrepreneurship
It leads to increased curiosity, effective communication and critical thinking that become habits and survival skills in the 21st century.
How does Tinker Labs work?
Tinker Labs have created four separate programs (each lasting two years, once a week) designed to introduce kids to the world of STEAM.
TinkerTots (for children of preschool age (4-6 years) for 45 minutes);
TinkerTots Plus (TinkerTots advanced course, 45 minutes long)
Tinker Town (for school-age children (7-10 years), 60 minutes);
Tinker Town Plus (Tinker Town Advanced Course, 60 minutes)
Tinker World (for children aged 10-12 who have passed the Tinker Town Plus course, lasting 60 minutes);
Tinker World Plus (Tinker World advanced course, 60 minutes)
Tinker-Verse (for children aged 12-16 who have passed the Tinker World Plus course, 90 minutes);
Tinker-Verse Plus (Tinker-Verse advanced course, 90 minutes long)
Characteristics of the program:
Each program contains 40 teaching hours
Programs follow the academic school year
40 teaching hours are divided into 4 parts of 10 units each
Each workbook is accompanied by 10 teaching units
All teachers are certified and trained to teach according to the Tinker Labs method
Small groups, up to a maximum of 10 students, allow for personalisation of the learning experience
Each Tinker Labs centre is designed like a laboratory that inspires the innovation process
Each program is designed according to the abilities of certain ages (preschool, school)
The program introduces key topics and concepts that it expands with each academic year
The course progression is designed to include as many concepts as possible each year and to build on the knowledge and skills acquired in previous years' courses.
NUMBER OF OWN BRANCHES
1 – Vinkovci, Croatia
NUMBER OF FRANCHISE BRANCHES
40 units in Croatia
10 units in Serbia
SUPPORT FOR THE FRANCHISE
Marketing:
Each franchisor will have access to a pool of downloadable materials, including flyers, posters, flags, wall and window stickers and many other marketing materials.
Constant MF Support:

Each franchisor will have the full support of the Master franchisor. Support includes:
Mandatory two-day Business Basics Program after signing the contract
Additional business consultations
Help with the opening of the centre
Quality control (twice a year)
Help with advertising through national campaigns
Teacher training and further evaluation
Additional support for all activities in the centre and possible questions
The annual conference of franchisors
Annual conference of teachers
Information Management System – IMS:
Each franchisor will be required to register their students and their information in the central Information Management System (IMS). It will be used by the Ministry of Education to take care of enrolled students. It can also be a good tool for franchisors to help with bookkeeping and accounting. Via IMS, franchisors will also be able to order textbooks and other products.
Feedback Loop:
The company's biggest concern is the success of every Tinker Labs centre. The success of the Tinker Labs brand will only be possible if the quality of each individual centre is at the highest level. As a franchisor, you would be responsible for the success of your centre and you will certainly have ideas on how to make it even better during your work. They always welcome your suggestions on how to make the Tinker Labs program even better and how to improve the brand.
BASIC SYSTEM REQUIREMENTS
A space of at least 70 m2 is needed, which would contain a classroom, a waiting room and a toilet.
There is the possibility of working in existing schools, with the condition that the classroom for Tinker Labs is exclusively for Tinker Labs. The waiting room, toilet and storage can be shared.
KEY FIGURES
Entry franchise fee: 4,000 - 8,000 EUR + VAT, depending on the size of the city.
Arrangement and furnishing of the premises: 2,000 - 4,000 EUR + VAT, depending on the condition of the premises.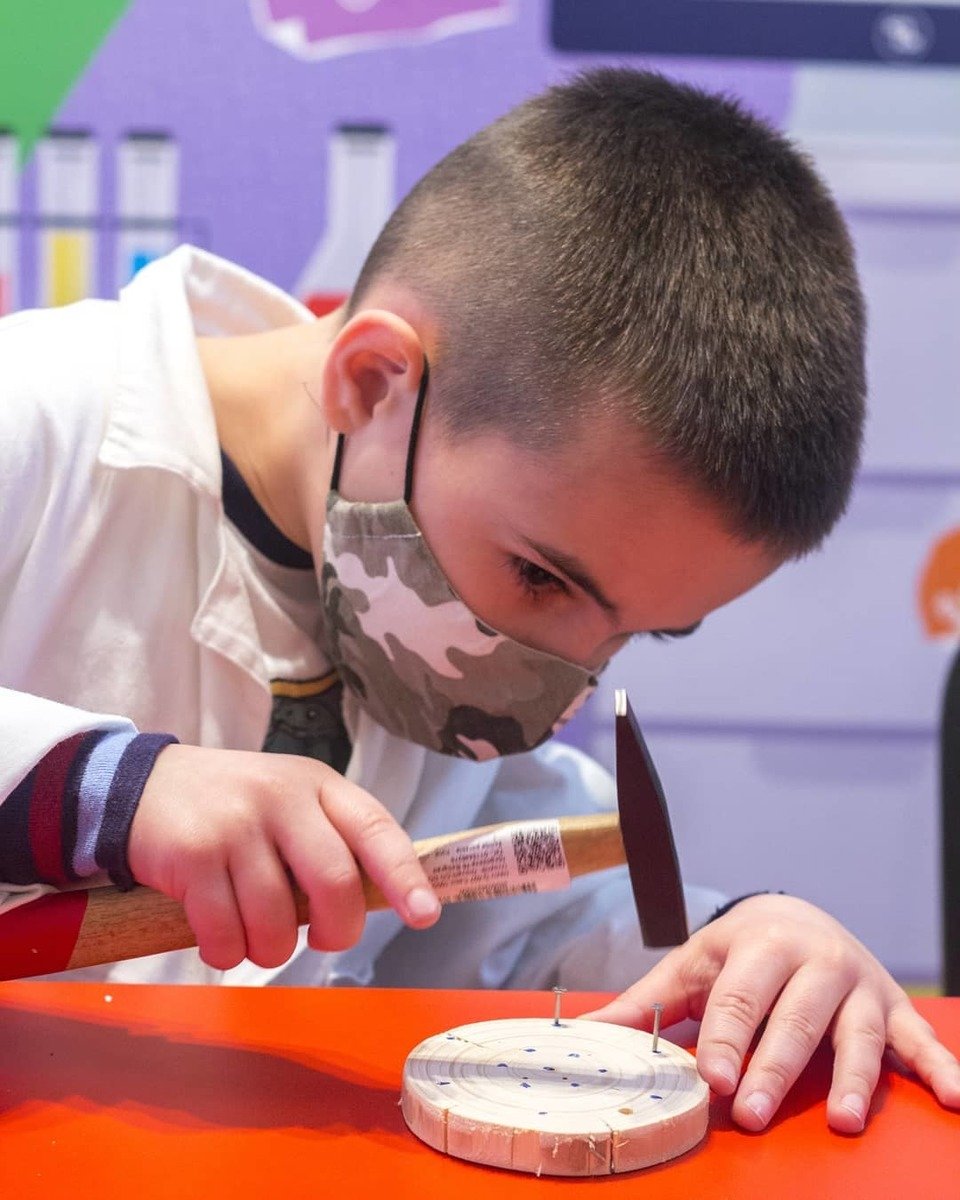 Are you the next Tinker Lab master franchisor? /
Master franchisors will have the right to a protected territory of up to 5,000,000 inhabitants. The master franchisor is responsible for expanding the franchise within its territory and for providing support to franchisors.