A touch of the Museum of Senses
Prague calling / 60-70% of the space is the actual exhibit. The rest is dedicated to the souvenir shop, brain teasers, games, play room and refreshment zone.
Museum of Senses is an edutainment flyer that emerged out of Prague in late 2017.
Now operating in two European countries, the company offers a unique experience for both kids and adults alike. It exhibits a range of instalments created by artists, designers and architects from around the world aimed to awaken you senses of sight, sound, smell, touch, taste and balance.

According to research, this is among the top three industries that will expand in the post Covid-19 period due to fact people are eager to have fun, relax, and simply have good times with loved ones in some interesting locations. Museum of Senses co-owner, Dejan Grbić said they have learnt a lot from their experience with the pandemic, and as a result have changed their business model to expand via franchising.

"Our big focus is in developing countries and territories across Europe. Canada is also one of our main targets at the moment – and we hope to close some discussion there soon. USA, Australia, China are all huge markets for partners for us," Mr Grbić said.

Dejan explained to franchising.eu, their company is open to all major cities, preferably with no less than half a million inhabitants, and especially in cities that are attractive to tourists throughout the year (not just seasonal hotspots). With low operating costs, diversified sales channels, and a strong profitability record, let's dive deeper and see if you have what it takes to partner with this energetic group.
WHY INVEST WITH MUSEUM OF SENSES?
Why should one invest in the Museum of Senses concept:
Edutainment concept with modern experience design = huge niche with very low competition.
The broadest possible targets = higher and diverse revenues streams.
All year round interesting = easier operations, steadier cash flow.
Easy to manage attraction = low, controllable costs.
Relatively small investment = fast ROI Global topic.
Your success is our success = top-level support.
COMPANY OWNED UNITS
Currently MoS operate two units:
Prague (Czech Republic).
Bucharest (Romania).
SUPPORT FOR FRANCHISEES
What will you get as a franchisee?
Museum of Senses handles all set up activities.
Provides strategic partners on daily basis.
Provides know-how and support in all segments of running the Museum of Senses.
Comprehensive operational ongoing support.
Training and expertise.
BASIC NETWORK REQUIREMENTS
What do they expect from the franchisee?
Individual must share the passion for the Museum of Senses brand.
Show specific qualities such as ambition, energy, and high motivation to succeed.
Has an astute business mind, an enterprising attitude, and a proven background of growing a successful business ideally. within the franchising and entertainment sector (highly desirable, but not essential).
Have available resources to invest in a franchise concept, partnership, or joint venture and future growth.
KEY FIGURES
The estimated amount of initial investment:
A premise with an area of: 250 m2 - 1.000m2
Initial fee starts from: €60.000
Total cost estimate: €200,000 - €400,000 (Depending on size and location)
Estimated ongoing fees:
Maintenance costs: 1-2%
Ongoing royalty fee: 9.5-10%

Past financial performance

Financial data below relates strictly to the past performance of the Museum of Senses network and does not predict or guaranty in any way future results of any location:
Average sales €1.1 million/year.
Best location €1.25 million/year.
EBITDA 55% - 65%.
Franchisee return on invested capital – from 6 to 18 months.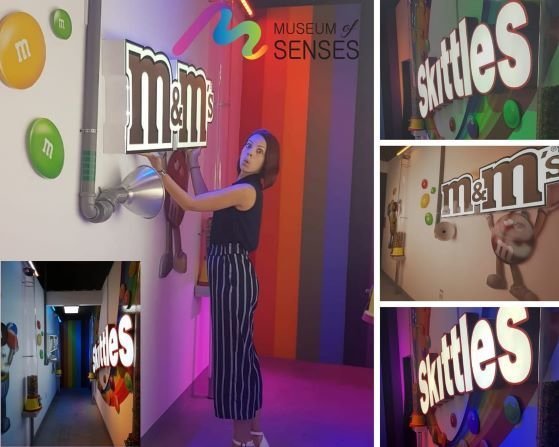 Corporate partnership /
Product placements can be fun and engaging for customers while adding an additional revenue stream.