Math matters
Who can become a Kid Genius franchisee? / The franchisee does not necessarily have experience in the field of education, but it is desirable. Franchisees can also be entrepreneurs who already work with children - owners of foreign language schools or preschool institutions.
- Through franchising it was possible to successfully build a career, both in management and in the educational part of the business - says Sarah Vuković, Master Franchisee of Kid Genius, Croatia.
Kid Genius (or "Malac Genijalac" in Croatian) is an international school for the development of children's cognitive abilities and intellectual potential that implements educational and developmental programs for children from 3 to 17 years of age. It is the only program in Europe that impliments the original Hikari mental arithmetic program from the prestigious Japanese Tomoe Soroban Institute in Tokyo.
Mathematics Professor, Sarah Vuković opened her first international school for the intellectual development of genius kids in Šibenik, Croatia. She then, with a friend, later opened more schools in both Zagreb and Dubrovnik. After successfully operating in these cities for three years, Sarah became the master franchisee for the whole of Croatia in 2021. Franchsing.eu spoke to Professor Vuković about the processes and her experience of franchising with Kid Genius.
Why as a public mathematics teacher did you give up working in public school and decide to open your own school?
After completing my studies in mathematics, employment in a state school was the natural and expected outcome. I worked in both elementary and high school, but I quickly realised that it was not for me. I've always had my own fantasies, but also clear visualisations of what I want for myself. From what kind of work I want to do, what kind of business relationships I want, which cities I want to be connected to in business, what my working hours look like, all the way to what kind of view I want from the office. Those closest to me often say that I fantasise a lot, but today I claim that it was this fantasising that led me to say that I really do what I want. And that I love my job!
When I discovered the school "Kid Genius," as a professional, I recognised the quality of the offer and my visualisations became clear as day. When I decided to open my first school in Šibenik, many people were sceptical and did not believe that such an innovative program could be developed here. They were wrong – because currently the school in Šibenik has 140 students.
In which cities can you find a "Kid Genius"?
Kid Genius exists in 16 countries, with more than 200 locations. In Croatia, where I am based, there are currently 13 schools in 12 cities. But new schools are being opened in new locations in almost every new semester.
You're now the Master Franchisor for Croatia. What does this mean for you and for the future buyers of this franchise in Croatia?
Franchise businesses are structured whereby a franchise owner appoints a master franchisor for each country or region where they intend to expand their business. The master franchisor then assumes the role of expanding the network in that region. Future franchise buyers through all negotiations and further actions regarding the purchase, opening of the school, but also the entire business in the future will now deal directly with me. I still have the immediate and constant support from the head office and the franchise owner himself.
What does the process of buying the "Kid Genius" franchise look like? And are there certain conditions for its implimentatoin?
The process itself is simple. An interested customer contacts us, and after our meetings, the customer receives a franchise offer. If the conditions suit both parties, the contract is signed and the implementation of the new school begins.
However, the conditions that the buyer must meet in order to be a satisfactory candidate for buying a franchise are somewhat more complex. In the context of the future business relationship itself, the personal impression of the person cannot be ignored either, because by entering the franchise system, the customer becomes a partner, colleague and friend - that's why we carefully choose our future collaborators. What is clear and precise as far as the conditions are concerned is that the franchisee must have a higher vocational education – but not necessarily in the field of education. However, employees of the company who will become lecturers should have titles in the field of education; that is, they must be educators, teachers , teachers, professors, pedagogues, psychologists and the like.
There are now many franchises in the field of education, how do you stand out from the competition?
The school "Kid Genius" has no competition! The programs that we implement at our school are simply the best in the world and that is quite enough for us to stand out from the mass of other similar programs offered by some other schools.
As a mathematician, you are familiar with how important mathematics is at school. At the same time, maths is often one of the most disliked subjects among children. How do you help your students cope with mathematics?
Yes, math is the most hated subject in school for most, and it is indeed one of the most important. Why is that so? The answer is actually simple - mathematics is an exact and precise science. Mathematic material always continues and builds upon previous knowledge – therefore it's impossible to skip something and then learn something new. Prior knowledge is absolutely necessary. As the material of mathematics flows, prior knowledge is constantly sought, and in this context, there is no room for "holes".
I think the problem arises in early childhood before formal education. Often it's the parents themselves who have an aversion to mathematics, so they either take the position that the child has to learn it gradually and when they may not be ready for it developmentally; or they take the position: "You won't really need it as I didn't need it."
However, one thing is of crucial importance, and that is the fact that mathematics is a natural science which develops curiosity and develops the desire to understand more. This is the key moment in teaching mathematics; the opportunity to introduce mathematics to the child in the most natural way possible, and as the child grows and learns complex mathematical lessons later in school, it is necessary for the child to have developed logical thinking, visualisation, attention and concentration.
Programs at the Kid Genius schools are intended for the development of all the aforementioned abilities and skills. It has been shown that children who attend Kid Genius, learn both mathematical material and other subjects more easily because they develop their cognitive abilities on time. When the child's brain is most susceptible to the creation of neural connections - the more of them we create - the better the brain develops.
What advice would you give to those who would like to start a business of this nature?
I would advise them to think about the exact type of business they want to pursue, and then to find an adequate franchise business.
Franchise businesses represent the possibility of an independent private business. It is an opportunity to, "be your own boss," but at the same time it offers the entire business worked out in detail, which gives security to those who are not really willing to take big risks.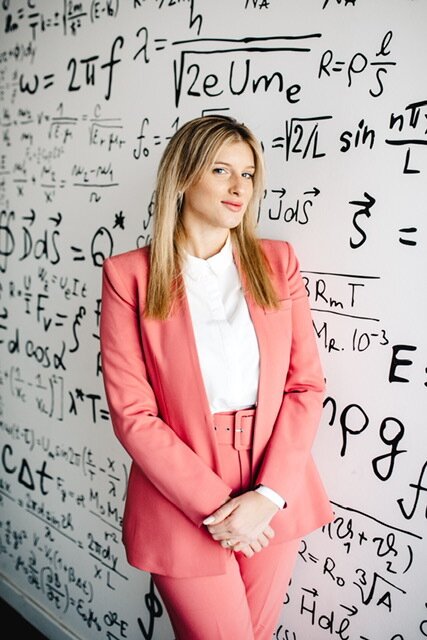 Sarah Vuković, professor and master franchisor of the Kid Genius school in Croatia /
"When I discovered the "Kid Genius" school, I recognised the quality of what it offers and throughout that story my visualization was as clear as day. The moment I decided to open a school in Šibenik, many people were skeptical and did not believe that such innovative programs could be developed here, but they were wrong..."