Little Caesars is hot and ready for Europe
Hola Madrid! / In 2019 Little Caesar's started their European adventure in Spain opening three stores in Madrid.
Pizza! Pizza! From a single store to a global chain – Little Caesars Pizza is a true franchise success story that still delivers today.
Pizza is calculated to be a $145 billion industry. From that, Little Caesars Pizza takes the world's third biggest slice behind Dominos and Pizza Hut. It all started when husband and wife team, Mike and Marian Ilitch opened their first restaurant in Michigan (USA) in 1959. In 1962 the brand franchised. By 1969 it was international. In the last 6 years Little Caesars has doubled its international presence and has no plans on slowing down. They currently have eyes on developing a European market and further expansion in Asia.
Little Caesars Pizza is now a household name with more than 4,300 stores worldwide. They are found right across the Americas, through Asia and have recently entered the European market. In 2014, Little Caesars expanded to the Australian market with 14 stores nationwide. However, 6 years later, Little Caesars Australia crashed into administration due to several unforeseen circumstances. All stores remain closed.
As mentioned, Little Caesars run in direct competition with some of the world's biggest takeaway pizza brands in all markets. Don't let that worry you; Little Caesars have still mananged to win the 'Best Value in America' title 13 years in a row. Despite their cross-continental success, they're yet to fully exploit the European market. In 2019, Little Caesars opened their first string of European sites, with three stores popping up in Madrid, Spain. On the back of a successful start in Europe, the company is actively on the lookout for more franchisees across the continent. The catch is, starting investment is relatively high (in excess of US$1,500,000) due to nature of the agreement, which requires the franchisee to open multiple locations to bolster the brand regionally.

Little Caesars Pizza in return offers world-class support and makes significant investments in new technology to help your business stay relevant with customers. They offer a straightforward business model focused on profitability and a strong culture of support and state-of-the-art technology. You don't stay in business for over 60 years and grow to become one of the largest pizza brands in the world without getting a few things right. Little Caesars Pizza offer a strategic business model that emphasizes simplicity and efficiency.
What's under the box?
According to Little Caesars their point of difference comes as four slices:
Quality - Our pizza is made with fresh, quality ingredients including dough that is made fresh in stores daily, sauce that is made from fresh-packed, vine-ripened California crushed tomatoes, and a signature cheese blend made with 100% Dairy Cheese.
Convenience - We are consistently innovating to make our customer's lives easier. From the revolutionary Hot-N-Ready® model to today with the launch of the Pizza Portal™ Pickup, on-the-go customers can get fresh, delicious pizza in seconds.
Value - Busy parents, students, millennials; anybody and everybody who wants to get the best tasting pizza at an incredible value is a customer. It's easy to see why Little Caesars® Pizza is the smartest choice in value for everyone.
Technology - Our award-winning** Pizza Portal™ Pickup is the FIRST heated self-service mobile order pickup station in the quick service restaurant industry. This technology is exclusive to Little Caesars® Pizza, creating a new and convenient experience.
Own Units
The Little Caesars Pizza chain currently operates thousands of stores across 27 countries around the world. 80% of which are franchise owned.
What's the investment?
A Little Caesars Pizza International development agreement requires new franchisees to build and operate a minimum number of restaurants in a particular area, within a specific time frame.

Little Caesars has a dedicated international franchise development team to support franchisees in implementing processes and systems to achieve the best results.
Franchisees are equipped with the tools needed to follow a proven brand system, including continuous training, architectural services to assist with design and construction, continuous research and development of new products, and frequent and effective marketing promotions.
Little Caesars offer a quick-to-scale concept designed to maximize profitability that includes:
Low square footage
Limited number of employees
Focus on takeaway service
Basic Network Requirements
What's expected from the franchisee?
Strong understanding of the local culture and trade in the planned area
Similar ideas about values and corporate culture
Experience in owning and operating a multi-unit restaurant business
Sufficient financial resources to scale aggressively by opening multiple stores
Access to highly preferred real estate
Organization structure to support, own and operate a network of stores
A long-term strategic vision for developing the Little Caesars Pizza brand
Key figures
The following estimates may vary depending on the number of stores to be developed. These are estimated minimum requirements and do not represent the total potential costs to open and operate one or more restaurant units.
A minimum of US$1,500,000 in liquid assets
US$2,500,000 in net worth under a multi-unit development agreement
Plus these essential costs:
Initial fee – Approx. $20,000
Ongoing fee – An estimated amount of 6% of gross sales or $100 p.w
Advertising fee – Estimated to be up to 7% of gross sales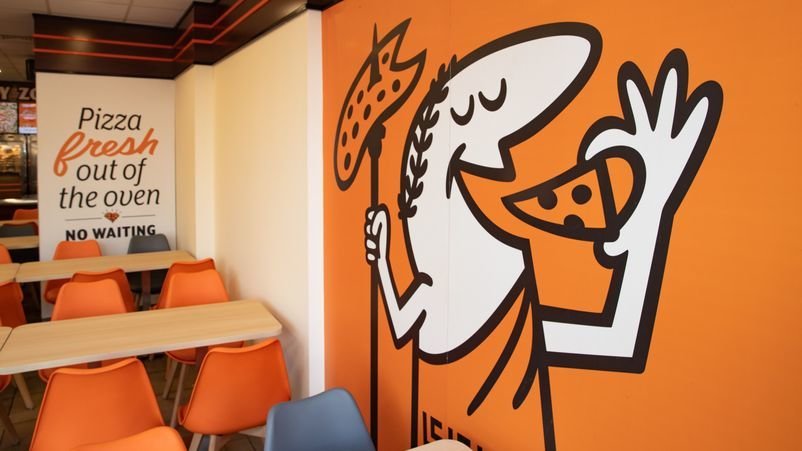 Hot-N-Ready for Europe /
The third biggest pizza company in the world wants a slice of Europe's market.