The sugar-free revolution
One bite at a time / Co-owner, Ewelina Choińska and her team are on a mission to change the way eat.
How to have your fit-cake and eat it too, everyday!
The way Europeans approach food and health has been rapidly evolving for the last decade. Even since the beginning of the global pandemic, google search trends for healthy remedies have risen by almost 700%, as people have become more conscious of how food choices can affect their overall health. Capitalising on this health revolution is the Polish based company, Fit Cake. Since its creation in 2016, the company has developed not just revolutionary recipes, but a whole ecosystem around healthier eating habits.

Fit Cake is the fastest and largest growing franchise network of non-confectionery in Poland and is looking to further advance around Europe. Operating under the slogan, 'NO SUGAR, NO PROBLEM,' there are also no worries when it comes to new franchisees not having experience in the kitchen. The only ingredients you will need is a willingness and commitment to the cause of healthy living. They rest, they say, you will achieve together.
Since Fit Cake first hit the market, it has seen many imitators. However, as with most things, the original is usually the best. Such is the case with Fit Cake, standing the test of time and even growing through adverse times. The original recipes are all created by co-founder, Ewelina Choińska, who has spent the last five years mastering fit treat recipes. In addition to her dedication to taste, Ewelina is also a titled fitness competitor and knows exactly what the market is looking for.

"Each of our products contains a list of macronutrients with the exact calculation of calories. It is a wholesome meal that provides the body with all the necessary substances. We also label what the treats are sweetened with. We only use natural sweeteners: erythritol or xylolite, which do not cause the so-called glycaemic jump and are healthier for the body," says Ewelina Choińska.
The company has now added, 'gluten-free,' 'lactose-free' and a 'for-vegans' range in order to reach a broader group of people looking for the things they love, without the added guilt or nasty after effects. Schools and kindergartens across Europe which have introduced a gluten-free menus are now using Fit Cake products, as well as fitness and sporting clubs. The brand also cooperates with foundations that help diabetics, people with celiac disease and those fighting obesity. Traditional pastry shops are becoming a thing of the past; it's now time to get on board the fit train.
Modular franchise system
The other Fit Cake co-founder, Rafał Kościuk believes that due to the pandemic, Fit Cake's new modular franchise system is a better way to engage cooperation with investors, based on the market opportunities in their area. Each system requires slightly different housing conditions and provides a different range of benefits on the part of the franchisor.

"The idea with modules is that the investor gradually enters the business, starting from the lowest grade, scaling up until the highest tier. This way investors have time to assess if the company suits them, or if it brings their expected profits. We propose an innovative, gradational system, consisting of three main blocks that fit together like puzzles and complement each other. Entry into the franchise network does not require large financial outlays. If the business proves successful, it can be expanded with new modules, spreading costs into stages and generating more and more revenues," Mr Kościuk said.
- Fit Cake Mini -
This requires an investment of about EUR 4,500 for the starter package, plus renovation costs. It requires a site of at least ​​30 sqm. There is no restaurant attached - only a kitchen and a counter. This model only requires one person to operate. After undergoing appropriate training, the franchisee can produce sweets on their own and distribute them accordingly.
- Fit Cake Standard -
This is more of your classic café. It has both the onsite kitchen and a seated restaurant. This site will be decked out to match the Fit Cake design. The minimum size of this unit is about 70 sqm. The cost of the investment is EUR 6,500.
- Fit Cake Premium -
The premium model has an additional fee of EUR 1,500 on top of the Fit Cake Standard. (This premium model produces Fit Breakfasts, a range of gluten-free, sugar-free and lactose-free meals and vegan Fit Ice Cream). The range of business benefits is also more expansive. The franchisee can take advantage of specialist trainings on healthy food (e.g., for diabetics, allergy sufferers, people suffering from celiac disease). This model also has a guaranteed exclusivity in a fixed area and a six-month included service with a PR agency.
- Keto Cake -
This is a 2021 novelty. This private label is exclusively available with Fit Cake. This expansion package has been created due to the popularity of the ketogenic diet and demand for low carbohydrate products. Keto Cake can be added onto each model for an additional fee of EUR 800. The regular price for this concept is approximately EUR 1,500.
OWN UNITS
FRANCHISE UNITS
Ready franchise outlets: 48.
Franchise branches in progress: 14 in Poland, 6 abroad.
SUPPORT FOR THE FRANCHISE
At every stage of cooperation, Fit Cake provide comprehensive and active assistance in restaurant operations under their strong and recognisable brand - based on an experienced and proven business model.
Comprehensive product, operational and technical training as well as workshops for confectioners.
"Operational manual" updated throughout the duration of the contract - a list of regulations.
Business assessment of the location, design of the restaurant interior (solutions minimising the decor costs), selection of the premise's equipment.
OHS procedures, instructions.
Patented brand + know how.
Strong local and nationwide marketing support.
Advertising cooperation in the production of labels and packaging (low price guarantee).
Cooperation on preferential terms with indicated, proven suppliers of products and services necessary for the functioning of the premises.
Access to modern techniques and devices supporting sales and service.
Territorial guarantee.
BASIC NETWORK REQUIREMENTS
Minimum population in franchise location: 4,000-20,000 depending on franchise model.
Point in an easily accessible and visible location, with high pedestrian traffic (shopping streets, malls, in large housing estates, display windows on the street side).
A minimum premises area of 30sqm-​​70 sqm.
No experience in gastronomy required.
KEY FIGURES
It's possible to make a preliminary technology concept of the selected premises before signing the franchise agreement, which allows for accurate estimation of the costs of adapting the premises.
Initial payment after signing the license agreement: EUR 6,500 net.
Monthly franchise fee determined individually or fixed amount: EUR 110 net.
Fit cake Mini
Minimum investment amount: EUR 4,500 net in the case of Fit Cake Mini (plus renovation costs, not more than EUR 6,500).
Fit Cake Standard
Minimum investment amount: EUR 6,500 (plus the costs of adjusting and arranging the premises approx. EUR 15,500).
Fit Cake Premium
Minimum investment amount: EUR 8,000 (costs of arranging a cafe as in the Standard variant).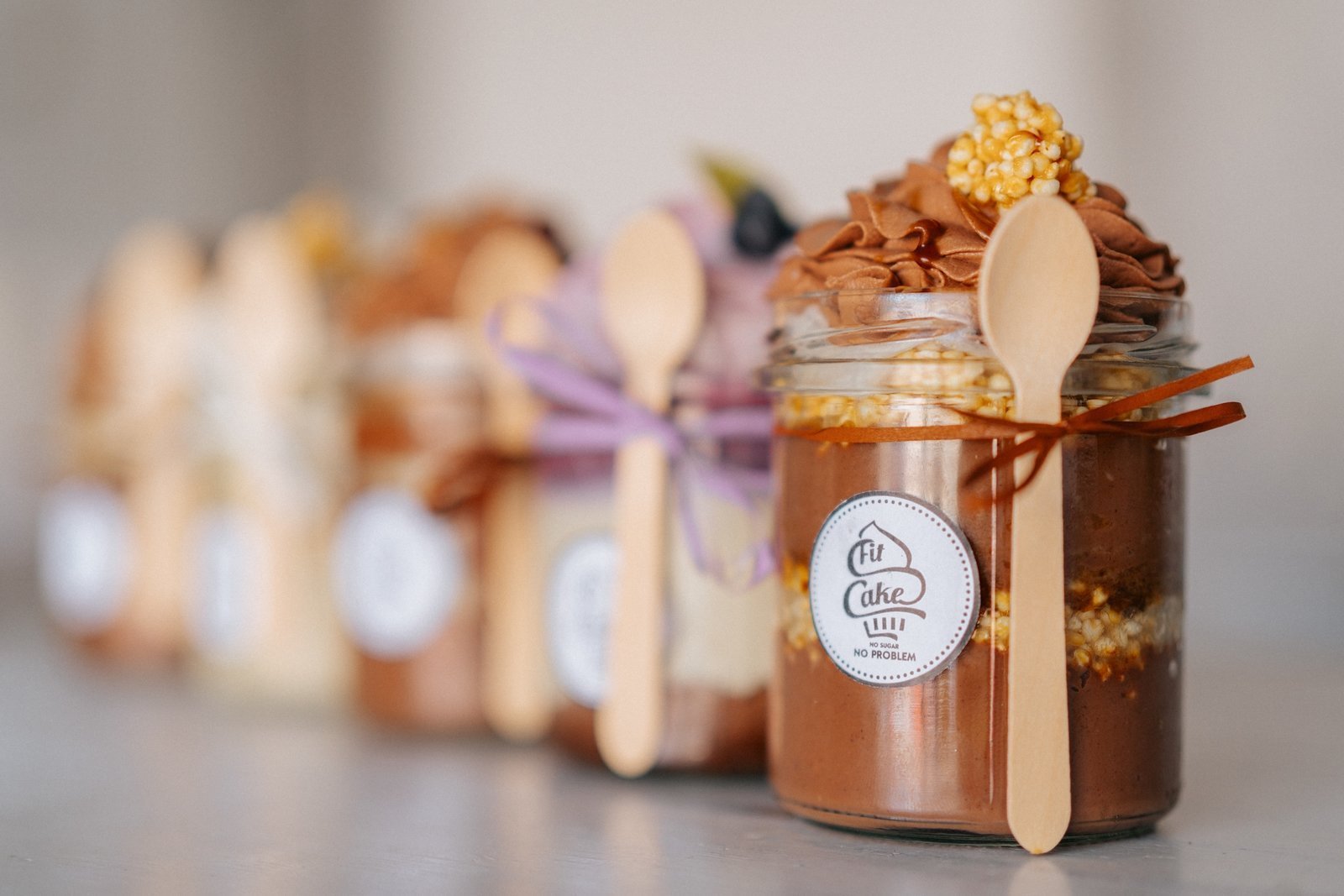 Pandemic special /
Fit Cake introduced new take away jars to suit the current economic climate.