LG Laundry Lounge - Life's looking good post covid
Mario Martinek, Director of Bright World / "We still have a big number of interested clients who would like to start a laundry business in Eastern Europe."
- We have fully equipped projects delayed by Covid just waiting to open - says Bright World Director, Mario Martinek.
LG Laundry Lounge is washing its way around Eastern Europe. This industry leading venture is brought to you exclusively by Croatian based laundry distribution company, Bright World. The LG laundry lounge is a self-service laundry concept that incorporates a high standard of washing, drying and ironing. We spoke to the Director of Bright World, Mario Martinek and Marketing Specialist, Antonija Juric to see where things are with the concept at the moment.
Why did Bright World partner specifically with LG?
Mario Martinek: It's a kind of strategical operation for us and at the same time is quite a new business for LG. LG has divided the business to domestic and professional aspects… LG has decided to give one company (Bright World) the exclusive right to develop the entire Eastern European market in two ways. This is how we are involved. The first way we are developing Eastern Europe is through the franchising model of high-tech laundry shops. The second way we are developing Eastern Europe is through the development of sub-dealers who can sell equipment, for example to hotels, etc.
How has the global pandemic impacted the LG Laundry Lounge?
Mario Martinek: This pandemic has impacted all kinds of businesses. Worldwide the biggest market for this type of business is in the US. We looked at the data and saw there was a big drop in this business, because there is a movement that people in the US are buying washing machines for their homes (due to the restrictions). Nevertheless, we expect things will get back to pre-pandemic levels when things open back up.

So yes, it also impacted our business here. However, Eastern Europe is not a fully developed market like the US. We have postponed some of our projects but will continue them this year. Plus, we also still have a big number of interested clients who would like to start a laundry business. When things stabilise, we will move forward with these.
What projects were postponed and when do you think they will resume?
Mario Martinek: At the moment there is a delayed project in Skopje, the capital city of North Macedonia. The shop is fully equipped and they are waiting to open. There are also some shops delayed in Poland which are also waiting to be opened up this year.
How heavily does LG Laundry Lounge rely on tourism?
Mario Martinek: The laundry shops have different kinds of investors. Some investors are from places such as Croatia, Greece, Albania – and open these kinds of shops around tourism hotspots. But the other kind of investors are creating laundry shops in big cities like Prague, Warsaw and Budapest. So, we now have new investors opening shops in these cities because Covid won't affect the business as much.

We hope with the vaccinations and resuming of normality, the tourism-based stores on the coast will start to attract new investors. We are seeing the same in other tourism-based places in Romania and Bulgaria, which have good potential with big populations and a steady flow of holiday makers.
What does an ideal franchise candidate look like?
Antonija Juric: We are not looking for something specific. The most important thing is the 'will' to become an entrepreneur. The other important thing is the financing…
We say it's all in the preparation. The best candidate is the one who asks a lot of questions, who uses our advice and experience regarding the marketing plan, putting everything into consideration to create their business. I know it might sound like a lot, but if they have the right attitude and are willing to go through the process then we see them as a prime candidate.

We invest our time and knowledge as well, so candidates have to be really committed to their goal - not just us. They need to have the right mindset when it comes to business. We have a variety of people who have opened businesses through Bright World. Some of them, for example, were economics students. Therefore, they had theoretical knowledge of entrepreneurialism and basic knowledge of PNL and the things that they will need along the way.
What can franchisees expect in terms of support from Bright World?
Antonija Juric: We have a special package for them. We provide all the materials to set-up their facility. They will also get free promotions, help with the calculations, help selecting the right location, and the right product bundle they will need to start. We also help plan their launch. We try to adapt to their individual needs in order to achieve the best outcomes.
Sometimes we tell them as a precaution, 'don't buy so much equipment when you're starting out because you need to be more profitable in the first year'. We don't want to see people just open and close. We are here as a friend and as a guide - that's why they trust us.
The new thing we also offer is help with social media. We help them with templates and guides of how to have their social media in order, that looks attractive – which also abides with the guidelines of LG.
They really are not alone in that whole process. When we think about it, we try to put ourselves in the shoes of a complete beginner and aim to make their transition to a business owner as smooth as possible.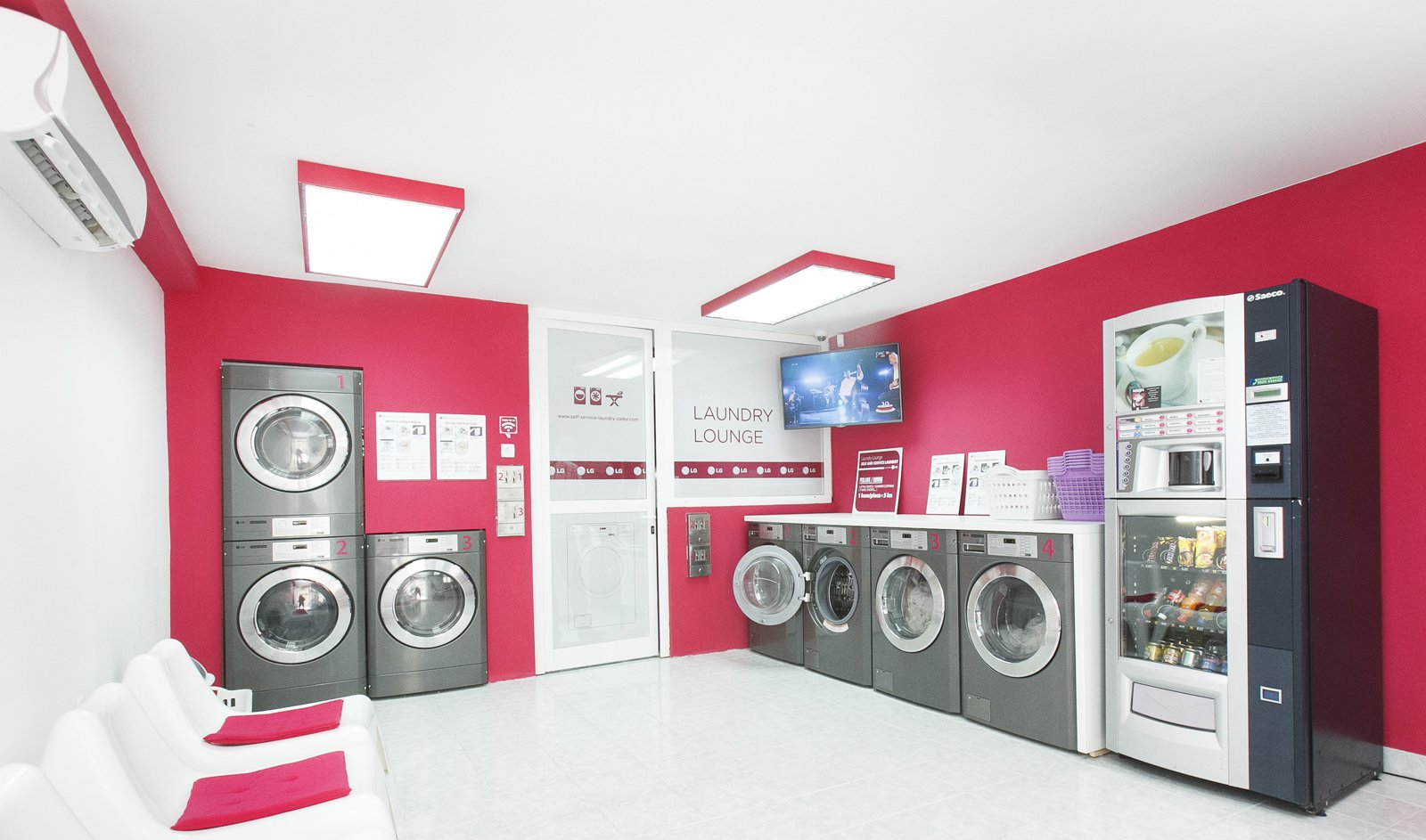 The Lounge /
These state-of-the-art laundry zones are popping up from Poland to Greece.