LEAP23 tech expo wrap-up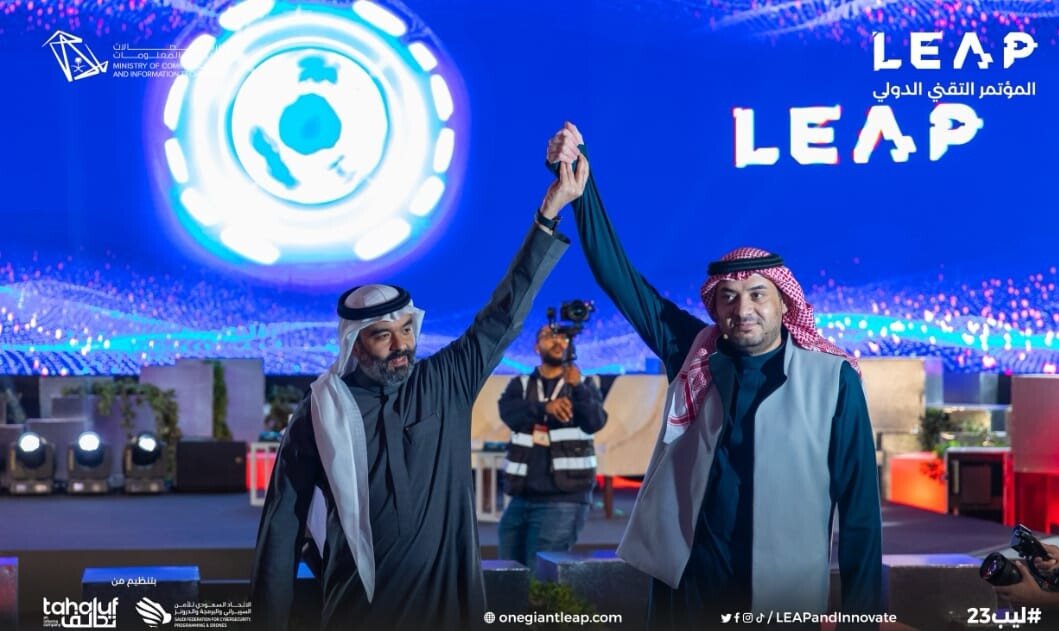 Strengthening Saudi based tech / During the opening of LEAP23, Saudi Minister of Communications and Information Technology, Eng. Abdullah bin Amer Alsawaha, declared billions of USD in investments will be made to support the future of digital tech entrepreneurship and start-ups.
This year LEAP launches and investment rounds exceeded more than USD 9 Billion in Riyadh, Saudi Arabia.
Last month the technology conference, "LEAP," was held for the second year running in Riyadh, Saudi Arabia. The global event harvested the best local and international tech talent and companies, which included public and private entities.
LEAP23 included 12 stages, covering: HealthTech, Cybersecurity, EduTech, Retail, Labour and HR, FinTech, Virtual Courts, Tourism and Culture, Smart Cities, Creative Economy, Doyouf Al Rahman, and Launches Platform.
During the opening of LEAP23, Saudi Minister of Communications and Information Technology, Eng. Abdullah bin Amer Alsawaha, declared billions of USD in investments will be made to support the future of digital tech entrepreneurship and start-ups, which will enhance the Kingdom of Saudi Arabia position as the largest tech economy in MENA. Alsawaha, assured that these huge investments were supported by Crown Prince and Prime Minister of Saudi Arabia, Prince Mohammed bin Salman bin Abdulaziz, who wants to empower the tech sector with exceptional support.
Investment Rounds of More than USD 9 Billion
LEAP23 welcomed a high-profile faculty of 1,000 global investors and recorded more than 172,000 visitors from over 100 countries during the four-day event.
This year's LEAP expo included the world's largest investment groups, sovereign wealth funds, private family groups, as well as venture capital shareholders and private equity funds focusing on technology. Total investments managed by these funds equal about USD 2 trillion.
This year, announcements, launches and investment rounds exceed more than USD 9 billion, as LEAP23 played a significant role in the direct encouragement of foreign investments, enhancing economic growth in the rapidly evolving tech system of the Saudi Kingdom.
One of the significant announcements of this year were the huge billion-dollar investments in private and public sector infrastructure advancements. As a result, there will be many new data centres around the Saudi Kingdom. Also announced, was the launch of new academies to support and brighten local talent.
RS 12 Billion Added to Support Small Enterprises
Alongside the vast international contingent, Saudi public entities actively presented at this year's LEAP23 exhibition. For example, the Social Development Bank (SDB), who participated in a significant platform for sectors' pioneers and tech leaders, in frame of the bank's strategic approaches in enhancing its part in accelerating national economy and its contribution to develop programs and financing solutions.
During the interactive session, "FinTech for the Future – Scaling the Kingdom's Digital Ecosystem," SDB revealed it has given RS 12 billion in support of more than 35 thousand small and micro enterprises. Furthermore, over the last four years, SDB has helped more than 170 thousand beneficiaries save over RS 365 million through their saving programs and products.
According to Eng. Sultan Alhamidy, Deputy CEO for Business Sector at SDB, the bank supports and enables small and micro enterprises from the start of the business process, by first preparing a feasibility study, before helping with financing, and then moving on to growth development. The bank also provides a range of supporting programs to help entrepreneurs with business continuity, and provides financial and non-financial solutions by delivering quality financing, training and specialised consulting services through centres; such as, Dulani Business Centre - who provides training and consulting for small and micro enterprises; and the Empretec Program - a program for building and developing behavioural entrepreneurial indicators needed in small and micro enterprises.
Alhamidy, also indicated that the ecosystem of entrepreneurs in the Kingdom have played a pioneering role in enhancing economic growth through innovation and development. Further denoting that the supporting organisations have also exhibited amazing skills in financing, accelerating and expanding new projects.
LEAP Promotes Franchising
Franchising Consultant, Ahmed Alarfaj, outlined the importance of the LEAP exhibition in its promotion and support of economic sectors through tech empowerment. The expo has helped launch many financing and investment rounds in promising companies and adventure capital funds, which enhance franchises across many fields.

Alarfaj, highlighted the attendance of "NO-CODE" to the exhibition. He explained that "NO-CODE" is a technical organisation designed to help businesses achieve success. They provide a large set of technical solutions, with many flexible business models, to match the needs and objectives of each client. "NOCODE" tech helps anyone, no-matter their technical skills, navigate the changing digital world and build their own software.
Next LEAP - March, 2024
LEAP event organisers have confirmed the next edition of LEAP will take place between 4 – 7 March, 2024.
LEAP24 will be sponsored by Saudi Ministry of Communications and Information Technology (MCIT), Saudi Federation for Cybersecurity, Programming and Drones (SAFCSP) and Informa Tech, which promotes Saudi Arabia as the largest digital market in MENA.
The LEAP conference and exhibition was launched for the first time in 2022. It allowed the meeting of more than 100,000 tech creatives and experts from around the world to discover innovating and pioneering ideas, build new partnerships, and connect with investors, to approach the new worlds ambition to build an innovative future.