Top up your battery
Don't get caught out / 96% of people don't carry a power back-up.
Charge Point keeps you connected on the move.
Oh no! Your phone battery is in the red and almost dead. You've still yet to pay for dinner, yet alone order your uber home. These days we rely on our phones for many daily activities such as music, payments, shopping, travel, work emails and private communications. This means phone with high use may need a daily top. With Charge Point, you no longer have to stress about your phone running out of juice or having to carry your charger with you at all times,
Charge Point operate phone charging units in public places such as pubs, bars, restaurants, hotels, etc. They do this through the installation of a charging locker, where users securely put their phone in, and then pay a fee for a phone charge. It's a safe, secure and flexible daily solution. With over 70 million mobile phones in the UK alone, sky's the limit for commercial opportunities for a phone charging business.
All units in the UK use high grade steel that ensure phones stay secure. Each unit comprises of two secure mobile charging lockers, where users can charge their phone for either 30 or 60 minutes – each with a different cost. Charging units are be installed free of charge and can be done in half an hour. The income generated is then shared with the premise's owner.
The company says business adaptors who welcome the service often look positively as the units as they generate an income, reduce free electricity consumption and eliminate the need for staff to take responsibility for expensive handsets. Charge Point unit is a great way of keeping customers around for a little longer (hopefully spending a little more money).
Charge point was founded in 2012. However, the first Charge Point franchise wasn't launched in 2017, after the company realised the best way to expand at large was though a network of franchising. Charge Points currently has 10 franchises running 200 Charge Point units installed throughout the UK & Ireland.
To date, Charge Point has delivered over 9 million minutes of phone charging around the world. David Stokes, Managing Director of Bean Around the World said: "Charge Point has proved to be a valuable service for our customers. I see Charge Point used on a daily basis. Customers are so relived when they find out they have charge their phones at our premises."
Charge Point also has a critial service in the travel industry. Ben Pope, Commeical Customer Service Manager of Ports of Jersey, said it's important that passengers have access to a charging point. "Nowadays, many passengers have adopted the use of electronic boarding cards, and recent changes in air travel rules requires electronic devices to be charged when passing through security. Therefore, offering our passengers the facility to charge their devices in a smooth and seamless manner, as provided to us by Charge Point is very important to us and ultimately to our customers," said Pope.
Charge Point's franchise model is simple and straightforward. The company are on the look out for master franchisees throughout Europe, North America and Asia. The franchise is completely home-based, which gives franchise owners the choice of working full-time or part-time, depending on if you want to power your pockets with a side income, or have the time to expand the franchise to maximise profits.
FRANCHISE UNITS
UK & Ireland: 10 franchise units.
SUPPORT FOR THE FRANCHISE
Full franchise training.
Sales and marketing training and materials.
Five ChargePoint unit installations.
Dedicated website.
Uniforms.
Ongoing management and support.
BASIC NETWORK REQUIREMENTS
Marketing, sales, finance and business experience preferred.
KEY FIGURES
Franchise fee: £6,000
Minimum investment: £6,000
Total investment cost: £32,000
Royalty fees: 20% of net profit
ROI: 6-12 months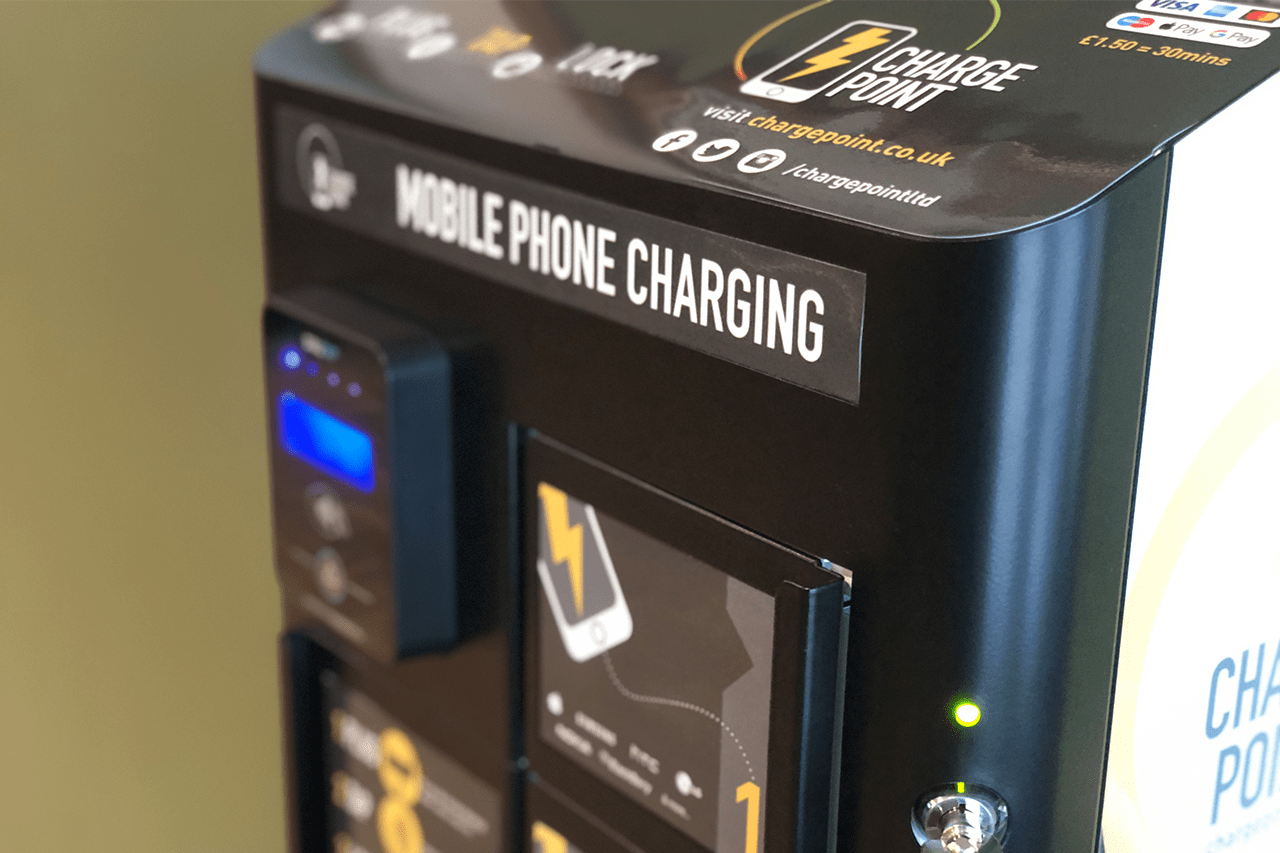 Compact in design /
Dimensions sit at 350 (w) 385 (h) 160 (d) mm, suitable for all venues, including those with limited space.