Time to get inked?
The world of ink / Cartridge World is an iconic imaging aftermarket brand which launched in Australia 30 years ago.
​Cartridge World considers every household and business as a potential client.
The COVID-19 pandemic resulted in the exponential growth of the sale of inkjet printers and cartridges as the global population shifted towards WFH (working from home). The WFH paradigm shift has rapidly expanded the printing market share of an already large industry, which has opened up franchising opportunites across Europe.
Cartridge World is an internationally recognised franchise and one of the worlds' largest specialty retailers of ink and toner printer cartridges and customised B2B solutions and services operating in an industry worth over USD 100 billion annually. With over 600 locations in 30 countries, the company is conveniently located with hundreds and thousands of individual and corporate customers across the world. This award winning brand is committed to providing the best products and services to consumers, while offering multiple revenue streams for their franchisees.
Bryan Stokes founded the company in 1988 from Australia - although franchising didn't begin until 1992, when the company name changed to what we now know as Cartridge World. In those 30+ years, the brand has grown globally with the first international Master Franchise established in 2000 in New Zealand. This saw the start of exponential global growth with the UK joining in 2001, followed by France, Cyprus, Greece, and Malta. By 2005, the company celebrated the opening of its' 1000th store in Atlanta.
Over the last 15 years, the brand has entered into emerging markets such as Malaysia, Singapore, the Philippines, India, Vietnam, Guatemala, and Afghanistan. In 2015, the company established the Cartridge World Global Procurement Centre in Zhuhai and 2020 saw the granting of a new franchisee in Nigeria and Master in the west Africa territory.
Cartridge World is not just an international franchise business that just sells cartridges. They have long term goals to help every individual and corporate customer understand their unique printing requirements and the cost savings as well as the reduced environmental footprint they can achieve.
The establishment of our Global Procurement Centre in Zhuhai has been a significant investment and ensures our global network receives consistent high quality printer cartridges at prices that keep our franchise locations competitive and more profitable. In the imaging aftermarket, the CW-GPC is unique, with quality assurance specialists ensuring our quality remains consistent through a unique three stage quality assurance process to six sigma standards.
According to Adam Davison, Cartridge World's operations manager, while Cartridge World is regarded as the printer experts, a Cartridge World franchise isn't just about ink - it can offer so much more. "We sell to both business and retail customers," says Mr Davison.
"Our franchisees come from a wide range of backgrounds and careers, proving that more or less anybody can make a success of a Cartridge World franchise," says Adam.
"To help them on their way there's in-depth training on every aspect of running one of our franchises. There's ongoing back-up and support from your business development manager and Cartridge World's franchise support team, which includes marketing, IT and finance."
FRANCHISE UNITS
600 locations across 30 countries
SUPPORT FOR THE FRANCHISE
Product procurement
Sales support
Global team of industry experts to guide you on your business journey
Economy of scale
Marketing support
Regular business webinars
Up to date operations manual
BASIC NETWORK REQUIREMENTS
Good managerial skills
Excellent business judgement
Working capital to fund your own business
Desire to grow in the industry
KEY FIGURES
Minimum Investment €50,000 + working capital
Short payback period of 2-3 years
Initial franchise term of 5 years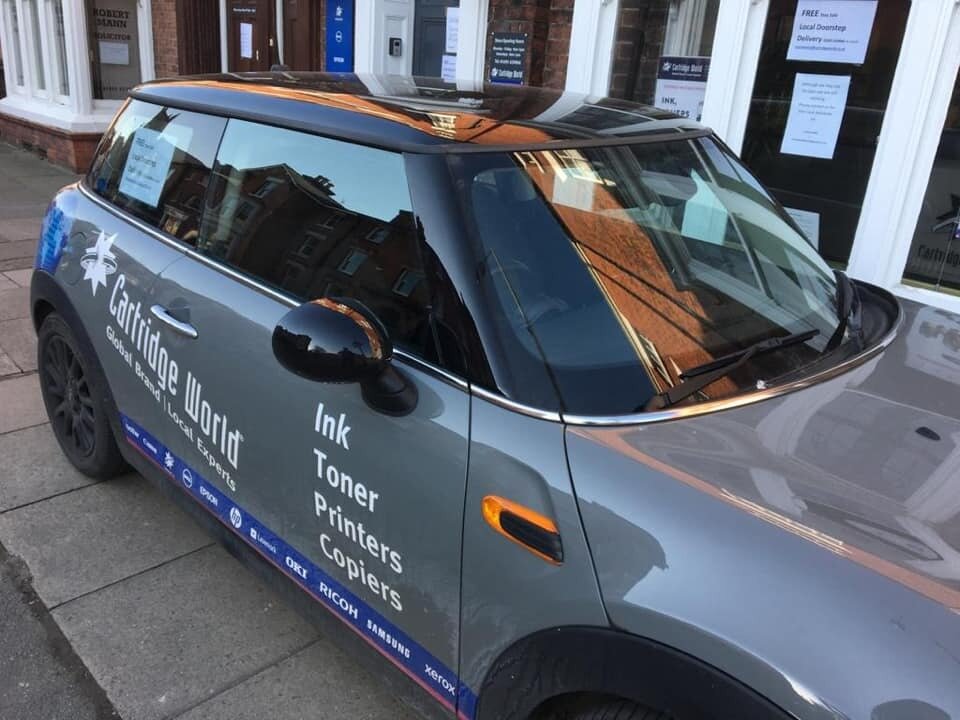 Express delivery /
Cartridge World even offers free delivery services for those who have run out of ink at a bad time.