A crêpe love affaire
All day yums. / The company sells freshly-made crêpes, waffles & gluten-free galettes. They also offer luxury shakes, juices & smoothies, and lets not forget the Fairtrade organic coffee.
The French-style pancake franchise that serves food all day.
Unlike American-style pancakes, French crêpes are thin and light. They are designed to be eaten for breakfast, lunch, dinner and even dessert. They can be either sweet or savoury, which opens the door for endless varieties of toppings to enjoy.
Crêpeaffaire says it's not just a food company, but a scalable life brand. Their philosophy is to position crêpes as an indulgent, yet healthy alternative to traditional fast-food within the quick-casual food market.
They first began serving their thin pancakes in 2004, when it set up its flagship store in London. Over the years, the franchise has evolved to meet the changing demands of its customer base.
In the midst of the Covid-19 pandemic, for example, it launched a postal pancakes service which allowed customers to order their favourite treats to be enjoyed at home.
Since its creation, they have become the UK's market leader, successfully opening 14 store locations with several different formats.
Now, the ambitious brand is looking to expand all across the globe. It's keen to increase its UK presence to 50 stores within the next five years and is interested in putting its stamp on international locations such as North America and other European countries.
Crêpeaffaire operates on small footprints without hood ventilation to suit multiple destinations. Aside from custom—built-in-line high street or mall formats, they have developed modular formats to reduce capex and enhance flexibility for use in malls, travel interchanges and store-in-store environments.
Size requirements vary by location; however, they say the sweet spot is about 800-1,200 square feet for in-line units, and from 120 square feet for kiosks. They also offer mobile solutions. Their custom-built van hits the spot with a limited mobile offer. These are ideal for those interested in catering pop-ups, corporate and private events.
With a moderate initial investment, industry-leading food cost and efficient labour structures, Crêpeaffaire argues they can verify their ability to yield strong returns, significantly above the majority of well-known coffee and sandwich brands.
Huei Liao, Franchisee of Crêpeaffaire in Oxford, England, said that within months of opening her store, she already found the confidence to expand her portfolio with Crêpeaffaire.
"I found Crêpeaffaire though internet research," Liao said.
"The concept offer was very appealing with the all-day serving possibility. I wrote to the brand and they were very responsive. They gave me a lot of initial information and support. That helped me to make a decision very quickly – and from there I had support the whole way."
"My experience with Crêpeaffaire support has been very, very comprehensive. From the initial stage, to the business planning stage, finding the location and business strategizing - all was very comprehensive and clear. They helped me a lot during the shop fit, set up, training and recruitment stages which all proved to be invaluable," she said.

FRANCHISE UNITS
Kuwait: x4
Netherlands: x1
Saudi Arabia: x11
UK: x14
SUPPORT FOR THE FRANCHISE
Real estate guidance
Support with design and shop fit
Comprehensive pre- and post-training programme
Support with shop launch marketing activities
On-going support from dedicated Franchise Business Manager
Franchise operations manual
Recipes and product instructions
Style and design guides
Support from a dedicated Franchise Business Manager
BASIC NETWORK REQUIREMENTS
Passion for food
Track record of growing and operating businesses in the foodservice industry
Strong people management and team-building skills
Solid knowledge of your regional market
Ability to acquire suitable properties
Eagerness to open multiple locations
Sound business planning capabilities
Access to capital.
A desire to align on brand systems and standards whilst also working independently
Average floor space: 700 square feet
KEY FIGURES
Franchise fees: £20,000
Minimum investment: £60,000
Total investment: £120,000
Expected ROI: 2 years
Advertising fee: 2% net sales
Royalty fee: 6% net sales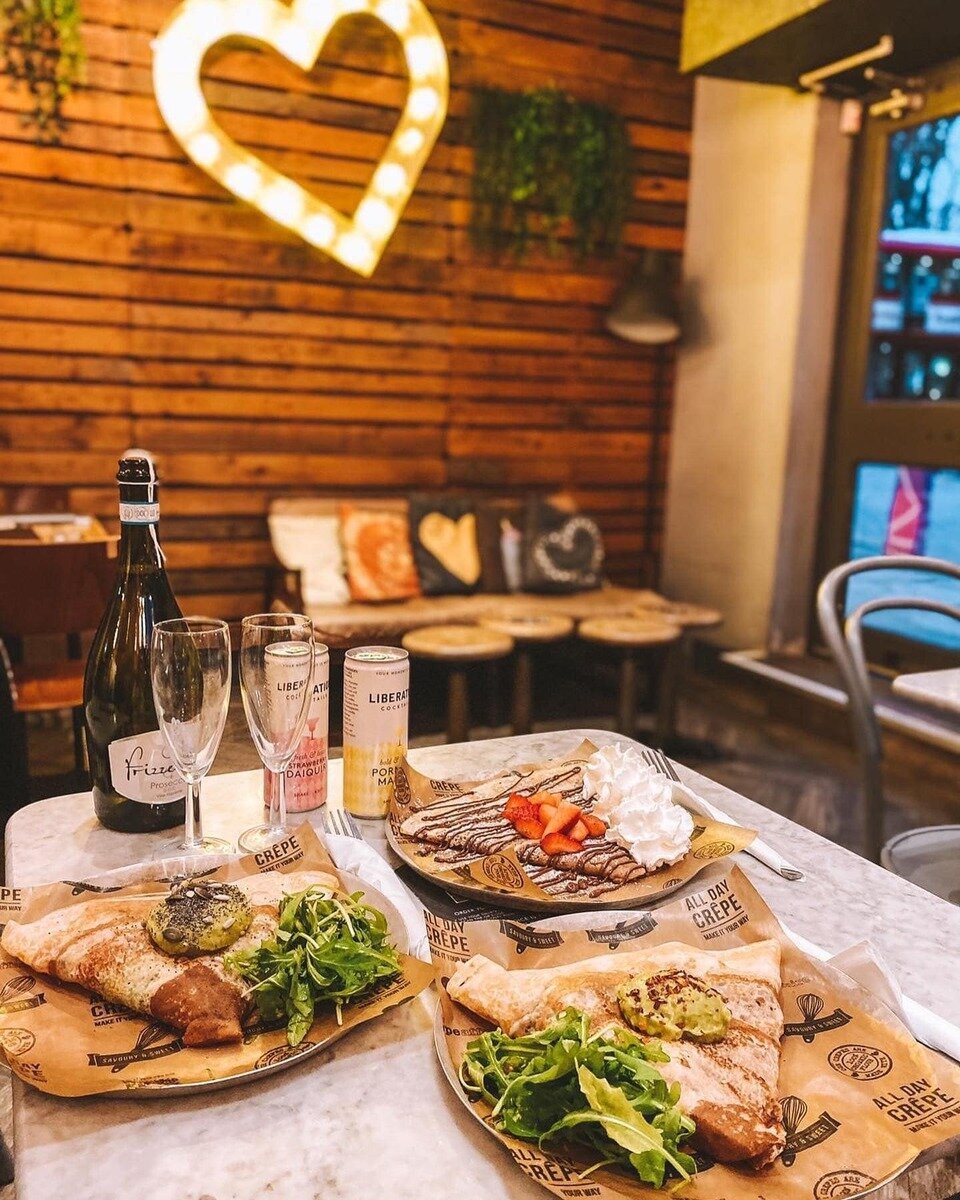 On the hunt for franchisees. /
Crêpeaffaire are rapidly expanding in the UK, Mainland Europe and within the Gulf Cooperation Council (GCC).