Burgers in bloom
Taste the love / Flower Burger aims to position itself as the prime destination for burger fanatics and people who are curious about new food trends and tastes.
The vegan burger franchise inspired by the flower power movement.
Flower Burger is the first vegan concept to serve colourful burgers, offering an alternative culinary experience that combines love, nature and food – with a 100% plant-based menu – while using no unwanted additives.
The Italian company's buns have a wide range of fun and palatable colours. For example, there is the yellow bun - made with the use of turmeric. And also, a black bun – created with vegetable charcoal and the violet tones of cherry and beetroot extract. The team at Flower Burger are constantly on the lookout for new natural colorants and ingredients, with the aim to keep amazing their customers.
The concept was pioneered by young entrepreneur, Matteo Toto, who had a vision to create the first Italian fast food vegan burger store. Matteo opened his first store in Milan, Italy in 2015. His journey would lead him down a path to discover new natural colours and flavours and to find the perfect meeting point between the burger culture and the vegan cuisine.
When stepping into the restaurant, you will be welcomed by a friendly atmosphere that nods heavily towards the hippy culture of the 70's, with the interior walls playing host to a range of psychedelic artwork. You might even find a yellow submarine.
The concept is driven by taste. According to Vogue, "If you are looking for a vegan fast-food restaurant to grab something quick between two shows, Flower Burger is the place to go." It's not just the burgers that keep people coming back - it's the sides. Pair your Flower Burger with their tasty potato wedges, edamame or patatas bravas. And don't forget the vegan desserts.
Flower Burger's Founder and Managing Director Matteo Toto commented: "People do not normally associate vegan food with fun and enjoyment. They are also tired of the equation vegan food = junk food," says Toto.
"Flower Burger is about changing this perception, with a psychedelic brand and restaurant décor and a natural, great tasting product that we produce ourselves and that is unique to us," he said.
Flower Burger now has 23 sites which can be found in Italy, France, The Netherlands and more recently in the UK. The company is looking to expand and is currently on the look-out for both multi-unit franchisees and area developers across the European and Americian continents.
FRANCHISE UNITS
Italy x19
France x1
Netherlands x1
United Kingdom x2
SUPPORT FOR THE FRANCHISE
Support in the search of the location for opening the store
Staff training
Support during the start-up phases
Intuitive cash management with our cashier system
Support in the marketing campaigns, events, and social media management
Project design of the shop layout
Custom-made furniture production
Project design of the kitchen layout and equipment supply
Centralised production factory to guarantee high-quality standards
Network of suppliers with advantageous economic conditions
BASIC FRANCHISEE REQUIREMENTS
Passionate about Flower Burger with local area knowledge, business acumen and sufficient net worth
Love for the brand, food, and culture
Understand Flower Burger USP and have some degree of knowledge of the consumer foodservice market
Have an entrepreneurial attitude, creativity, and the ability to make sound business decisions
Must be motivated, energetic, hands-on oriented
Financially strong, with material liquidity and access to capital to develop our brand
KEY FIGURES
Company Revenues
2019 – €4.6M
2020 – €3.8M (Covid-19 effected)
2021 – €7.0M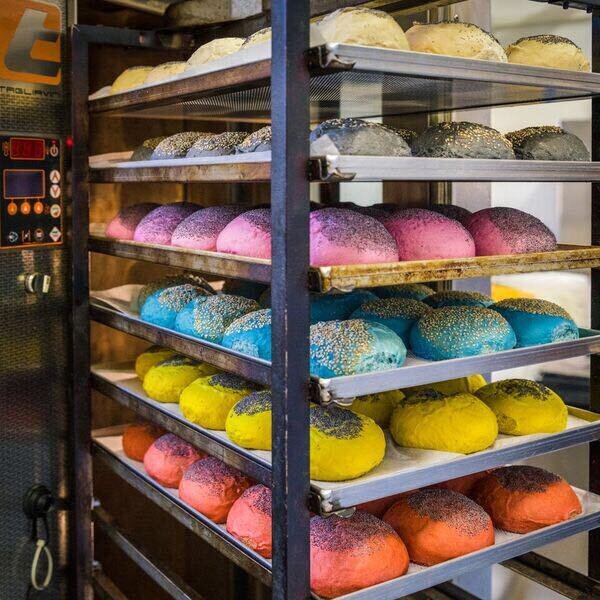 Eye catching /
All stores serve six unique burgers - plus one special edition burger every three months.