A good sign for franchising
Secure your start / Their turnkey process provides everything you need to run your business. From the machinery to hardware, software, fixtures and furnishings, everything is included to begin your business.
The Signarama franchise package includes everything you need to run your business from Day 1.
Take a look down any high street, drive along any motorway, walk past any construction site and you will see that everyone is a potential Signarama customer.
Signarama is more than just a franchise print shop. They're one of the largest advertising agencies in the world. Their extensive client base relies on them for a variety of materials such as banners, tradeshow props, storefront signs, digital displays, vehicle graphics and more.
With new technologies like digital printing and digital dynamic signage, this highly ranked franchise continues to stay on the cutting edge of the industry, paving the way for steady growth and higher profit margins.
As companies compete more and more for consumers' attention, brand recognition and local advertising has become vitally important to businesses. Further, this necessity for customised messaging has catapulted the sign industry into $50 billion global market.
Signarama was founded in 1986 by Ray and Roy Titus in Farmingdale, New York. A year later in 1987, they began franchising, opening a pilot store in North Palm Beach, Florida. Today, each and every Signarama branch are owned by franchisees. Franchisees are assisted by Signarama's highly qualified experts, who offer and provide experience and support to all their partners in this fully comprehensive turn-key franchise opportunity.
Signarama is currently owned by United Franchise Group – a large franchise group with 11 brands. Led by CEO Ray Titus, United Franchise Group houses a successful group of business-to-business franchise systems. Their franchised concepts specialize in personalised business services including signs, embroidery, and business brokerage. With over 30 years in the franchising industry and more than 1,600 franchisees throughout the world, United Franchise Group offers unprecedented leadership and solid business opportunities for entrepreneurs.
Director of Signarama in United Kingdom, Aliyyah-Begum Nasser explained that the company is constantly adapting to offer the best business solutions for their franchisees.
For less than half the cost of a full Signarama franchise, the company now offers a Light option which contains all of the benefits of the world leading Signarama brand without the outlay of production facilities. This value for money entry-level opportunity allows owners to test out the market, with the option to expand into the full production franchise as the business develops.
These flexible franchise additions have proven to be a good option for premises-based retailers who are looking for a new challenge or for complimentary businesses wishing to add a sign service to their offer.
"The Signarama Light option is extremely popular amongst Signarama franchisees in Europe so it makes sense for us to launch the concept in the UK too. Many of the people who started with the Light package have gone on to run a full franchise," said Mr Naser.
"The Light showroom is fully fitted out just like all of our other sign centres but without the production equipment. The footprint required is smaller and therefore has lower associated rental and business rates costs. Production is outsourced to another Signarama centre or top-quality local supplier," Aliyyah-Begum continued.
"The Light option is the ideal way for franchisees to dip a toe into the sign market and gives them the option to invest in a full Signarama production franchise as their business grows.
"Many existing independent high street retailers are looking for a new direction in the face of internet competition yet are ideally located to open a sign centre. Signarama Light could provide a new lease of life and exciting opportunity.
"The sign market is continually growing and the UK market is estimated to be worth over £1.1billion. We understand that production isn't for everybody and the Light franchise package will appeal to those who want to grow a visual communications business without getting involved in hands-on production.
"Signarama Light owners will provide a full visual communications consultancy service all the way through to signing off proofs and customers can see samples of the entire product range in the showroom," he said.
The printing franchise said it is now offering bolt-on packages starting at £20,000 with a franchisee fee of £8,000. The franchise bolt-on will only be offered towards small to medium sized businesses in the print sector.
The current franchise offerings are split into two packages: light and full. The light package mentioned costs £60,000 and gives franchisees the ability to run their own printing.
FRANCHISE UNITS
900+ worldwide across 80 countries.
SUPPORT FOR THE FRANCHISE
Training package - training at the Signarama headquarters in Miami, USA.
Proven idea - know-how for establishing and running an advertising agency.
Full support at every stage of business development.
Marketing support.
PR activities for brand promotion.
FRANCHISEE REQUIREMENTS
Skills that the company found helpful for franchisee to possess include:
People skills. Leaders need to have strong people skills to communicate and interact with clients, provide good customer service, instil confidence in and motivate employees, and maintain good rapport with their franchisor.
Motivation. Their franchise owners work hard to keep their businesses thriving. Striving for and attaining your business goals is good motivation to keep improving.
Business basics. While we don't expect franchisees to have business expertise, some money and business management skills are certainly helpful.
Ability to follow a proven system. While you can enjoy the advantage of being your own boss, it's important to understand that following their proven business model is key to your franchising success.
KEY FIGURES
Starting investment for bolt-on package: £20,000
Light package: £60,000
Royalties: 6%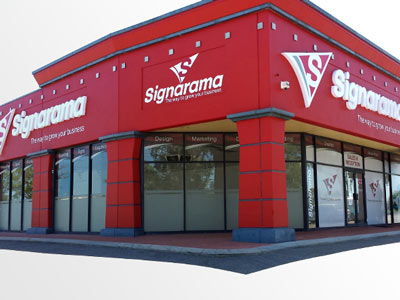 High Volume Buying Power /
With hundreds of stores worldwide, Signarama has an economy of scale that enable them to negotiate exceptional prices with vendors and suppliers -allowing you to generate larger profit margins.