Deliciously twisted
Find one near you / From a humble Pennsylvania farmer's market to the four corners of the globe, this is a global brand enjoyed by all cultures.
Auntie Anne's doesn't just sell pretzels, they sell happiness.
When Anne Beiler baked her first pretzels in a Pennsylvania farmer's market, she wanted to create a great product and provide people with an amazing experience. After some experimentation, "Auntie" Anne created herself a masterpiece. Customers kept coming back and asking for "the best pretzel they had ever tasted".
People wanted more. They asked for the secret recipe so they could have these special pretzels and drinks wherever they were. As a response, Anne and her husband looked for new ways to expand and bring the taste of Auntie Anne's to the world.
After the success of their initial stand in 1988, the first Auntie Anne's franchise opened in 1989 in Middletown, Pennsylvania. Within 3 years the couple oversaw 100 stores across the US. Then in 1995, the first international store opened in Indonesia.
The brand first came to the UK in 2003 opening their first store in Cheltenham. In 2005, the original founders, Anne and her husband, sold Auntie Anne's in order to fully devote themselves to their original vision of opening a family-counselling centre.
In 2009 the brand celebrated the 1000th store opening and soon joined the Focus Brands portfolio. Stores are usually opened inside shopping centres, travel hubs and entertainment precincts across the world. However, they can also be started in small kiosks and even in vans.
The company claims their market differentiator is that their products are made from scratch, hand-rolled and baked in full view of their customers - guaranteed to be fresh out the oven. They only keep products for 30 minutes to ensure absolute freshness and the highest quality for their customers.
The company, however, is much more than just pretzels. They've evolved from the classic original and cinnamon pretzels from 30 years ago (although these are still the most popular) and now have a full bakery line-up including pretzel-based breakfast buns, pizzas, hotdogs and much more. Because all of their products are made by hand at each store from the same original pretzel mix, they can make an extensive range of products to cater for a wide range of customers and at any time of the day. They also have cold drinks including our homemade fresh lemonade, coffee and in some stores ice cream and milkshakes.
In 2021, Auntie Anne's went larger on their digital presence and opened their first drive thru location in a collaboration with sister brand, Jamba. The move seems to have paid off as Auntie Anne's sales rank jumped from 105th to 76th in the US, growing 64.6% last annum.
Auntie Anne's Chief Brand Officer, Alisa Gmelich said, "The No. 1 thing guests said they wanted is more Auntie Anne's accessibility."
"The average guest goes only one to three times a year, but they want to engage with our brand more frequently. So that made us realize that we can do much more than our growth in malls, amusement parks, entertainment venues and airports… We started thinking about moving to street-side so guests can enjoy us more often," said Gmelich.
The company has also had a long tradition of helping others. As a part of this, Auntie Anne's partnered with Alex's Lemonade Stand Foundation which supports the vision of curing childhood cancer. They also have close connections to the Food Donation Connection, who strive to fight hunger and reduce food wastage. Auntie Anne's also donate pretzels to rescue missions and after school programmes.
FRANCHISE UNITS
Auntie Anne's have 1,700+ locations across 25+ countries.
Europe currently includes:
SUPPORT FOR THE FRANCHISE
Comprehensive training including: 4-8 days training at the headquarters, plus 4 days onsite training
Ongoing support
Marketing and advertising
Proven business model
BASIC NETWORK REQUIREMENTS
Flexible and varied store designs available
Committed franchisees who are willing to run their store with high standards
High level of customer service and retail experience required
KEY FIGURES
Minimum investment: £40,000
Total investment: £145,000
Franchise fees: £18,000
Royalty fee: 8%
Advertising fee: 1%
Funding support available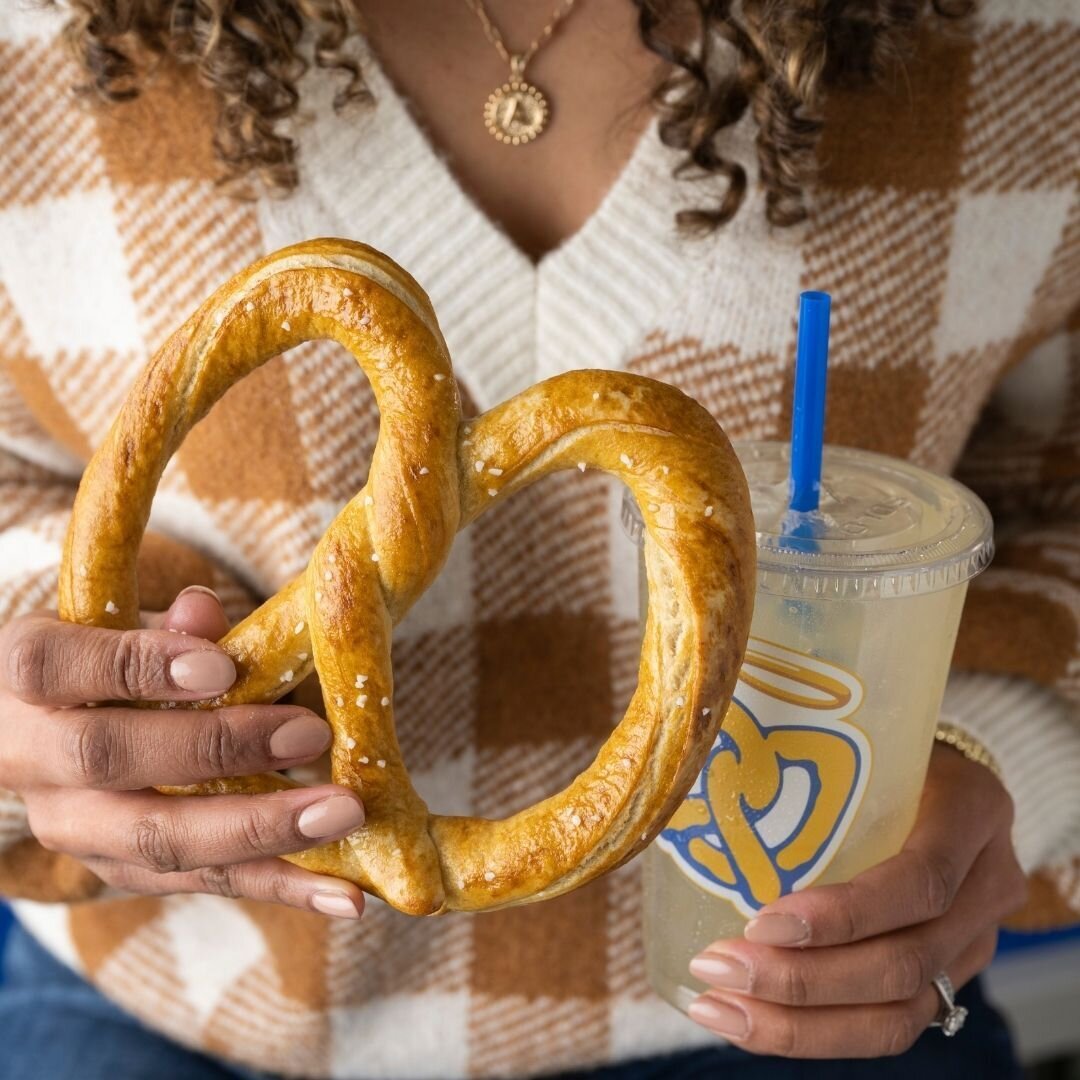 Food to go /
Auntie Anne's sits in the 'Grab & Go' sector, but this does not just mean snacks. They have a full breakfast bun range, pretzel sandwich concept in development, 'snack as meal' products that make for a filling lunch or early dinner as well as all the classic Auntie Anne's products that can be enjoyed at any time of the day.