Netting growth and experience
Stefano Petrović, creator and owner of Fish Delish / "Although from the very beginning of the development of the Fish Delish brand, the main idea was to form a franchise form of business, we decided to open a branch in Avenue Mall in our own arrangement. However, it is important to emphasize that we are open to further franchise cooperation in other locations in Zagreb."
Stefano Petrović, Owner of the Fish Delish concept reveals what he expects from their new Zagreb location and in what direction further development will take place.
When he decided to open a fish street food restaurant, Stefano Petrović wanted to add his special stamp to the seafood market. He insisted that each dish be carefully designed, prepared from quality ingredients, in a completely different and innovative way - and - with side dishes and sauces from their own recipes, delicious, visually attractive and tempting dishes were created. Among them: fish burgers, hot sandwiches, cold sandwiches, pasta, salads, fish and chips and raw fish salad. All dishes are made to order quickly, ready to satisfy your seafood cravings.
We speak to the man behind the successful seaside street seafood restaurant, Fish Delish that has just opened its very first store in the Croation capital of Zagreb.
With existing restaurants in Murter and Vodice, Fish Delish has so far operated exclusively on the coast. Now you are opening a restaurant in the continental area. What do you expect from Zagreb?
The opening of the latest Fish Delish branch in Zagreb is different in several respects compared to the existing branches by the sea. One major advantage in the fact this is an all-year-round business, as opposed to a seasonal one – therefore making regular transactions. Also, Zagreb is a capital city with a large population - but has also developed tourism in both summer and in winter seasons. Equally, the branch is located in a shopping centre where the thoroughfare is about 15,000 people daily. It's location in Avenue Mall is located in the very centre of New Zagreb, which is surrounded by office buildings and residential areas which may also realise business opportunities via various forms of delivery services.
What potential do you see in this new market when it comes to street seafood?
The offer of Fish Delish is a novelty in our market - both at sea and in the continental part of Croatia. Innovative and creative fish dishes are with us more affordable than the rest of the fish offer in classic restaurants, which are often difficult to reach the general public. This makes the Fish Delish concept desirable and in demand. In today's busy lifestyle, we want to eat something tasty, healthy which is prepared quickly, and our offer makes it possible to do just that. Also, many of our regular customers in Murter and Vodice are from Zagreb, so the feedback has been great in answer to the constant inquiries about when Fish Delish will come to Zagreb.
Franchising is one of the models you've used to expand the chain. Will the restaurant in Zagreb also be a franchise?
From the very beginning of the development of the Fish Delish brand, the main idea was to form a franchise form of business. However, for this branch we have decided to open the store under our own arrangement. The main reason for this is that since we are a young franchise, we wanted to complete our franchise knowledge with a slightly different business experience, in terms of year-round work, not just seasonal work on the coast. Working in a big city and especially work in a shopping centre brings many new things with it. This way, our franchise knowledge will be richer in many segments and we will be able to transfer it to future franchisees with ease.
It is important to emphasize that, although the Fish Delish branch in Avenue Mall is owned by us, we are open to further franchise cooperation in other locations in Zagreb.
In your opinion, will the visibility of the concept in Zagreb affect the increase in franchise inquiries?
We are sure that the visibility and presence of Fish Delish in Zagreb will influence the increase in franchise inquiries. Primarily because it is a capital city with a high flow of local residents and foreigners. Also, it's a larger branch that operates throughout the year, therefore interested potential franchisors will be able to come, see, and personally experience the Fish Delish concept, which until now, with the seasonal form of business, has been difficult.
What has been the interest in the franchise so far? Which cities do you get the most inquiries from?
The interest in the franchise so far has been very high! We had over 100 inquiries with about twenty serious conversations and meetings. Currently, three franchises have been signed and sold, and several very serious future franchisors have agreed to wait for the next season. At the beginning of July, two franchise branches will open, one in Makarska and one in Bol on Brač. We will not reveal the third location just yet, but we will say that it is a very interesting location that is not located on our continent.
Since our statistic is that out of every hundred inquiries for a franchise, one is realized, we are very satisfied with what has been achieved so far.
Inquiries related to locations along the coast have predominated, followed by inquiries from Zagreb and a few abroad, and we are in current negotiations with potential franchisors from Slovenia, Germany and France.
The period that follows will certainly be challenging. What do you see as potentially the biggest problems in this new business environment?
Challenges and problems are everyday in every business, and we will, as before, adapt to every situation we are faced with, noting that we opened the first branch in Murter in the period of the first year of the pandemic.
The advantage in our business is certainly the franchise business model, in which there is a close partnership between the provider and the franchisee. Unlike large business entities, where reactions and decision-making are often slow and inert, here, responsibility is distributed and branches function as individual independent units connected by brand recognition, product and offer standardization and uniform business model. For this reason, the reaction to problems and adaptation is much faster and more efficient.
Certainly, the most important thing in the franchise form of business is to find good business partners who share the same values ​​and aim to improve the business of the Fish Delish brand.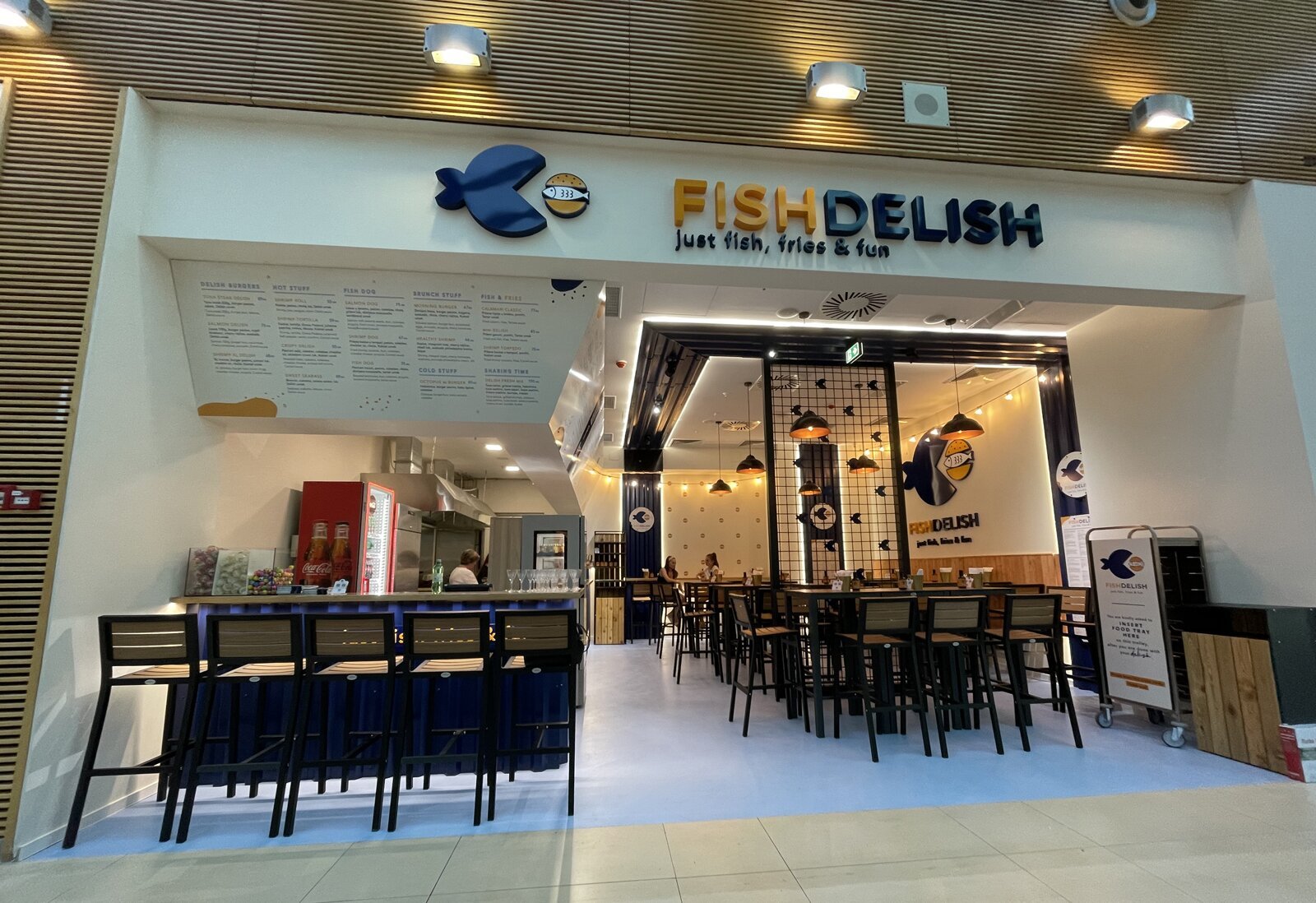 Trawling new destinations /
The new Fish Delish restaurant has opened in the Avenue Mall shopping centre in Zagreb.