Empower talents, overcome weaknesses
The unique neurofeedback test of innate talents / The key to Verbatory is for each individual to recognize their strengths and weaknesses.
Verbatoria centres tests children's, teen and adult's talents using their own brainwaves.
This uniquely developed neurometric analysis system is popping up around Europe. We speak to the Central and Southeastern Europe developer, Kenan Begić to get his take on the company prospective and franchise details.
All parents care about the future of their children. They will often wonder about their health, education and emotional development. It's only natural to then think about what their child might one day become? How successful, happy and fulfilled they will be in choosing a career? How crucial is parent guidance in discovering their children's potential? If at an early age your child can uncover what their best strengths are, and where their natural talents lie – then you're better able to focus energy towards these markers, forging a productive and secure career path.
Last year, two friends/business partners opened their own Verbatoria centre for neurometric testing, talent scoring and career guidance in Sarajevo, Bosnia and Herzegovina. Kenan Begić, is one of the owners of the company, SolutionLAB, that is leading the Verbatorie project. "We wanted to help both children and parents by sending an important message: don't leave a little Einstein behind," he said.
Although most of Verbatoria's clients are children and teenagers, this system is also intended for adult use. It's especially used by employed people who want to see or find their place within a dynamic of a company, explains Begić.
"The key to Verbatoria is for each individual to recognize their strengths and weaknesses," Begić says.
Looking at Verbatoria from the position of a business owner, Begić notes that it's no coincidence that they decided on this franchise system, which today operates in more than 20 countries around the world.
"The beginning of the pandemic gave us all much more time to think and look for new business opportunities. It just so happened that during this period that my business partner and I left our previous jobs, so we decided to start a small service-based start-up. We came across Verbatori in our search for a franchise that we could launch in our area."
"We saw it was a very sophisticated system of testing and assessing innate talents based on measuring neurofeedback, which greatly intrigued us both. We learned that developers and psychologists worked together to develop this system in order to make the test results as accurate as possible – and - as objective and relevant as possible. We quickly realized that Verbatoria has incredible potential. The service that Verbatoria provides extremely useful and even necessary. We believe that this concept should be implemented in as many markets as possible," continued Begić.
Where and how is Verbatoria current being developed?
The business partners decided to establish franchises for several countries, and have encouraged the opening of centres in Southeast and Central Europe. SolutionLAB became the recipient of a (super) master franchise for all countries of the former Yugoslavia, Albania, Hungary, Poland, Romania, the Czech Republic, Slovakia and German markets.
For now, they have built and begun to run two Verbatoria centres in Sarajevo and Belgrade.
However, Begić emphasizes that any further development in the above-mentioned markets will mostly depend on new franchise partners. The Verbatoria franchise is offered to all enterprising people who have the desire to lead an innovative concept.
Depending on your aspirations and ambitions, future franchise partners can choose between two options: a master franchise or a single unit franchise.
Begić explains, a single unit franchise includes the right to open a city territory or municipality centre, that has about 250,000 inhabitants.
"On the other hand, the master franchise means that the partner will be in charge of development on the entire territory of the country. This means that they have the opportunity to open centres independently, but continue to expand the network by providing unit franchises. This option exists for all the mentioned countries, except for Northern Macedonia and Slovakia, where we already have recipients of master franchises," says Begić. Adding that the first Verbatorie centres have already opened in Skopje and Bratislava.
What makes Verbatoria special?
Experience tells us that one of the main reasons people are interested in working with Verbatoria is in the comprehensive scientific way of testing, measuring and interpreting results. "That's the biggest competitive advantage of this concept," confirms Begić.
Verbatoria has developed a protocol for determining the five innate talents of an individual in the fields of mathematics, music, creativity, language and sports – while matching their relationships within the individual's personality. The system assesses three categories very important in decision making: self-awareness, stress resilience, and risk appetite; as well as, two further categories that determine the level of emotional intelligence: empathy and self-esteem. "In short, the goal is to determine the coefficient talent of each individual. We establish what type of social personality an individual possesses, deciphering what level each person is currently at, and what level they can achieve."
The testing process itself is very simple. It's performed in a casual atmosphere, as they don't want to give the impression the candidate is being carefully assessed. The Verbatoria expert will ask 20 to 25 questions. The focus isn't geared solely toward the answers, but rather on the process of thinking - aka, neurofeedback.
With the help of a special EG device (Brain Computer Interface), seven cognitive zones are recorded on the frontal part of the skull, where the signals of brain impulses are the strongest. The examiner asks different sets of questions in a targeted way, as each answer must "provoke" one of the centres and arouse a large number of neurocorrelations. Approximately 15,000 neurocorrelations are recorded in just one second.
The pulses are then sent to the Verbatoria server, where they are processed and decoded using their specially developed algorithm. The report is then ready within five to ten minutes.
"By focusing on recording neurofeedback before answering, we get much more objective results. The respondent may be able to say what the examiner wants to hear, but there is no "deception" in the thinking process. The objectivity of the test is enhanced by the use of sophisticated technology, since the result is not based on the subjective assessment of the examiner, but on the algorithm and technology that performs the evaluation," emphasizes Begić.
After the report is generated, the Verbatoria expert, together with the parents, assess the results and interpret the data. The whole testing and interpretation process takes about an hour in total.
Promising business opportunity
Based largely on his own experience, Begić says that he is not surprised that entrepreneurs who fully understand the importance of Verbatoria are very quick to decide on a franchise. Apart from seeing this concept as a good opportunity to start a business, they are also attracted by the fact that franchisees do not have to have any specific professional experience. Namely, the recipients can be specialists in the field of psychology or pedagogy; but also, investors who simply have to hire professional staff to do the job.
"I would say that at the moment we have an equal number of franchise partners from both categories. Our entrepreneurs tend to like this concept because it's a steady and interesting job which has huge market potential and which can provide a long-term stable income. The second group of interested people are people from the industry - psychologists, psychotherapists, pedagogues and teachers who want to be business owners, while still working with clients," says Begić.
What it takes to start a centre
As the franchise is simple and well-organized, it doesn't take more than seven days to start the centre, says the business owner. "Two days of training. Three days to translate the material into your mother tongue, and then you are practically ready to work. However, as we already have materials translated into 15 languages, you might not even need those extra three days."
In addition, the franchisee floor space only requires about 15-20 square meters.
The amount a partner will need to invest in starting a business will mostly depend on the type of franchise. The price of the master franchise will be determined in the agreement. This depends on the territory or country. The price of a single franchise is about 4,990 euros on average. By purchasing a (lifelong) franchise license the recipient will receive speciality Verbatoria equipment, and access to their system's servers. "As mentioned, the training lasts two days. The first day is dedicated to getting to know the essence of testing and interpreting the report; the second day is reserved for practical testing for all five test groups," explains Begić.
The franchisee is also obliged to pay a subscription fee of 249 euros per month for the regular submission of the neurometric reports. "This amount is fixed and doesn't depend on the number of reports sent. However, the amount is discounted for master franchisors when they start on-selling franchises," he says.
Begić emphasizes that in the first few months, recipients will receive a 50% discount on the regular fee for sending reports. "We believe this will be both a relief and an incentive for franchisors to get their business is established and expanded."
Begić adds that franchisees should remember that their initial investment will include the essential costs of equipping the space. But he believes this won't amount to more than 2,500 euros.
When opening a new centre, the franchisee gets to determine the price of the service, according to local market conditions. "The same goes for promotions and discounts," Begic notes. "The only thing we recommend is that the price of the service be unique at the level of the entire country."
Marketing and additional sources of income
As for any novel service-based business, one of the key tasks is to attract customers. What strategies does Verbatoria use to reach children and parents interested in testing? Does the franchisor provide its partners with the marketing tactics to succeed?
"Let's say there are four ways Verbatoria reaches customers and expands its revenue streams. The first is regular advertising. Our two primary aspects are digital marketing and social networking. In addition, radio has proven to be an extremely suitable medium for promoting and bringing our story closer to a wider base of potential clients," explains Begić.
Another very important business cooperation is with schools. "In Sarajevo, for example, we signed a contract with a private school, which will offer its students testing at the end of the semester. This is a classic "win-win" situation: the school enriches its offer, while Verbatoria reaches a larger number of students and their parents, who can further spread the story of our concept."
Begić also finds business potential communicating with companies. This means Verbatoria can offer their services to external companies during their hiring process, determining if they fit within the company's DNA. "When Verbatoria determines what is called a 'company's DNA' based on key people's testing, then people can be selected who are either similar to that code or completely different, depending on what the company wants to achieve. Maybe they want a team to continue working at the current pace, and maybe in other situations they will want a person who will "shake up" the team, bringing dynamism, because the company is not fully satisfied with the existing company DNA," explains Begić.
The fourth option of additional revenue is with a cooperation with your local public administration. "The best example I can give is our current partnership with the Municipality of Centar, Sarajevo, to which we sent the project 'Dynamic monitoring of children in school in order to achieve a high level of happiness.' The project, in essence, envisages that the municipality finances a number of tests for school children. The children tested will belong to the first, fourth and eighth grades. We believe that in a broader context, this can be a very good and simple tool for schools to profile students' talents and abilities to guide them further. I don't have to emphasize how many 'hidden pearls' and 'pleasant surprises' among children would be found though this process of testing," Begić amplifies.
Verbatoria officially started their Sarajevo operation in April 2021, and in Belgrade in January 2022. Begić says that in principle, the first two to three months pass in market education. "It is necessary to bring the concept of Verbatoria closer to potential clients, explain what kind of testing it is, what are the test results and advantages of this service." Adding, future franchisors and franchisees should take this into account when planning their own development.
"For example, in Sarajevo, we had a short promotional radio show. Only after that initial market education did we reoriented ourselves to attracting new customers. Then started inviting people to come test. Within a few months we had reached the response we had hoped for, and with additional projects with private schools and the municipality, we believe that there is still potential for quality growth in Sarajevo."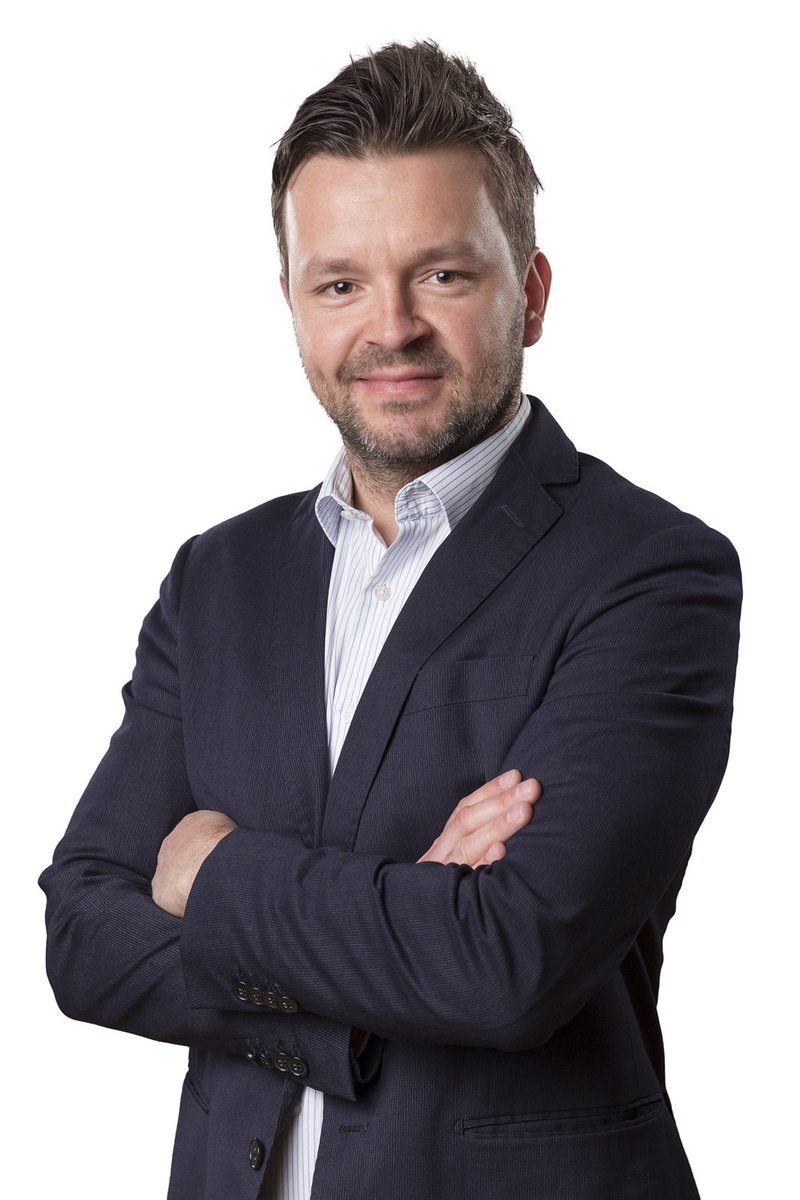 Kenan Begić, co-owner of SolutionLAB, the company in charge of the Verbatorija project in Central and Southeastern Europe /
"This franchise equally attracts specialists in psychology and pedagogy, as well as entrepreneurs and investors who want to run a stable business with huge market potential."