Fast signs and graphics
No sign too big or too small / The company takes care of branding, wall graphics, digital displays, car graphics, property and exterior signage, way finding and a whole lot more.
A business-to-business franchise creating custom signs and graphics for every company.
With 35 years of experience, the multi award-winning franchise FASTSIGNS has been helping businesses of all kinds brings their vision to life while extending their brand's reach. FASTSIGNS launched in 1985 out of Dallas, Texas, originally offering signs, graphics and visual communication solutions to local businesses. Within a year of opening the business, founders Gary Salomon and Bob Schanbaum realised there was a demand not just for their signs but also for their business model. There begins their journey into franchising – expanding through the US and then into the UK in 1992. Today, the company is globally recognised brand with over 750 branches across four continents.
These industry leaders strive to increase their client's visibility through comprehensive, creative and results-based approaches. They believe that marketing your business requires much more than just handing up a few simple signs. Their goal is to project the client's message to the community, solving visual communication challenges such as building brand awareness, promoting products, increasing business "findability," and more.
FASTSIGNS services include:
Custom banners, signs and graphics, including germ prevention signage, exhibits and displays.
Content development, including a targeting content strategy.
Installation of interior and exterior signage.
Graphic design to bring your visual communications to life.
Project management from start to finish.
Survey and permitting to obtain permits and ensure compliance with local laws.
Shipping and storage for your signage.
Mark Jameson, Chief support and Development Officer for FASTSIGNS International, Inc said he was incredibly proud of how their franchises adapted during the pandemic by tapping into the company's diverse product range. "At FASTSIGNS, our franchisees' success comes first. When the pandemic began to impact our industry, we fought to ensure FASTSIGNS centres across the U.S. could continue to operate, and we've continued to be by their side to help them every step of the way," says Mr Jameson.
"Throughout the pandemic, our franchisees have continued to manufacture critical signage, plexiglass shields, and more to help hospitals, local governments, and businesses communicate important health and safety information and to protect communities. Their role of being the go-to resource for visual communications in their communities continues to grow stronger every day. The growth and momentum we've experienced is a true testament to the strong FASTSIGNS network, our brand's ability to adapt systemwide, and the rising demand for signage," he said.
FRANCHISE UNITS
750+ units worldwide
United States
Australia (operating under the name SIGNWAVE)
Canada
Chile
Dominican Republic
France
Grand Cayman
Malta
Mexico
Puerto Rico
Saudi Arabia
Spain
United Arab Emirates
United Kingdom
SUPPORT FOR THE FRANCHISE
Protected territories and assistance selecting a suitable location
Industry-leading training
Preopening marketing campaigns
Grand opening support and guidance
Dedicated Business Consultants
A Franchisee Mentoring Programme
24-hour web-based learning management
Outside sales support
As well as support and training, franchisees get help with selecting a suitable site and negotiating a lease, fit-out drawings, architectural planning, a protected territory containing 5,000 business customers, a pre-opening marketing campaigns plan, access to FASTSIGNS' online management system and an invitation to the company's annual convention and key suppliers showcase.
FRANCHISEE REQUIREMENTS
The ideal candidate should be motivated, have a good work ethic and enthusiasm when it comes to developing a successful business. Candidates are not required to have industry experience and will be well trained in the ins-and-outs of the signage industry. Any experience of management is welcomed, and the ideal candidate should understand what makes a successful team in order to achieve a smoothly-run business.
KEY FIGURES
Minimum investment: £36,000
Total investment: £120,000
Franchise fees: £21,000
Funding Support is available.
For the first 12 months of trading, franchisees pay a royalty fee of four per cent of their monthly gross turnover, plus a one per cent contribution to FASTSIGNS' central national advertising fund. This rises to seven per cent and two per cent respectively after year one.
FASTSIGNS franchise profit is quoted by the company as a net profit of over 20 per cent.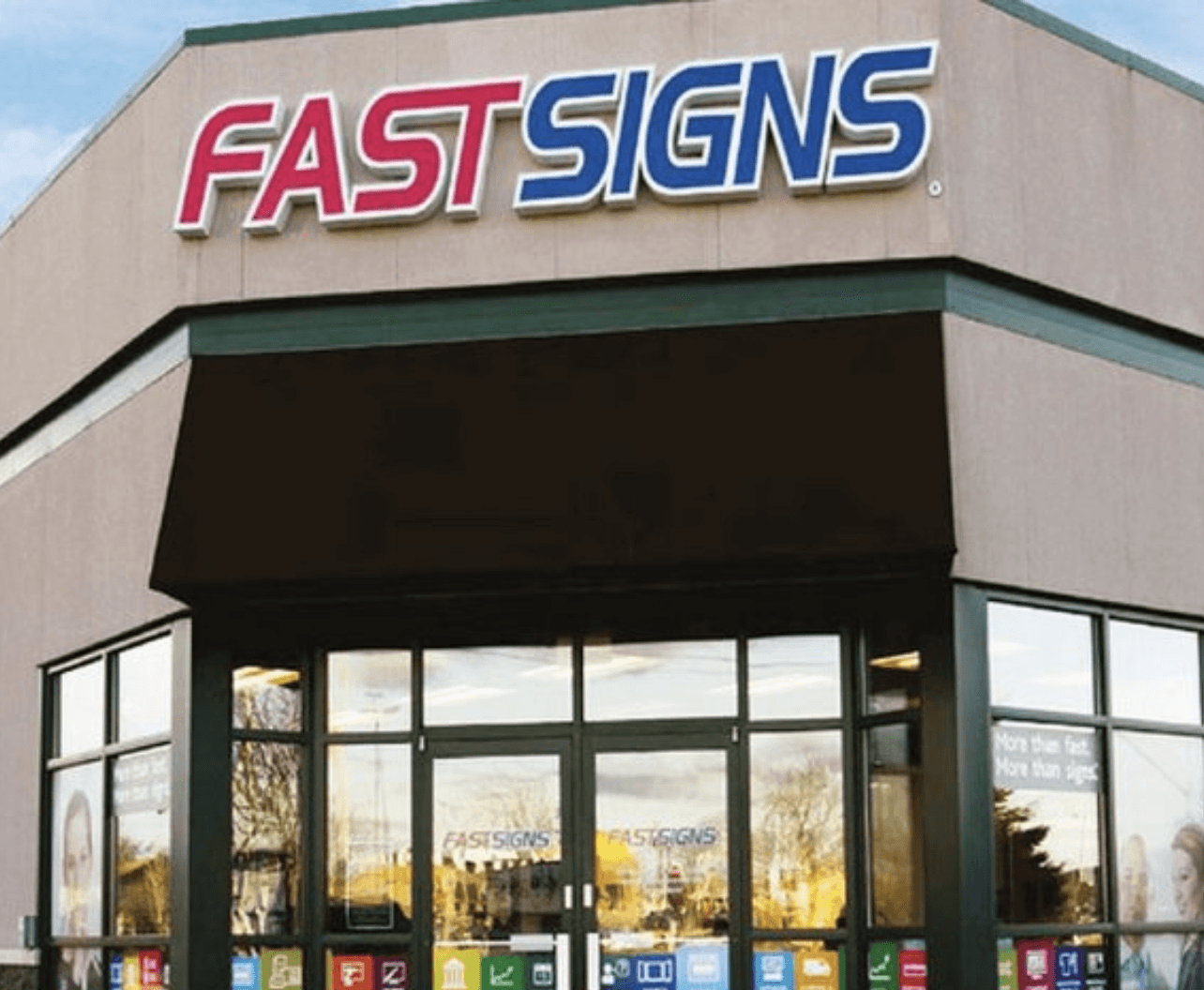 Global Leaders /
FASTSIGNS recently took out the top award for Signage and Communications at this year's Global Franchise Awards, held in San Diego, California.