A taste of the Wild West
Join the family / With two restaurants in Riga, Steiku Haoss is part of a major Latvian restaurant chain.
Steiku Haoss has set the bar for Baltic steakhouses, bringing forward plans to feed Europe.
Nestled in the heart of Riga, Steiku Haoss is a modern steak house restaurant run by two generations of family who share over 25 years of experience in the industry. It has fast become the destination of choice for serious steak lovers, who are on the lookout for the finest quality meat. Steak Haoss (Steak Chaos in English) is a steakhouse with a reputation for first-rate cuisine, exceptional service and genuine hospitality.
The restaurant prides itself on their fresh and local produce. Steiku Haoss's skilled butcher team sources, ages and does all the prep to serve a variety of juicy meat options. This is all done, of course, under strict environment and animal welfare practices. The companies other signature ingredients like cheeses, herbs, sauces are made in-house by a team of skilled chefs.
The first Steiku Haoss restaurant opened in in Riga, Latvia in early 2003. Steiku Haoss is part of the much larger Cantus Group, a market-leading Latvian chain of restaurants. Established in 1992, Cantus Group brings together several restaurant and gastronomic brands that focuses on award-winning cuisine. The Cantus Group's restaurants, including Steiku Haoss, Muusu and Muusu Terase, are distinguished by their charming character, but are united by family values, a passion for hospitality and delivering high quality food to their customers.
With 25 years in the hospitality business, the company has learnt a thing or two about transferring skills and knowledge across different locations and restaurant concepts. After many years of serving the finest quality cuisine and providing exceptional service, Steiku Haoss is ready to grow their family and bring the steakhouse to more locations outside Latvia, keen to share their cowboy flair and wild west flavours with the rest of Europe. Steiku Haoss offers their own recipes that are easy to follow and replicate globally. If you like meat, this might just be the fillet you've been waiting to sink your teeth into.
OWN UNITS
Multi-brand restaurant chain based in Riga, Latvia.
Including two Steiku Haoss restaurants.
SUPPORT FOR THE FRANCHISE
Steiku Haoss gives franchisees the knowledge, tools and training to successfully run and grow their business. The franchise support team provides expert advice and looks after franchisees throughout the entire period of cooperation.
Steiku Haoss offers a comprehensive range of support and advice in the following areas (but not limited to):
Location and construction analysis
Restaurants design in cooperation with local architects and suppliers
Brand and packaging standards
Manual of standard operating procedures, including standards, processes
Recipes
Marketing guidelines
Trademark registration
Purchase of equipment
Food and security policy
Business and financial plans
Business modelling and forecasting
Recruitment and training
Definition and establishment of the supply chain
Menu creation and design
Continuous improvement of the system
These areas contribute to the support at various stages, such as construction, design, operating procedures, recruiting and opening a restaurant.
Marketing support
The franchise support team provides franchisees with ongoing assistance in developing a marketing strategy and translating it into action plans.
These are the elements that are included in the marketing support package:
Brand catalogue and style-book
Marketing strategy
Annual marketing plan
Securing sales and marketing in a restaurant, including menu cards and promotional materials
Digital marketing strategy, including website and social media guidelines
CRM guidelines
Training in the field of sales and marketing
BASIC NETWORK REQUIREMENTS
They are looking for ambitious and motivated franchisees who will use thier sources of income to develop in new regions. To become a franchisee of the Steiku Haoss restaurant and steakhouse, you must provide a detailed strategy and plan for a specific region or territory.
An appropriate location is also essential. The franchisee should have access to an attractive location on a bustling pedestrian street or in a shopping or business centre. The optimal usable area is from 350 to 550 sqm. A corner building with an open floor plan and large windows is a perfect place for a restaurant. In addition to the strategic concept, there are a number of features a franchisee must have in order to join the Steiku Haoss network:
Backroom
Knowledge of local culture and customs
Experience in the field of marketing and business development
Experience in financial and cost control
Benefits
Established network of local partners
Access to a strong management team
Approach
Strong identification with the concept of Steiku Haoss
Readiness to work independently, but at the same time to be part of a larger system
Practical approach to acquiring knowledge and skills
Personality traits
Positive leadership
Focus on teamwork
Visionary and entrepreneurial thinking to unlock Steiku Haoss' earning potential
Excellent communication skills to convey the values ​​of Steiku Haoss
KEY FIGURES
Franchise fee starts from EUR 25,000 for a single restaurant
Total value of the investment starts from EUR 200,000
6% franchise fee on monthly net sales
The possibility of purchasing a master franchise in another European market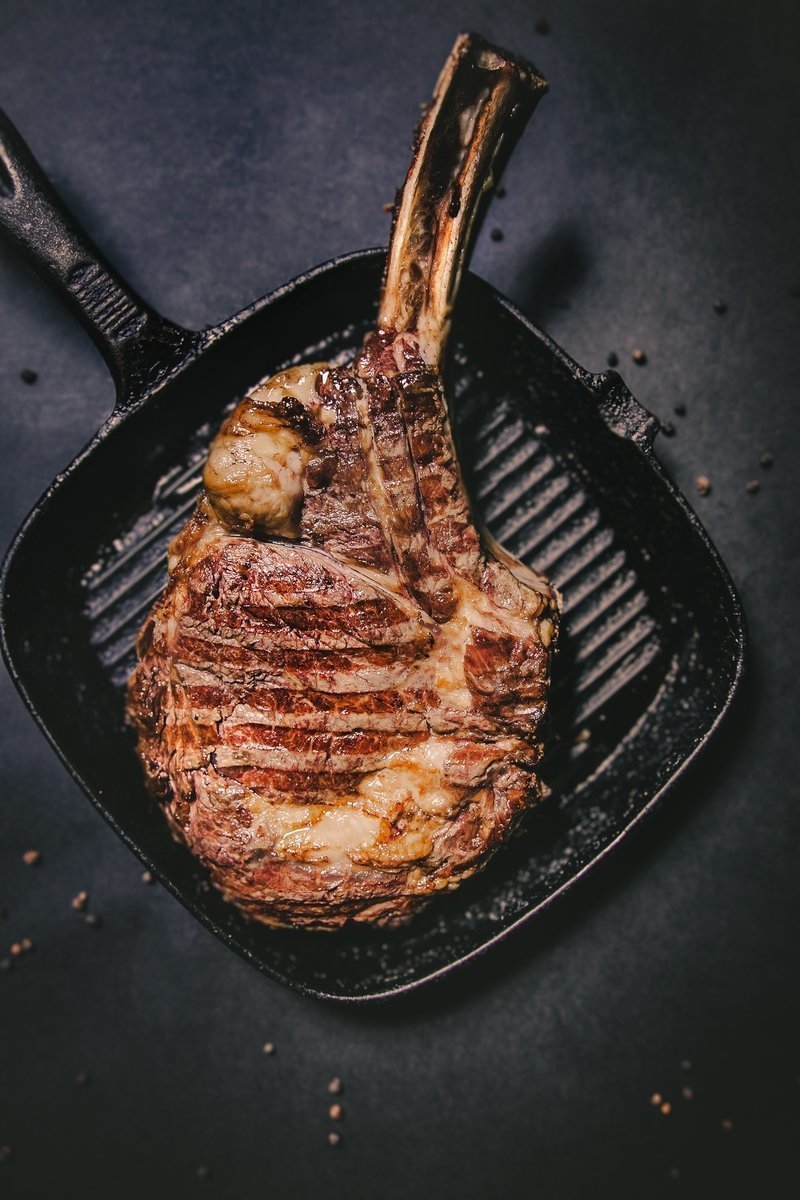 Quality meat /
"Aged beef is the signature dish and a customer favourite at Steiku Haoss. Locally sourced beef sirloin and entrecôte are dry-aged in-house for 21 days in a specially designated dry-aging fridge. Our regular customers are also fond of our Baltic beef tenderloin (aged for 7 days) and 28-day dry-aged Black Angus from Australia," proudly says head chef Kristaps Jauja.