The MBE Empire
More than 40 years of experience / Since its inception, MBE has served thousands of clients, therefore fulfilling the MBE Worldwide Mission: Making Business Easier Around the World.
Mail Boxes Etc. helps people and companies increase their productivity by outsourcing logistics and communication services. Starting a lucrative business may be easier than you think when MBE is on your side.
Mail boxes Etc. is a leading network of Service Centers that provide a variety of shipping and marketing solutions. The first Corporate Center in Italy opened in 1993. Over the next two decades, the MBE Network expanded to over 1600 Service Centers in 53 countries. At such a scale, it is the largest network of its kind in the world.
Mail Boxes Etc. was founded in San Diego, California in 1980 by Gerald Aul, Pat Senn, and Robert Diaz to address the many issues inherent in the slow and inefficient design of the U.S. Post Office at that time. The firm quickly recognized the prospects and potential afforded by the franchising model and sold its first franchise in Carlsbad, CA within the same year. Franchise royalties and marketing fees, as well as new franchise sales, provide for the majority of MBE's profits.
In the 1990s, the firm extended its activities to cover a wide range of services and equipment to fulfill any corporate requirement or need. It helped organizations minimize expenses by becoming a one-stop-shop, and MBE became the preferred go-to firm for customer service or delivery centers.
In 2001, the USA and Canada networks were rebranded as The UPS Store. The international operation was acquired by MBE Worldwide S.p.a. (based in Italy) where they purchased the remaining 38 worldwide retail centers. These centers are located in various countries such as France, Germany, Ireland, and the UK.
For more than four decades, the firm has been a success story. The MBE franchise concept is so effective because it is straightforward, yet varied. Ownership of a profitable distribution and printing facility with top-notch customer service is within reach for franchisees in the heart of their communities.
"One of the key added values ​​of Mail Boxes Etc is the combination of the various services we provide, making the business concept truly flexible and adaptable to the specificities of each market worldwide," says Giuseppe Bergonzi, Mail Boxes Etc. Global Development Manager.
A franchise with MBE provides a plethora of opportunities for those who want to pursue a strong entrepreneurial path. Through a "customer first" and easily accessible network distribution method, MBE caters to the demands of each client. Other services offered by MBE include virtual addresses, office supplies, stationery, and a range of logistical solutions for small and medium-sized enterprises.
OWN UNITS
FRANCHISE UNITS
SUPPORT FOR FRANCHISEES
The right to use the Mail Boxes Etc. trademark

Direct link with suppliers such as UPS, Fedex, K-EX, Western Union, InPost, Colop

Financing assistance
Site selection
Interior design
IT software
Marketing assistance
Advertising
Business development
Training programs
CANDIDATE REQUIREMENTS
Strong motivation, as well as direct engagement in business.
Candidate verification.
having the financial resources to make the necessary investment.
effective completion of business-related training programs.
willingness to learn from scratch in a new industry.
Key Figures
Expected minimum investment: EUR 25,000
Total investment: EUR 60,000
Franchise fees: EUR 25,000
Marketing fee: 4%
Royalty fee: 6%
Expected revenue after 2 years: EUR 120,000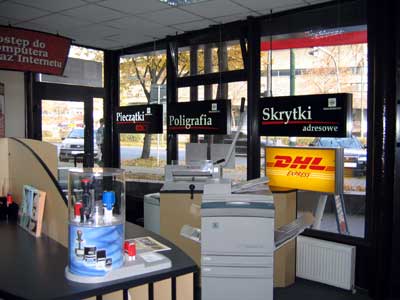 Consistent Growth /
In 2017, MBE acquired two companies - PostNet and AlphaGraphics, together forming the brand MBE Worldwide.