That new car smell
Cars on fleek / Do you like cars? Do you want to meet interesting and successful people? Do you want to be the best in your business? Get your own Car Wash Express in a mall near you.
Automyčka Express (or Express Car Wash in English) is a premium car wash service that saves you time and makes you and your car feel brand new.
Automyčka Express has emerged as the largest network of car beauty centres known for the highest quality of hand washing and detailing of cars in the Czech Republic. You will find this quality express car wash within premium shopping malls across the country. This company will manually clean your car in just one hour. No streaks, no fuss. Automyčka Express already has 26 branches in shopping centres across Prague, Kladno, Pilsen, Hradec Králové, Brno, Ostrava and Bratislava, and are keen to expand the brand further.
Automyčka Express is the first Czech and Slovak premium member of the International Carwash Association (ICA). The company is certified according to EU standards - ISO 9001 and ISO 14001. Furthermore, this franchise is a fully ecological operation, and includes its own modern wastewater treatment plant. The company regularly tests to meet the strict limits of chemical analyses of discharged water samples.
To date, this company has hand washed over 1 million cars. The company aims to maintain and grow their customers not just through a premium service and convenience, but also through their well-established loyalty program which can save the consumer up to 30%. Also, for those who don't like the mall, Automyčka Express now offers a fully insured pick-up service. The base cost for this service is about 25 Euros if you live within a 10km radius from one of their service points.
During the pandemic when shopping malls were forced to close, the company adapted to keep the suds flowing. Richard Kettner, CEO of Automyčky Express utilised the companies pick-up service to reach their loyal fan base, while giving the brand loyalists a chance to use their innovative service without cost. "We will pick up the customer's car right at his home, clean it thoroughly, disinfect it with ozone and return it. Pick-up service is free. All this in compliance with strict hygiene measures," said Mr Kettner.
FRANCHISE UNITS
Prague
OD Anchor
Palladium
Florentinum
Atrium Flora
Arcade Pankrác
Westfield Chodov -1
Westfield Chodov -M
Novodvorská Plaza
OC Nový Smíchov
Zličín metropolis
Butovice Gallery
OC Šestka
Amazon Court
NC Fénix
Harp Gallery
OC Letňany
Black Bridge Center
Europark
OC Opatovská
Kladno
Hradec Králové
Pilsen
Olympia Pilsen
Pilsen Plaza
Brno
Ostrava
Bratislava (SR)
SUPPORT FOR FRANCHISEES
The franchisee will acquire a fully equipped Automyčky Express store in a specific shopping centre.
The franchisee will gain complete training and know-how of the successful AE concept.
The franchisee has constant technology - operational support, innovation and supervision.
Marketing support, social media and the creation of Lovebrand.
Possibility of securing advantageous financing of the Starting Franchise Fee from Unicredit Bank.
BASIC NETWORK REQUIREMENTS
Adherence to the AE business concept.
Managing your own team of people.
Monitoring the quality of services provided.
The franchisee operates under the AE brand on his own account as an independent entrepreneur.
The operation requires the physical presence of a partner - the franchisee!
The advantage, not the condition, is experience in the field of automotive or providing services.
KEY FIGURES
Start franchise fee:
For branches outside Prague from CZK 500,000 / EUR 20,000.
For Prague branches from CZK 1 million / EUR 40,000 (depending on location) with the possibility of securing advantageous financing from Unicredit Bank.
The entry fee includes:
Lease of a fully equipped Automyčka Express, including construction and all technologies, worth between CZK 5-10 million / EUR 200-400 thousand.
15-years successful know-how of the AE concept.
Complete training of the franchisee and regular training of the staff.
Access to the unique Matrix Information and Custom System.
Access to an intelligent camera system with license plate readers.
License fees.
Ensuring the operation of the water facilities according to the water permit.
Significant discounts on the purchase of professional cleaning products.
Continuous technical, operational, accounting, legal and marketing support.
Innovation and supervision.
The franchisee receives all sales into their own account. They then pay for the branch costs (rent, energy, chemicals, supervision) salaries, and a regular monthly franchise fee (which totals 15% of the net sales). The profit difference from there goes to the franchisee. Therefore, the greater the franchisee's sales, the greater his profit. Revenues of the AE Group have been growing regularly for more than 6 years in a row at a double-digit rate.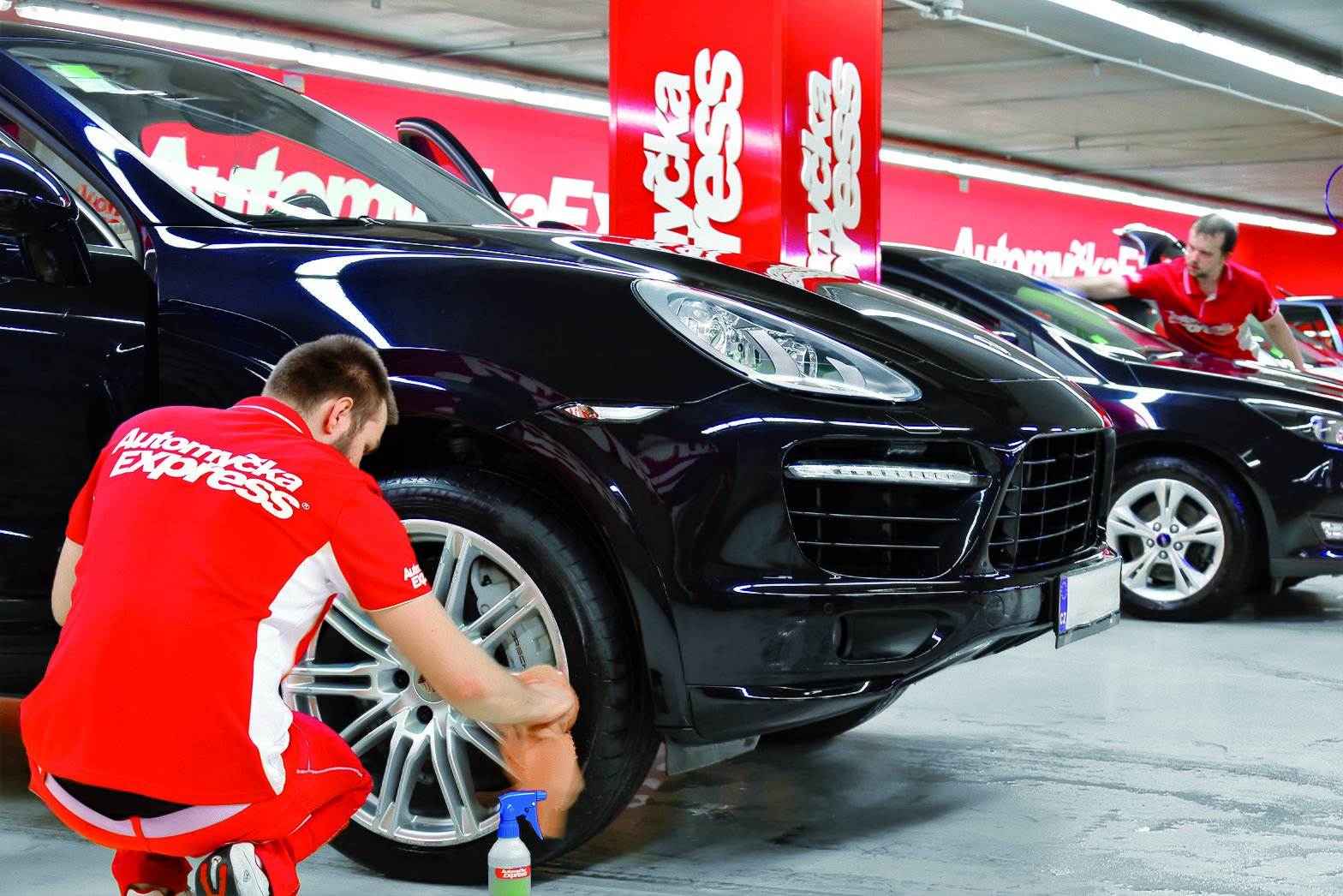 Volume equals profit /
To date, this company has hand washed over 1 million cars.