Business for Breakfast
Healthy start / Their regular club meetings are held every two weeks and create an environment in which you can gain new contacts for your business, important business connections, up-to-date information from various market fields and experiences from other entrepreneurs.
Would you like to secure a new business deal with your eggs in the morning?
Since 2009, the Business for Breakfast franchise concept has been operating in the Czech Republic. Kamila Zárychtová brought the business from United Kingdom and with hard work, and the help of many other skilful franchisees, scaled up the Business for Breakfast club to what is now 60 clubs with over 600 permanent members. They even earned themselves the title of the third best franchise in the Czech Rebublic in 2017.
The company has been creating and developing exclusive business clubs in various regions throughout the Czech Republic. These clubs are designed for small and medium-sized businesses. The companies key premise is to run regular exclusive breakfasts of entrepreneurs, in a non-competitive environment that brings new business opportunities to members and guests and opens up new opportunities for them to obtain further business orders.
Founder of the Busienss for Breakfast Czech Republic, Kamila Zárychtová says the company builds long-term business relationships in their business clubs.
"We meet regularly, share experiences and recommend new contacts and help each other with new orders. We are convinced that even today, business includes decency and good long-term relationships," Zárychtová said.
According to the website, the company doesn't just help their members, "but also the franchisees themselves to further business and orders through referrals." Claiming that during 2017 alone, they helped their members with contracts worth nearly 7.5 million Euros.
Club membership also aims to help re-establish relationships with former customers, strengthen business partnerships with existing customers, promote the company's products, obtain new sources of recommendations and above-standard information from the market.
How does it work in practice?
By purchasing a business for breakfast franchise license, the franchisee acquires the right to run Business for Breakfast business clubs in an exclusive location. By running BforB business clubs, you get to the very centre of your business community in your region. Thanks to this, you can significantly support your existing business and you also have the opportunity to become a representative of a strong and important business community, whose activities and activities you will represent in the region.
To establish a club, you need to have at least 6 paying members. They say don't worry about starting small, it will gradually increase. Each member can each bring a guest for breakfast. In this case, there is twice the number of entrepreneurs at each breakfast. The company claims that within six months under the right leadership, the membership base will increase by 100%.
In addition to contacts for new orders, you gain prestige in the form of a Business Club Manager. You always have a place where you can meet your business partners, solve your business issues and, last but not least, you will get passive income.
Advantages of the franchise
You are in the middle of the local business community
Your activity supports local economic stability
You help local entrepreneurs to grow, and win new contracts
Your clubs are a place where business can be proven
You become an expert in reference networking in your region
Very low operating costs of the franchise
You don't need a fixed business premises
The franchise operation does not require any inventory
You can run a business from the comfort of your own home
You don't have to have any employees
Your business grows and grows through your clients
Proven concept with 15 years of experience
The concept is not difficult to learn
A business that generates a source of income for both parties
A business that creates a culture of mutual cooperation and trust
You are part of an exceptional franchise team, which consists of entrepreneurs from various fields and thus enrich the team's collective awareness of their skills and experience.
Ongoing support from the BforB headquarters
TOTAL UNITS
OWN UNITS
SUPPORT FOR FRANCHISEES
Benefits of the franchise cooperation:
Detailed operating manuals
Improvements and updates to the concept
Approach to company management
Consulting and know-how in BforB business
Trademarks
Legal protection of society
Own information system
Online Library - Information, tutorials, tips, hints
Company website
Invoicing for all membership fees
Complete branding
Development of the company at the national level
BASIC NETWORK REQUIREMENTS
To be a successful Business for Breakfast franchisee, you should consider whether:
You have good business and sales skills
You have good communication skills, customer service at a high level
You have organizational skills
You can lead a team and motivate people
You are willing to learn new things, listen to advice and guidance
You see an advantage in building a business with a franchise
You have time to build a new business
You are a strong but affordable personality
You have the ability to establish, build and maintain relationships
Positive and active approach to things
Access to the initial investment to purchase a license and the initial operation of the franchise
WHAT'S EXPECTED FROM YOU:
Establishment of 3 or 5 business clubs (according to your franchise agreement)
Registration of the first members in the club
Training of new club members
Choice of executive team in the club
Training of executive team members
Handing over the club to members and club management through VT
Franchise administration
Control - compliance with the BforB system in individual clubs
Opportunity to lead clubs and grow through Club Managers
Regional networking events for members of franchise clubs
KEY FIGURES
How much does it cost to start and operate the Business for Breakfast franchise?
The operation of the business is associated with franchise service fees, which are deducted from your turnover.
You can get a franchise license from CZK 200,000/ EUR 8,000. It depends on whether you want to run the BforB concept as a support for your existing business or as a full-fledged business.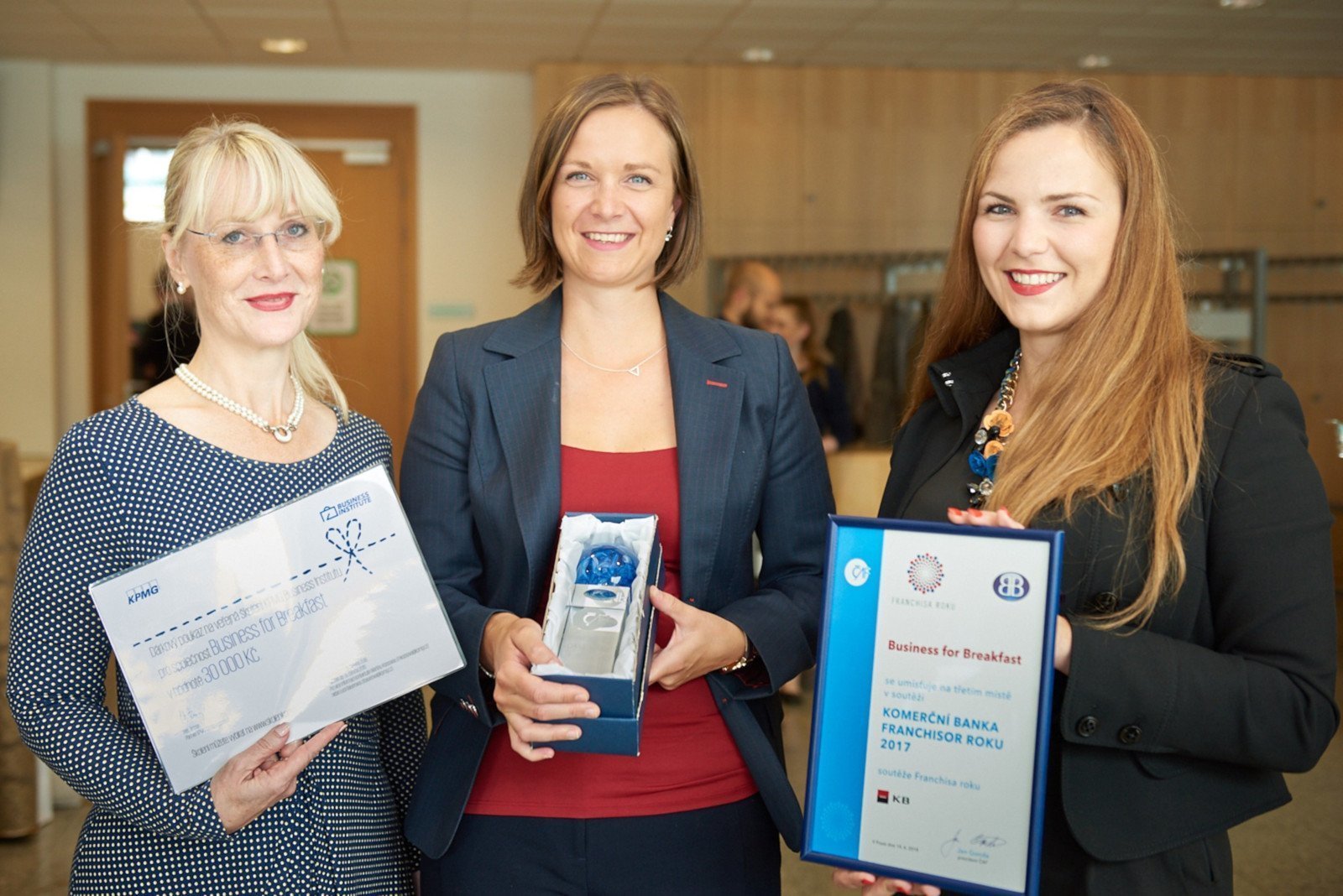 Success in business /
Business for Breakfast was awarded third prize for the best franchise in the Czech Republic in 2017.