Japanos Survives and Thrives
Total Makeover / "A lot of products were wasted. We also realised that labor accounts for the majority of our expenses. As a result, we made the big decision to downsize our workforce and reshape our operations," says Cristina El Majzoub.
- A sushi restaurant cannot operate with just two employees, but Japanos can! - says Japanos Operation Manager, Cristina El Majzoub.
Japanos is an urban-casual restaurant that specializes in Japanese cuisine. For consumers, Japanos offers an unforgettable dining experience and for prospective franchisees, it represents a tremendous potential. It was established in Romania as the country's first ramen-bar concept, serving Japanese food in a modern, stylish, and budget-friendly setting.
While many businesses struggled during COVID-19, Japanos prospered because of their quick decision to modify their operations and meet new demands. Japanos now intends to open a retail section separate from the main kitchen, which will include fresh food packed and delivered to coffee shops and supermarkets.
We talked with Cristina El Majzoub, Japanos Operation Manager, about the changes in the company since the worldwide pandemic to learn more about the restaurant's present state and future plans.
How did Japanos manage to reposition themselves so successfully?
Japanos did not always function in this fast and casual way. A few years ago, we were functioning just like any other modern Japanese restaurant, with a complete staff, a kitchen, and sushi chefs at each location. We realized that rather than having 10 workers in each location, it is better to have ten individuals in a centralised kitchen that is connected to the rest of the branches.
Their primary motivation for restructuring was cutting costs. There is also a labor shortage in this industry. High-quality sushi requires the employment of professional sushi chefs and their talents are not cheap. We researched and came up with many alternatives, but it was mostly a financial decision. We now make 3-4 fresh deliveries to our franchisees per day from our centralised kitchen for a fraction of the cost of hiring a full crew in one restaurant. Our decision has impacted other neighboring businesses, and when we made the switch we saw a huge opportunity for franchising.
Where do you want to see Japanos grow?
Sushi as a business is well-established in Asia and America, but it is relatively underdeveloped in Europe. Any nation in Europe is a good fit for us right now to export our concept further. We looked at what people ordered throughout the pandemic and found that pizza and spaghetti were the most popular, with sushi coming in second. People were tired of eating the same things over and again. Demand skyrocketed for us throughout the pandemic. There are not a lot of big-name chain sushi eateries. We're already beginning in Paris with the launch of a restaurant because we think it's an excellent place to build a presence in Europe and then expand from there.
We are also in negotiations with investors from Malta, Kosovo, and Montenegro. It would be incredible to develop with the market and with the right franchisees. We planned for each city to have four restaurants and a central kitchen. We were able to develop this new strategy based on our current success in Romania. Full flagship sushi restaurants cannot accomplish what Japanos has achieved if they are dealing with enormous expenditures, large kitchens, and full staff.
What new challenges did you face during the pandemic?
We didn't consider the epidemic to be a concern. Our stance was that we needed to stay alive. We opened our kitchen and began deliveries right from the beginning. We went from selling 200 euros to selling 20,000 euros. We always try to stay innovative when confronted with difficulties.
Most businesses suffered during these tough times. The pandemic improved our preparations by forcing us to look at things differently. First, we investigated our internet platform. During the pandemic, several restaurants opted to launch an internet platform; we already had one. However, we made the decision to remodel it.
We decided to develop new offers and discounts during this period when people became increasingly conscious of daily expenses and financial problems began to affect everyone. We didn't have rent or a large staff to pay, so we decided to develop discounts and deals to make things more affordable for our consumers. It worked just perfectly. Both for us and our customers.
How did you help your franchisees cope with the new challenges?
We chose not to shut during the pandemic, it was our mission. We strongly urged our partners to do the same. The main kitchen not only serves the restaurants, but it also houses our delivery platform. Right now the main kitchen also serves our retail section. This new strategy allows us to prepare the food in the centralized kitchen, package it, and deliver it to coffee shops and supermarkets. This is how we want to expand alongside our partners.
We decided to bring sushi to the people. Traditionally, sushi is not a high-end dining experience and we aim to keep the Japanese humble approach to sushi. We want to change the Western world's perception of sushi by making it affordable and accessible to everyone. People have been increasingly interested in authentic Japanese cuisine in the recent years. We strive to bring the two together in our menu, what we believe real sushi should be and what our consumers want.

Japanos Business Card
14 Units
Minimum investment: EUR 52,000 - 100,000
Marketing fees: 1%
Franchise fees: 5%
The franchise package includes an e-commerce website, a coordinated launch campaign, sales & cost planning, and ongoing marketing support.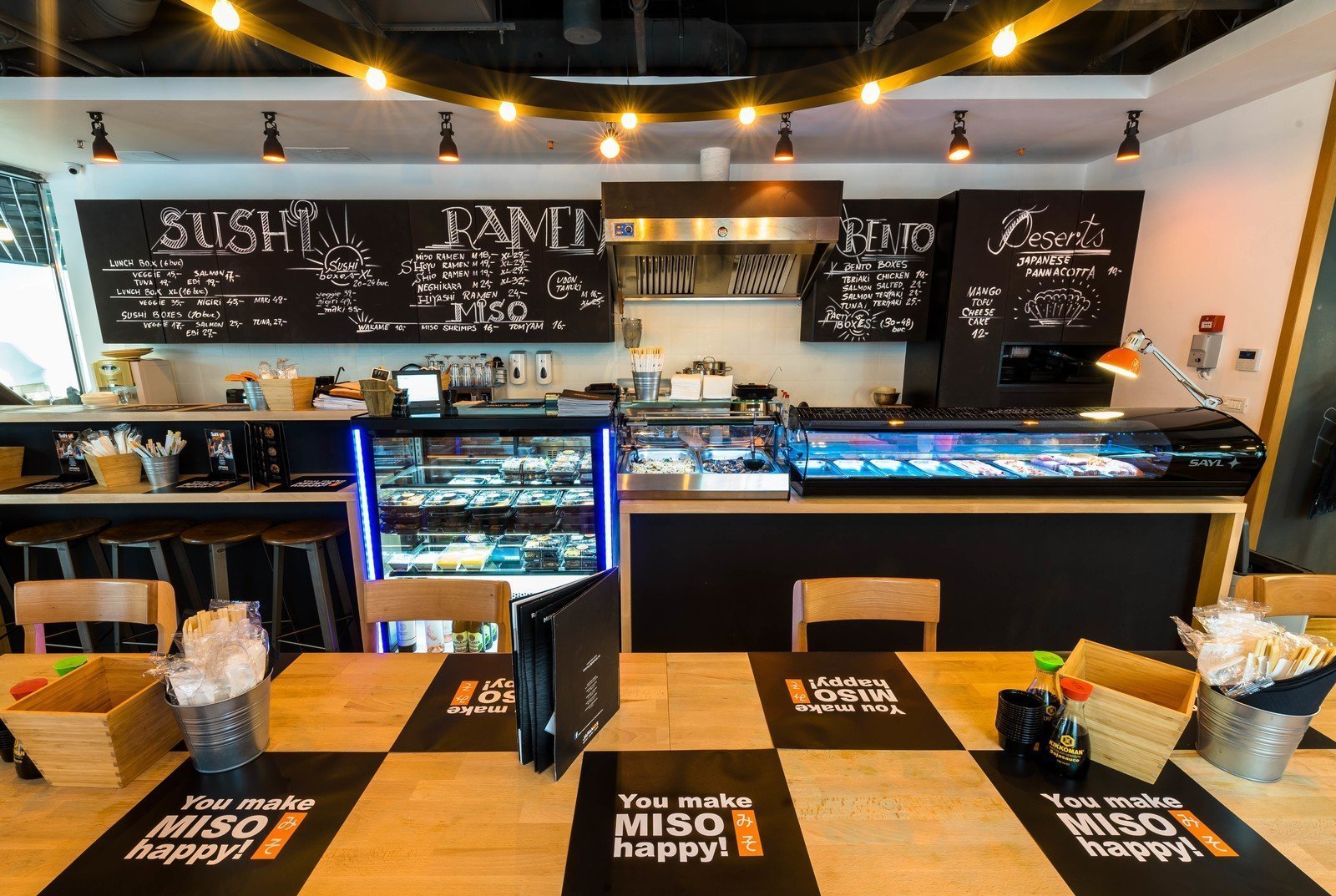 From Romania with Love /
Japanos shifted their focus, flourished , and most significantly, survived the pandemic. They are now discussing expansion into France, Kosovo, Malta, and Montenegro.