Coffee on Wheels
Brewing Worldwide / The one-of-a-kind bicycle cafés can already be spotted in Budapest, Helsinki, and Copenhagen.
With almost ten years in the European market, Bike Café has successfully withstood the test of time.
Restaurants received a particularly hard hit during the pandemic. Most gastronomical businesses were compelled to shut down to comply with the new regulations. However, not all food service establishments were equally impacted by the COVID-19. Food trucks or mobile food services made a significant profit due to their operational flexibility.
Bike Café has a unique twist. This is neither a food truck nor a café. Bike Café, Poland's first mobile café business, was established in Poznan in 2012 out of a passion for bicycles and coffee. The original goal was to create a technically outstanding and aesthetically beautiful solution that will wow passers-by with its functionality and one-of-a-kind appearance. The cafés are mounted on specially modified bicycles that travel freely around the city.
"The obvious benefit of our bicycle cafes is flexibility, which enables us to adapt to practically any circumstances," explained Marcin Łojewski, President of the Bike Cafe Management Board. "This made it easier for us to deal with the pandemic. Because our cafés are mobile, you may change their location at any moment if required. Bike Cafés that were formerly situated near office buildings or museums which were forced to shut down due to the pandemic simply relocated to new sites. We could resume activities as soon as the forests and parks reopened. We are now operating at full capacity."
The Bike Café wooden structure is one-of-a-kind. A roof that allows you to operate even in the wintertime, as well as all of the necessary equipment for brewing and selling coffee. In addition, there is a power supply that enables you to make 800 espressos without charging. All bikes have the Bike Café Monitoring System, which aids with point management by enabling you to monitor sales data, regulate employees, and locate the bike. The franchisee receives a fully equipped, ready-to-work bicycle at the designated location.
There are currently 85 Bike Cafes operating worldwide, with 4 million coffees served each year. They mostly operate in Poland, but have since expanded to Sweden, Denmark, and Finland. Furthermore, the cost of a bicycle café may range between EUR 10,000 and EUR 15,000 depending on the franchise package. A prospective franchisee may also benefit from the company's lease options.
"We help franchisees create a financial investment strategy. We also assist in the purchasing of the bike and evaluating its sales potential," adds Mr.Łojewski. "We offer barista trainings as well as technical training on bicycle operation and sales methods. We also assist franchisees in getting a lease for the vehicles. In terms of both equipment and structure, we are fully prepared to welcome new franchisees."
NUMBER OF UNITS:
COMPANY OWNED UNITS
FRANCHISE UNITS
SUPPORT FOR THE FRANCHISE
Assistance with an investment plan.
Barista training, technical bicycle services, and sales tactics.
Manual of operations.
Instruments and methods for effective management.
A complete set of barista accessories.
Fully equipped bike that is ready to use.
Professional espresso machine and grinder.
Complete coffee accessories.
Complete assistance and guidance in all areas of the business.
Marketing and promotional assistance (website, social media activities).
BASIC REQUIREMENTS OF THE CONCEPT
A highly successful franchisee should have, but not necessarily:
An entrepreneurial mindset, an active partner who wants to contribute to the growth of the Bike Café brand. Bike Café also seeks partners with gastronomic expertise and ideally a passion for coffee and bicycles.
Key Figures
Investment from: EUR 10,000.

Service Fee: EUR 100-500.

Marketing Fee: negotiable.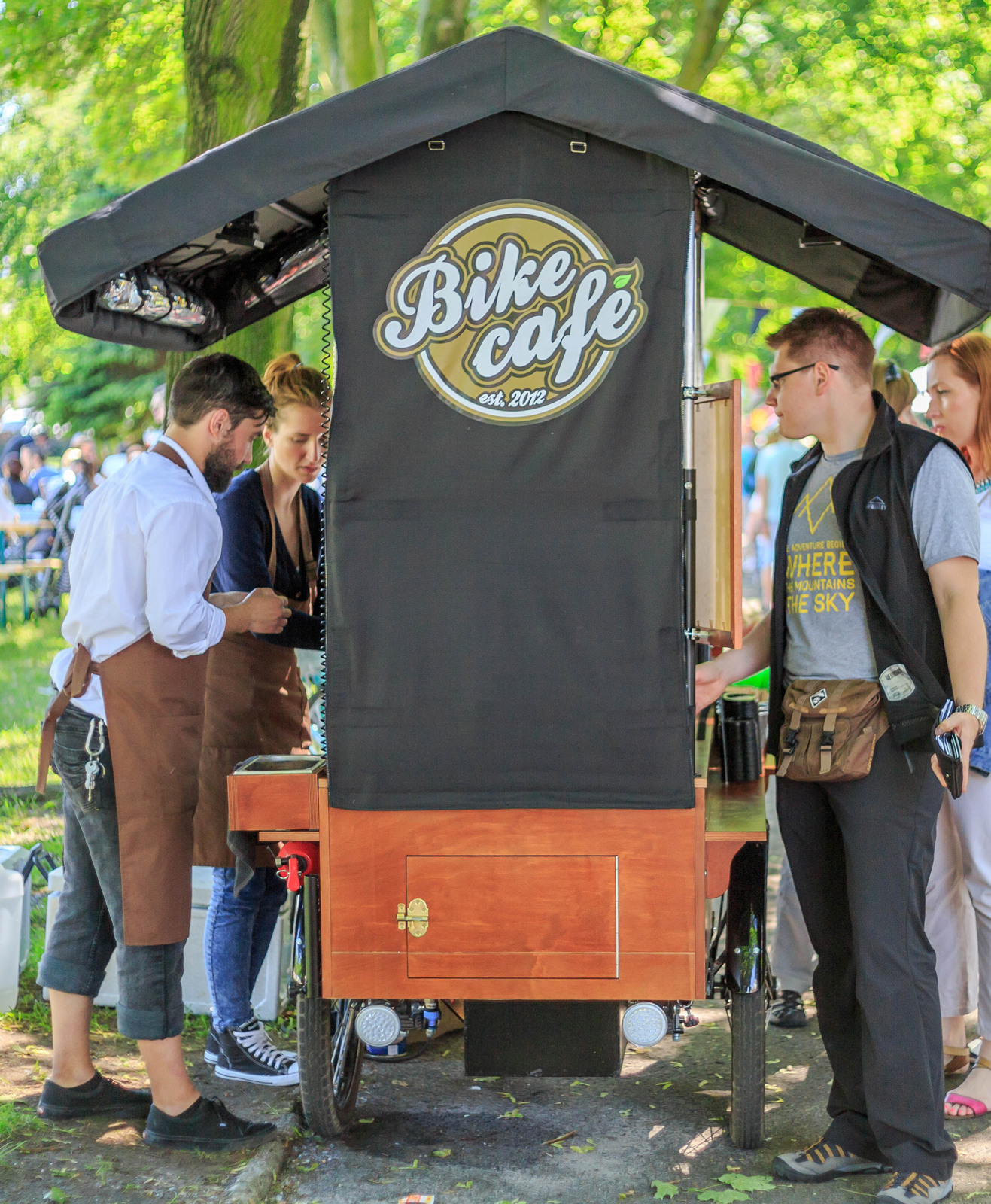 Not Just For Summer /
The ideal season for Bike Cafés begins in March and lasts until November. This does not exclude franchisees from profiting during the winter, when more than half of the Bike Cafés remain open.