Real estate giants eager to sell
Thinking of a real estate franchise? / "Franchising is a complex mechanism that creates the shell of the entire business, providing a businessperson with both independence and protection," says Ildar Khusainov, CEO and Founder of Etagi.
Etagi, one of the largest real estate companies in the world is currently on a franchise drive.
Etagi was founded in the year 2000 with a team of 22 people. Their motivation was to revolutionise real estate services as we know it. The company spent years focusing and developing drivers of their soon-to-be global success, and didn't start franchising their model until 2012. In less than a decade of expansion the company is now found in 160 cities across 8 countries, employing 16,000 people. Their international head office is based in Prague, the capital of the Czech Republic.
Etagi's aim is simple. They want to make real estate transactions fast, transparent and easy for people all over the world. They provide clients with classic systems of real estate services such as brokerage, mortgages, rentals, insurance and more. The Russian company offers clients automated real estate services with high efficiency and accuracy. Etagi focus heavily on IT-process and constantly automate their business model using the latest in tech.
According to Etagi's franchise manager, Valeria Kuzmina, the company has 300 dedicated IT specialists that regularly create new products, improve existing ones who also support the 24/7 franchise network. Franchise partners can expect to receive all the necessary tools, such as software, website, back-office support, IT support, marketing tools, training, HR assistance in running their business.
Every franchisee has a personal start-up and supporting manager that provides them with 24/7 support in marketing, staffing, legal aspects, financial analysis and resource optimisation. As a result, franchisees have an average profitability of around 15%. Furthermore, 60% of the real estate company's franchisees are market leaders in their respective cities. There's no wonder why that in 2019, Forbes ranked Etagi as the number 3 franchise in Russia.
In 2020, Etagi saw a 54.5% growth in revenue. Mind you, this is in the midst of a global pandemic, during which, 94 of the 160 of the company's city locations recorded a yearly revenue record. The company even claims a staff growth of 32.8% last year. In 2021, there have already been 5 new franchisees added into the network.
Be it the comprehensive support, territorial exclusivity, or twenty plus years of proven experience and constantly developing know-how – there is no doubt Etagi's push global push will bring success to many of the new-age wannabe real estate investors across the world.
OWN UNITS
FRANCHISE UNITS
SUPPORT FOR THE FRANCHISE
The company provides franchisees with a comprehensive set of tools to start and run from expertise-based support to up-to-date technologies:
Head office support.
Personal start-up manager and business developer.
Gamification of franchisee work.
24/7 support of 13 departments.
HR technologies.
HR management system.
Assistance in team building.
System of recruitment, adaptation and motivation for employees.
Marketing tools.
Trademark and corporate identity.
Digital support.
Office design standards.
Ready-made advertising campaigns.
Training system.
Online Training Portal.
MBA for top management.
Testing and certification for employees.
Powerful IT-ecosystem.
Software designed by our own IT company specifically for real estate business.
BASIC NETWORK REQUIREMENTS
Office space: 100 - 1,000 Sq Ft.
The company is seeking like-minded people with a passion to improve the service quality of the real estate sector. Experience in real estate is not essential. Only 30% of franchisees had prior experience in real estate before joining Etagi.
The three key elements Etagi are looking for are:
Business and managerial experience.
High levels of ambition.
Funds and readiness to invest.
KEY FIGURES
Franchise fee: 0
Royalties: 3%
Payback period: from 2 years.
Return on investment: 15 months
Initial investment from: EUR 45,000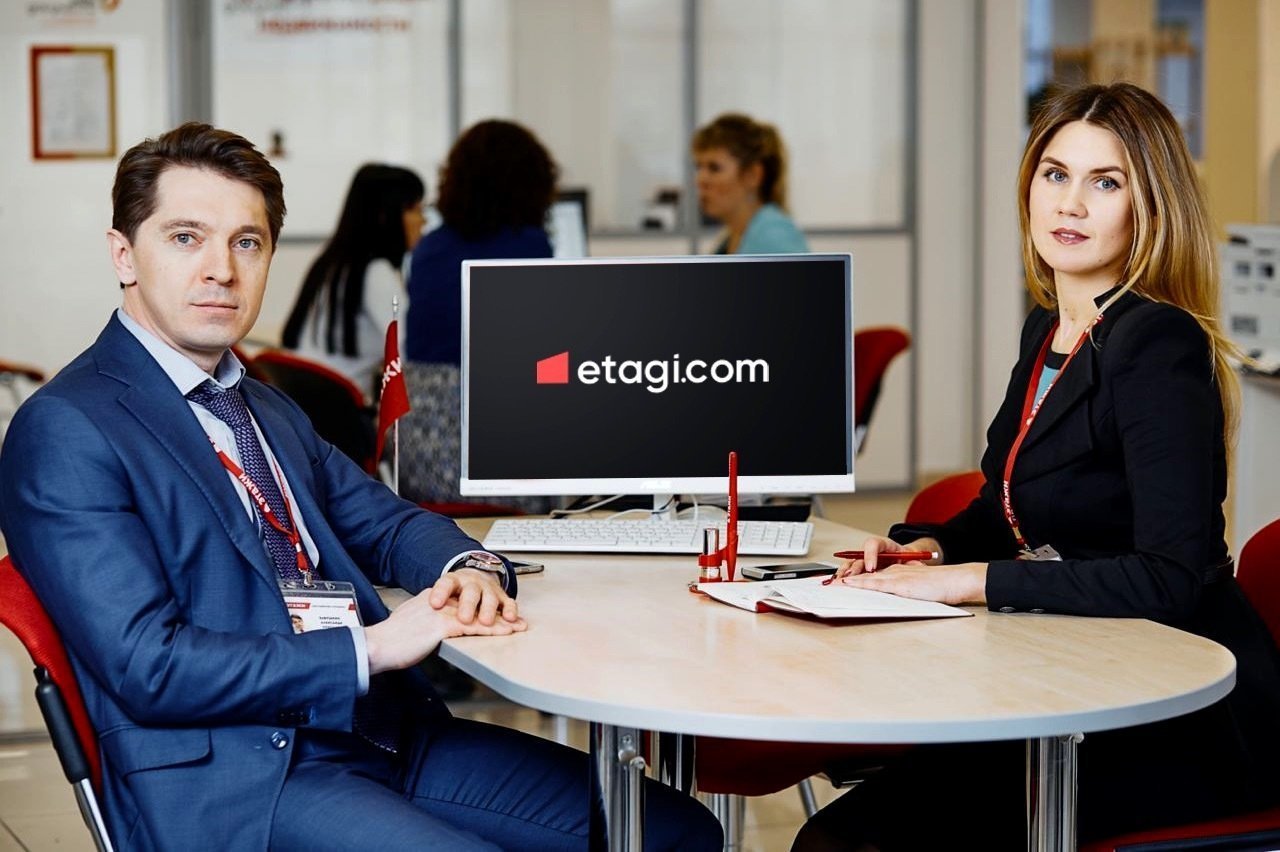 In safe hands /
Etagi work with over 15,600 industry specialists.