Coders Lab - Pandemic proofing
Grzegorz Morawski, Franchise Manager of Coders Lab IT School / "We had to adapt within 48 hours because we had courses running when lockdown hit."
- Our centres are somewhat pandemic proof - says Coders Lab IT School Franchise Manager, Grzegorz Morawski.
The CV-19 pandemic has put a strain on many industries – but the IT education industry is not one. Coders Lab IT school is an international chain of new world educational information technology schools, founded in 2013 in Poland. The company has an extensive portfolio and has already transformed over 6500 careers through innovative education in today's most in-demand IT skills. If we take anything from the current situation, it's that the future is online. We spoke to Franchise Manager of Coders Lab, Grzegorz Morawski on his thoughts about the industry and how Coders Lab rose to the challenges faced during the pandemic.
How did the pandemic affect the education industry and Coders Lab?
Our particular sector of the IT education industry wasn't really damaged by the pandemic. This is because our centres are somewhat pandemic proof… When the lockdown struck, it hit many industries – it turned out that our business was secure. People were losing their jobs in hospitality and other industries, but when it came to the IT industry and programmers, we weren't subjected to the same kind of pressure. The IT sector kind of lowered the number of people they were hiring, but they were not firing people. From the perspective of the worker, the IT industry is a safe labour market.

Our narration was that we offered ourselves as a solution to young people or people who were looking for work or in employment danger. We said, 'If you've lost your job, or if you're having difficulties finding a job in traditional sectors – restaurants, construction, etc – this is your chance to take a short course.' After our course you're leaving with skills and a portfolio that will allow you to successfully look for a new job in the IT industry. We also used this narration to strengthen our marketing statement.

We felt a slight decrease in the number of people we've been training, but the final outcome of the year's results were even compared to the previous year. We didn't get to grow as much as we'd hoped. We still managed to develop a couple of new products, for example, a Python Data Analyst course and a Docker course. We also reached some new foreign markets, including Austria, Spain, Czech Republic.

I would say that IT education is indispensable and I think many people have now observed and realised the necessity of having any kind of IT skills, no matter if you're a programmer or if you're working in a totally different industry. This is simply something that we need. If you are marketing specialist or a journalist, you need to have some basic IT skills - you might need to know how to use HTML, etc. Now everyone's realised that IT education is something that is going to affect the labour market seriously.
What challenges have you faced over the last year?
The most significant challenge for us was trying to transform our learning process from stationary to online. We were delivering some online courses before the pandemic struck, but it was just a small share in our whole revenue structure. Students were not really used to learning online before the pandemic - then, all of a sudden, it was the only way to deliver these kinds of services. We had to enhance and improve the methods of delivering online courses. So, we created our virtual class and trained our teachers how to handle the tools on the courses we offered. We enhanced the curriculum slightly and added some new tools to this whole composition and made a giant leap forward in terms of our skills in remote learning and delivering the course online.

This was a big challenge. Especially as we had to adapt within 48 hours – because we had courses running when lockdown hit. We had to act quickly. Within two days of hard work, our project managers, IT team, and educational departments managed to turn it online. Now we realise online is here to stay. I believe you cannot go on without the online presence and a strong focus on those techniques.
What support did you offer to your franchisees in the face of these new challenges?
We are an experienced brand, but still learning when it comes to franchise support. We started by sharing our experience of remote learning. More importantly, we are trying to show them how to act in this new virtual environment and how to go about lead acquisitions and marketing activities. Up until now, we were strongly leveraging on analogue actions such as traditional meetings and physical interaction with potential clients.

Last year proved we can move our presence online 100% without the need for physical contact, so we have mastered these marketing techniques and are teaching our franchisees how to leverage and use them also. Every time we develop new skills in sales and marketing, we are sharing these with our franchisees.
How does the current situation change your future plans?
We see that we need to be extremely close to market realities. We have to constantly monitor the market demand raised by employers. We need to know what specific technologies and coding languages they are expecting new recruits to know. Therefore, we adjust our business offers to meet the market demands. We exclude courses that are outdated and are no longer used in companies. We like to keep up with the trends so we are adding phyton for data analysers, and we are thinking about cyber security.

We are waiting with strong nostalgia that we'll be able to get back to real classes soon. We're aware a lot of people prefer this kind of teaching method, but the online method of learning will still be here. So, the definite change in our franchise plans is that when we are talking to potential franchisee candidates, we know both the options, online and traditional, have to be there and we have to develop tools on both ends to support them in both channels.
Coders Lab Business Card
Total set up cost: Approx. €50,000. Includes branding, initial marketing, salaries of stuff before receiving first payments from sale of courses and initial franchise fee.
Ongoing franchise fee.
Average gross sales per unit: 60% gross margin.
Units: Poland (5), Austria (1), Spain (1), Romania (1), Czech Republic (1), Indonesia (1).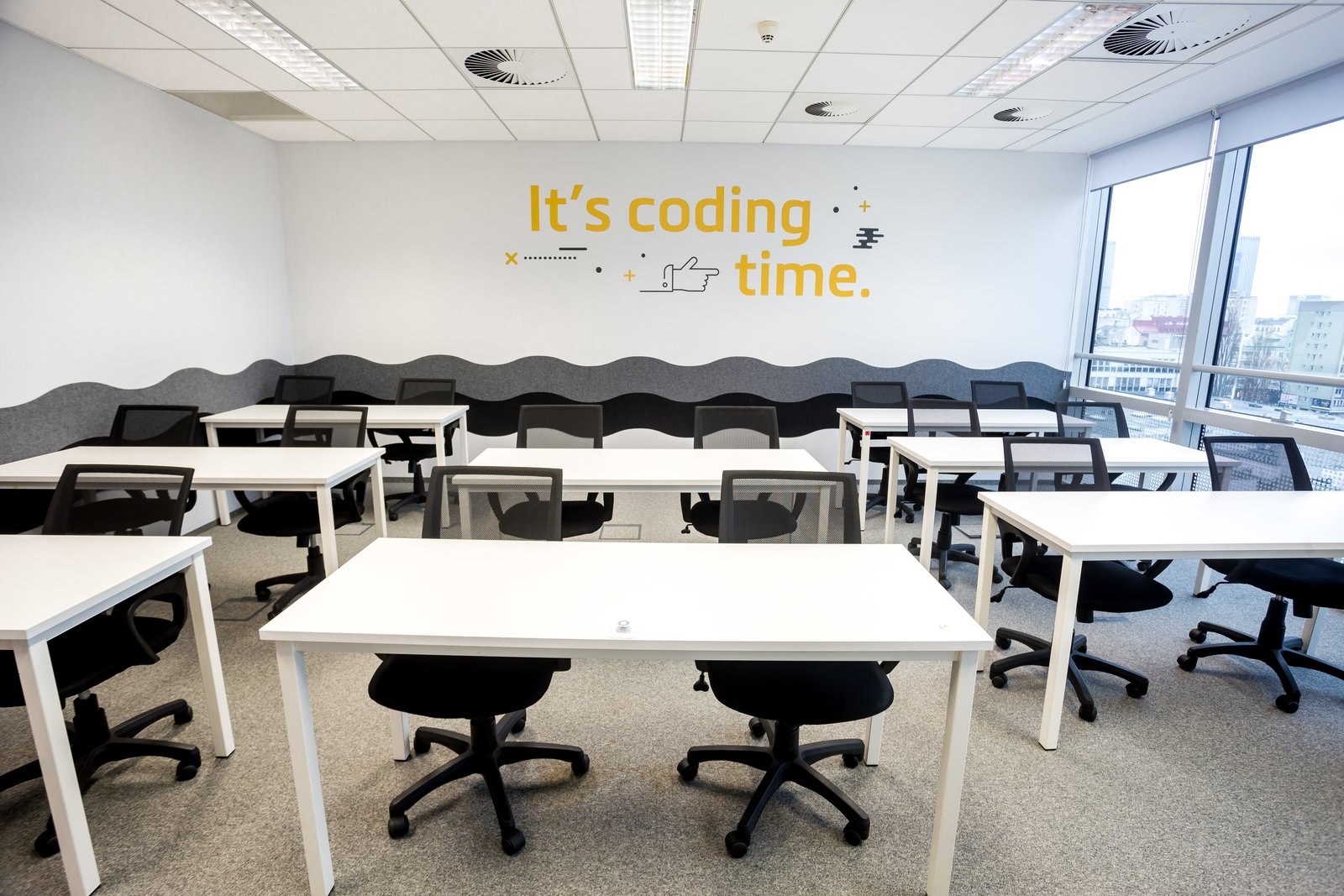 Coders Lab - IT School /
82% of people find jobs after completing Coders Lab courses.