Easy to use crypto currency exchange
Ready for franchising / After initially opening in Ireland, Unicoin.fi decided to expand their franchise and services to Poland.
Unicoin.fi is a virtual currency exchange system where anyone can earn money on cryptocurrency exchange.
The Unicoin.fi virtual currency exchange point might sound complex; however, it is much simpler when we look at it from the perspective of partners or customers using the service.

Franchise points work on accepting, spending and selling virtual currency. Behind the business is a reliable IT system that supervises the exchange process. From ensuring the right exchange rates, through verification of all transaction parameters, to an easy-to-use hand-held terminal - all elements are designed so that the liability of the partner regarding the execution of the transaction is as small as possible. This also means that Unicoin.fi was designed for people who have no experience with the virtual currency market.
Almost anyone can easily open a virtual currency exchange point or expand your existing business (for example: currency exchange, GSM service, payment agency or local store). You may also use the service to accept cryptocurrencies payments in your business. When you become a partner, you will decide what commission you will charge. If you already run a business, this is the perfect solution to provide yourself with an additional source of income.

Unlike other competitors, Unicoin.fi partners make no direct contact with virtual currencies, so changes in exchange rates do not affect earnings. Therefore, earnings of Unicoin partners simply depend on the terminal provided by Unicoin.fi.
The crypto exchange company has recently expanded into Poland after initially opening points in Ireland. Michał Radosny, Partner relations specialist at Unicoin.fi explained to Franchsing.eu that the Polish market is new to them.
"We had no plans to expand there," said Radosny.
"We wanted to develop in Western European countries. However, after opening our first points in Ireland, it turned out that many Polish customers also appreciated this service. That is why we decided to offer services in the franchise model also in Poland," he said.

"Currently, we have few points in Poland. However, we have established cooperation with one of the service networks. Currency exchange will complement its offer. Thanks to this cooperation, the number of Unicoin.fi points may soon increase to around 70."

OWN UNITS
1
FRANCHISE UNITS
2
SUPPORT FOR THE FRANCHISE
Unicoin.fi system for exchanging virtual currencies (POS + dedicated software)
Online training on the use of the Unicoin.fi system
Ongoing technical support
Advertisement of your location on our websites, social media and on the world's largest portal with cryptocurrency exchange sites
Over 20 virtual currencies in the Unicoin.fi system
Full control of the course and status of the transaction
Full compliance of your country's legislative procedures
AML procedures
The ability to independently set the commission by the partner from 0.5% to 10%
BASIC NETWORK REQUIREMENTS
Clear criminal record
Experience in running a business or willingness to start one
The franchise point must open at regular hours
KEY FIGURES
PLN 0 / EUR 0 (they do not require the partner to invest funds for the purchase of a device or software)
Refundable deposit for the device: Approx. PLN 1,200 / EUR 250
Optional deposit (also returnable at the partner's request). Funds to start providing virtual currency purchase transaction services (the amount of the deposit is set individually with the partner, however no less than PLN 4,500 / EUR 1,000)
No licensing fees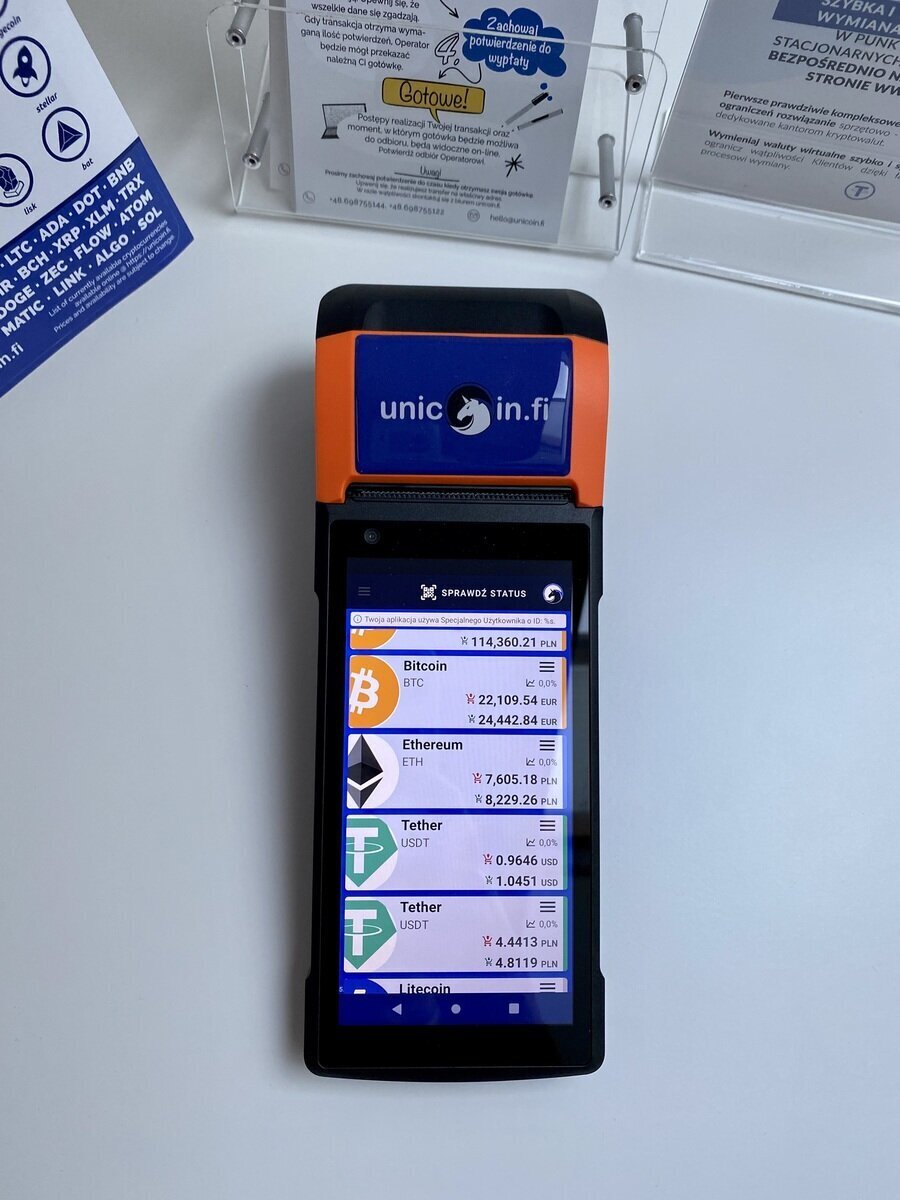 No risk trading /
Unlike other competitors, Unicoin.fi partners make no direct contact with virtual currencies, so changes in exchange rates do not affect earnings