Time to put a spring in your step.
Jump Planet is an active and energetic way to have fun and burn calories. It's not just for kids either – the concept is designed with the whole family in mind.
Jump Planet is currently the largest network of trampoline parks in Poland. But it's more than just springboards. In the Jump Planet trampoline park, you can take advantage of numerous activities for people of all ages. Attractions such as acrobatics and artistic gymnastics. There is a basketball zone to practice your dunks. And a foam pit to practice those big flips. When it's time to take a break, you can utilize the centres relaxation zone to get a hot meal or that cold refreshing drink. This also makes it a great place for children's birthday parties - or school holiday activities.
Jump Planet has recently flourished in the Eastern European market. Operating nine venues across Poland and with four more "funtastic" sites opening in the coming months, Jump Planet is already planning to transfer the new concept to foreign markets. Advanced talks are currently underway with investors from several countries, such as Germany, Spain, Italy and Serbia. With a new site in Georgia currently being primed for opening.
The ambitious company loves what it does and prides itself of their comprehensive support for people who share their vision for the business. Bartosz Śledziński, Owner of Jump Planet, told Franchsing.eu they only started franchising the concept in March 2018. Now, with the pandemic behind us, he is confident people are out seeking new forms of fun.
"Trampoline parks quickly became a popular place for recreation and entertainment for both children and adults. This market is still in development, so I expect the business to be profitable for many years to come," says Mr Śledziński.
"For entrepreneurs who want to buy a franchise and open a park with trampolines, one of the challenges is finding space," says Bartosz. Jump Planet needs a hall with a high ceiling and an area of ​​500 to 4,000 square meters. It must also meet all safety standards which are assessed and monitored by the franchise provider.
To equip the park, a franchise buyer would need an average of about EUR 115 per square meter. The lease must also be added to the costs. For example, EUR 90,000-100,000 are required to equip 750 m2 of trampolines. The franchise provider will provide a sales funnel, sales system, customer service system, a website with a booking and payment system online, and a booking app via mobile phones included with the franchise price.
"Our partners can count on help at all stages of business, before the opening and during the operation of the park. We also offer assistance in hiring and training staff. We offer programs for all target groups, for example: fitness for women, exercise for children and young people, team building for companies," he said.
"Recent business results show that franchise buyers can expect high revenues. In Poland, the franchise owner has a net income of at least EUR 7,000 per month - after expenses. Moreover, the lack of competition is an advantage. Our experience shows that the owners of the park start serving on the first day."
Under the franchise agreement, the franchisee shares the earnings with the owner, who receives 6% of the profits per month and 3% of the profits for marketing. So, time to get off your device and bounce into your closest centre.
OWN UNITS
FRANCHISE UNITS
6x Poland
(Coming soon 3x Poland and 1x Georgia)
SUPPORT FOR FRANCHISEE
Design
Production
Recruitment
Marketing (before and after opening)
Planning activities, organization and training in effective management of the trampoline park
Providing all necessary materials for running a business, i.e., website with booking system, phone application for bookings, sales system, regulations and forms
Quality control customer service systems
Support for specialists in the field of management, i.e., HR and service support
Providing company accessories for sale for park's clients
Specialist costumes for park employees (for a fee at production prices)
Help in finding the optimal location for the Park
Support during contract negotiations
Legal advice when drawing up and signing contracts
Implementation of a professional design of the trampoline park, as well as possible help with architectural arrangement, which may include the entire facility, including social rooms, a café
Park equipment with additional elements, such as a sales system or company accessories;
Professional trainings in the field of running the Park and training of personnel by our experienced trainers
Assistance at the recruitment stage
Assistance in obtaining financing, e.g., leasing
Conducting national and European marketing as well as help in conducting local marketing
BASIC NETWORK REQUIREMENTS
Hall area from 500 m² to 4000 m2
Room height to the ceiling or protruding elements ≥ 5 m
Investment expenditures ≥ 100-250 EUR / m²
Location - to be agreed upon
The minimum loyalty period is 3 years
KEY FIGURES
No license fees
Capital expenditures in the project - from EUR 100 - 250 per m2 of park (including the assembly of all attractions such as tracks with obstacles, the so-called ninja warrior, etc.)
The price does not include finishing outside the trampoline installation area, e.g., ventilation, social rooms, etc.
Franchise fee - 6 percent of the turnover
Marketing fee - 2 percent of the turnover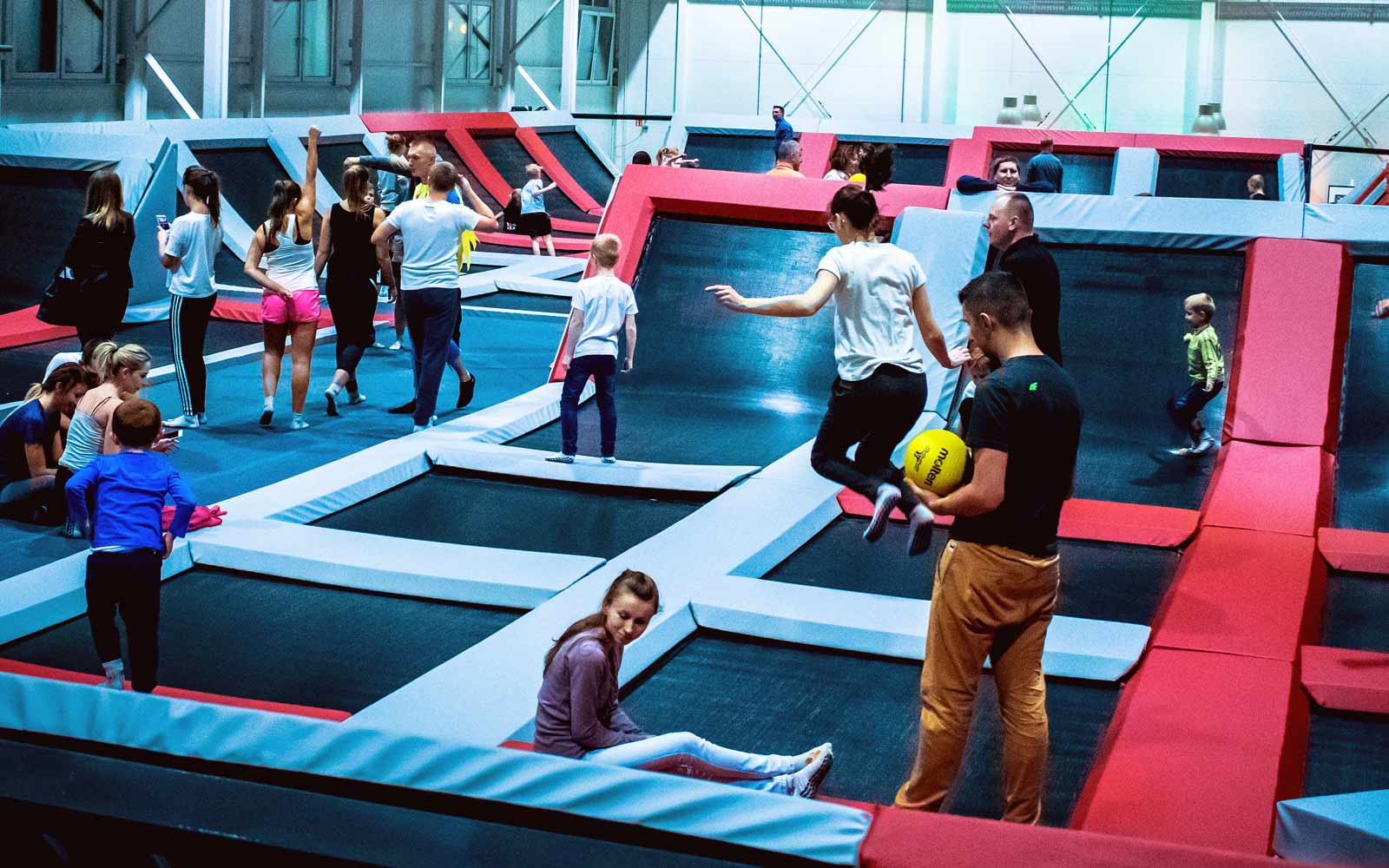 Growing franchise /
Jump Planet current operates 9 sites with 4 more soon to open.