Showroom strategy
Big town energy / Komfort wants to open franchise stores in towns with more than 20,000 inhabitants.
– In our business model, franchisees receive a commission for selling products. Higher sales means higher remuneration - says Marta Parafińska, Franchise Manager at Komfort.
KOMFORT is an interior design chain that has been active in Poland for over 30 years. For the last 9 of those years it has operated as part of the Michał Sołowow Group. The Komfort brand offers customers all their home furnishing needs from A to Z. In its portfolio, Komfort offers a comprehensive arrangement of bathrooms, kitchens, living rooms and terraces. You can also buy chairs, tables, sofas, living room furniture, lighting as well as doors and accessories for floor installation and care from their online website (www.komfort.pl). However, the company is best known in the market for their extensive range of flooring.

Komfort currently has a network of over 160 stores throughout Poland, including both their own and franchise stores. Since 2019, the company has been rolling out their new concept of large-format stores, which offer an extensive range of new products that cover all aspects of home design and rennovations. You will find their stores located in large to medium-sized cities throughout Poland.

We spoke to the Franchise Manager of Komfort, Marta Parafińska, and asked about finances of franchising, strategy, and the current state of affairs at the company.
How has the last 12 months been for Komfort brand?
It was a huge challenge for us actually. This is due to the consequences of the war in Ukraine, the real drop in wages in the economy, the increase in the costs of operating the company, all combined with galloping inflation. Nevertheless, Komfort keeps investing. We are developing quantitatively and qualitatively. We are constantly working on introducing new kitchen and bathroom displays to our existing showrooms and opening completely new locations. Currently, we have 56 stores that offer kitchens, and 62 stores with bathroom products. In 2022, we opened 6 new franchise stores and 6 own-brand stores in the 'Komfort Home' format. This year, we plan to further improve processes and implement new products - and even entire categories.
Where are you planning to develop your network?
We open franchise stores in towns with more than 20,000 inhabitants. We are currently looking for partners in such towns as Świebodzin, Oleśnica, Brodnica, Ostrowiec Świętokrzyski, Puławy and Tomaszów Mazowiecki.

Franchise stores are most often located in free-standing buildings or in retail parks, equipped with a parking lot, and in the vicinity of other stores related to the construction or interior design industry. It's also a big plus if there is a grocery operator nearby.
Can you explain how Komfort has moved on from primarily being a floor specialist?
Our current offer includes floors, doors, bathrooms, kitchens and furniture. We strive to ensure that our customers can find products in each of the stores that allow them to finish a house or apartment from A to Z. New stores are opened in the 'Komfort Home' format – all which have floors, kitchens, bathrooms and doors on display. In some situations, we will consider opening a exclusive kitchen and floor, or bathroom and floor store - but this is a matter of separate arrangements.
What are the costs of investing in a Komfort showroom?
Partners will bear the costs of the license fee and possible adaptation of the premises; which includes painting the walls white, separating the storage space, etc. The final investment related costs to the premises will depend on the finishing standard of the given space. It's important to note that our one-time license fee starts from 95,000 PLN / 20,000 EUR net.

Our Komfort deposit franchise model provides franchisees with business security, as it does not involve having to fork out funds in the purchase of goods. Stock assortment and the management of stock is actually carried by our headquarters.

We provide our franchisees with a ready-made showroom - from the design of the store, through display furniture, construction of kitchen and bathroom arrangements, stocking, technical and IT infrastructure, as well as external signs of the store. Partners and their employees take part in free product and sales training. Additionally, we prepare a promotional campaign for the opening of the store. Throughout the duration of the contract, we provide operational support to our regional representatives.
What's the average revenue franchisees can achieve?
In our business model, franchisees receive a commission for selling products. The higher the sales, the higher the remuneration for franchisees.
COMFORT BRAND BUSINESS CARD
A chain of interior design stores:
160+ showrooms
initial fee 95 thousand PLN/ 20 thousand EUR net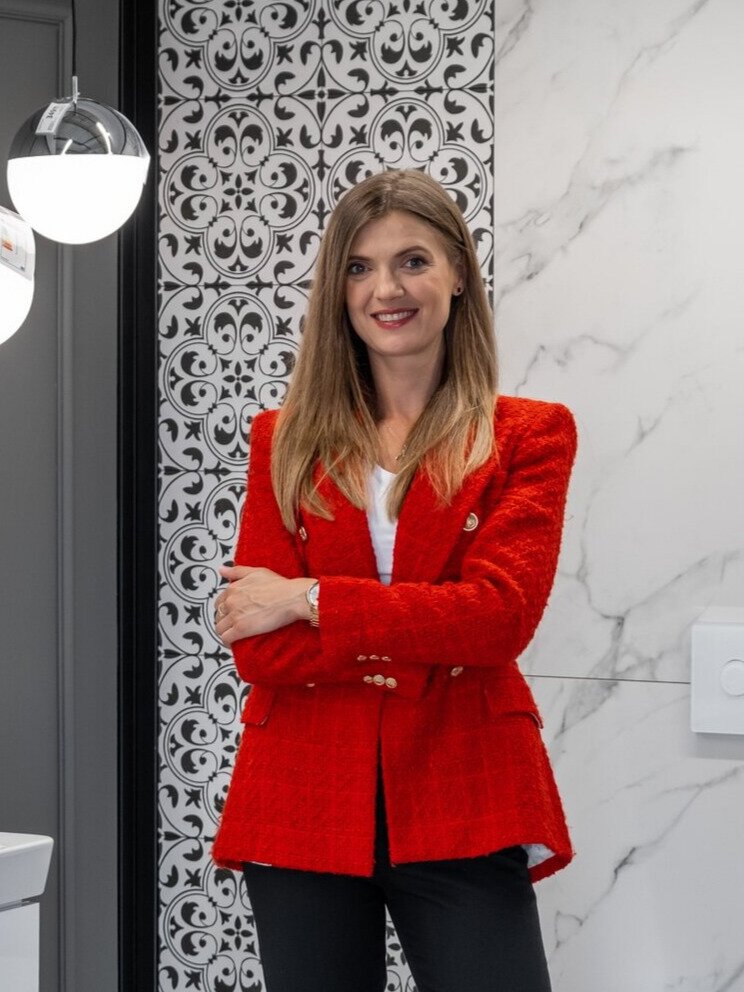 Marta Parafińska, Franchising Manager at Komfort /
"The Komfort deposit franchise model provides franchisees with business security, which doesn't involve having to pay for stock items."