Mapping the tourism business recovery
Željko Gobac, Founder of CityPal / "Our goal is to first cover all major tourist centres in Croatia and the wider region."
- The tourism sector is recovering and the interest in the CityPal is growing - says Željko Gobac, Founder of CityPal.
The modern tourist and traveller are looking for authentic experiences on holiday and are less interested in the standard tourism recommendations. They want advice from people who have real life experience from the region, someone who knows the best way to truly experience a new destination. With this understanding in mind, Željko Gobac launched the CityPal concept in 2015; a platform that list's interesting and verified local recommendations for tourists. The company have created a unique website, started printing brochures and have launched their own CityPal travel app.
At first it was a platform for recommendations from the popular Croatian cities of Zagreb and Pula. But after many years of great feedback and reviews, CityPal decided to share their knowledge and experience with others – and as such, got themselves some franchise partners.
"We offered people who are in love with their cities and who know best places in their municipality the opportunity to start a business," says Željko Gobac.
"We wanted to tap into the potential of local experts and enthusiasts who could in turn, make money from it. The recipient of our franchise has the task of giving recommendations and finding clients who would advertise in CityPal," Gobac explained.
Creator and founder of CityPal, Željko Gobac, talks to Franchsing.eu about how they weathered the pandemic and how well they recovered. We also discuss the franchises current business standing and future plans.
How did the business develop during the pandemic? How did you adapt to the situation? And what did you learn from the experience?
Since we are directly related to hospitality and tourism, due to quarantine and uncertainty in 2020 about whether it will be possible to travel, we did not publish our city maps with recommendations for tourists. The situation improved in 2021. Caterers started working normally, tourists returned, so we printed new maps for Pula and Zagreb. To us it was very important that we managed to arrange franchises for Rijeka and Opatija that year.
The latest news from us is that we have agreed on a new franchise for Split and the surrounding area. We are also in the final stage of negotiations for yet another Croatian franchise in another region. The tourism sector is strongly recovering, and interest in the CityPal franchise is growing.
How is the business currently performing and what are your next plans for CityPal?
The situation has significantly improved. We are seeing more visits to our website and tourists are sending bookings to our customers. We are in contact with regular customers who already want to reserve a place on the city maps for the next tourist season.
Every day we receive several inquiries from potential franchise partners. Our goal over the next coming period is to cover all major tourist centres in Croatia and within the region. For example, the big cities on the Croatian coast that attract a lot of tourists all come into consideration. Franchises are currently available for Zadar, Šibenik and Dubrovnik.
Were there franchise requests from other countries in the region?
Most requests now come from Serbia. There are slightly less from Bosnia and Herzegovina and Montenegro. In the pre-season, when preparations for tourism projects have to start, we receive at least one request per week from the wider region. We don't advertise in other markets for now, as our goal is to first cover our region.
Has anything changed regarding the terms of the franchise?
Nothing has changed in the financial conditions themselves, the entrance fee is still 2,500 Euros for 10 years, and the royalty fee is 10%. The investment is returned in the first year. We create a city map for our franchisees, enter their customers on the website, prepare sales materials and conduct training to teach them how to run a business and, of course, sell advertising.
The only thing required is that our franchise partners sell ads, the rest is on us. This is a great opportunity for those who want to earn extra income. And for those more capable, in cities that have tourists throughout the year, they can also build their own business with the help of CityPal.
What is the key to a successful operation?
It is important that potential recipients have sales experience or at least are not afraid of direct sales. An additional advantage is if they have contacts with caterers and companies interested in advertising to tourists in their city and the surrounding area. Perhaps it is important that they are enthusiastic, hardworking and ready to work for good earnings.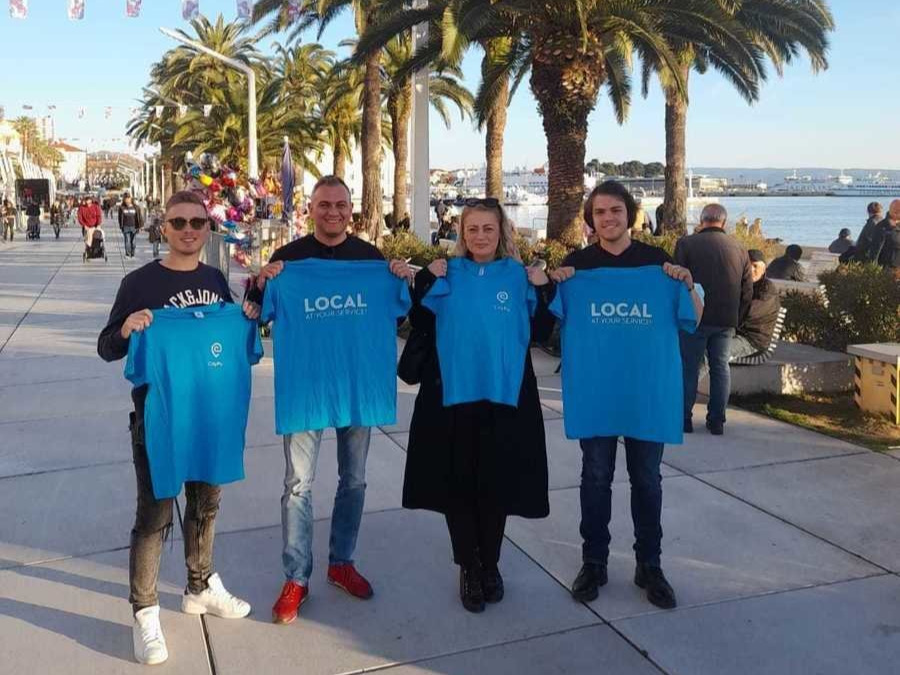 CityPal now has maps in Split /
The new franchisee will cover the city of ​​Split and the surrounding areas.