Shape up with Studio Figura
Girl Power / Studio Figura is a business created by a woman, for women.
Want to keep your waist slim and your wallet fat?
Now celebrating their 15th anniversary on the market is this women's only body sculpting concept, Studio Figura. Studio Figura has helped thousands of ladies all over the world transform their lives and achieve their goals by helping them to improve their health and confidence, losing unwanted weight and improving their skin, without the extreme measures of cosmetic surgery.
This European success story started in a small town near Poznań in Poland, when founder Izabella Michalak, a patient with insulin resistance, hypothyroidism and hasimoto, created a place where all kinds of women could fight for weight reduction and take better control of their health. Fast-forward to today, and Studio Figura now have 300 partner offices are located in Poland and about 1000 offices around the world. The number of offices working the Studio Figura concept is constantly growing. About 6-15 new offices are opened every month, of which, approximately 10% are partners opening new units.

Marketing specialist at Studio Figura, Aleksandra Kamasa says they're aiming to be in every country in the world. "At the moment we have many successfuly running studios in Europe with distributors on top," said Alekandra.

"We have partners in Eastern Europe - with a newly open studios in Kiev, Bulgaria, Scandinavia, Turkey, Cyprus, Georgia and many more. The UK market is also developing fast.. Right now we are waiting for the grand openings of Prague, Goteborg, Dubai, Kerkrade in The Netherlands and a few places in the US."

Studio Figura currently ranks 131 in the top European franchise list. With the weight loss and weight management market currently estimated at about $200 billion a year and growing, there is no wonder this company is steadily on the rise. The company claims to have helped women shed over 96585 kilograms and counting.

The business relies mainly on lymphatic drainage massage, which stimulates the production of new lymphatic fluids and the expansion of lymph vessels. This is one of the most effective methods of slimming and eliminating cellulite. Clients have access to studios equipped with the company's own innovative body modelling devices and aesthetic cosmetology treatments, which uses advanced technology designed specifically for the female body and dermatological needs, along with one-to-one specialist support and nutritional guidance.
Their array available equipment, treatments, skin care and additional supplements provide a wealth of benefits including:
Weight Loss.
Collagen regeneration.
Skin healing.
Cellulite reduction.
Fat cell reduction.
Removal of toxins.
Stress relief.
Releasing muscle tension.
Lymphatic drainage.
STREAMLINE FRANCHISING PROCESS:
Contact their office to determine the availability of a potential town.
Send them a photo and a plan view of your premises by email.
Make an appointment at the headquarters of Studio Figura International and start working.
SUPPORT FOR THE FRANCHISE
Before opening your own Studio Figura, you will receive support in the form of:
Assistance in obtaining financing for the implementation of investments (leasing, credit, EU subsidies, UP).
Help with business plans - through their financial analysis department.
Assistance with the lease agreement.
Design of the premises based on a flat projection (interior design architect's proposal).
Concept training - 20 hours of professional training in the field of customer service, sales techniques, arranging treatment. programs, constructing diets, dietary consulting, appropriate supplementation.
Training in technical maintenance of devices and proper training technique.
Marketing support - how to promote a business through social media, the Internet, local events.
Training in the use of the Studio Figura platform.
Ready scenario for the opening of your office.
Design of posters, flyers, business cards, banners in cdr, pdf, jpg, tif files - ready for printing.
Scenarios for occasional events.
BASIC NETWORK REQUIREMENTS
Premises minimum 100 sqm, average 100-180 sqm (owned or rented).
Ideal locations are said to be 'bedrooms of the cities' and side streets.
Equipment of at least 10 treatment and training stations + 2 devices in the field of aesthetic cosmetology.
The design of the premises (Help Package) is fully consulted and created in preferences of our partners. The only requirement is that the Studio Figura logo in its original colour should be displayed in the main room.
FRANCHISE UNITS
300 partner offices in Poland.
1000 in the world.
KEY FIGURES
Figures vary from country to country:

United Kingdom
In the UK, the joining fee is £8,000 plus VAT Machine investment starts from £48,000 plus VAT. (This is basic the pack of 11 machines that includes one of the aesthetic treatment machines.) This can all be leased in full for £1200 plus vat monthly franchisee fee.
Poland
Set of 10 treatment and training stations, plus 2 devices in the field of cosmetology. Minimum cost from €35,850-44,800.
Leasing available on equipment. Approximately €700-1000 per month (with repayment in 59 instalments and 10% own contribution).
Investment amount of space arrangement 100-180 sqm.
The average cost of finishing works ranges from €2,250-9,000.
Initial fee in the amount of €4,500 net.
Guaranteed monthly gross revenues of €7,850-13,500.
Average monthly net revenue of €2,250-7,900.
The fees after opening the Studio are:
License fee: €100 per month - paid one year in advance.
Fee for the Studio Figura platform: €30 net / monthly payable once a year €350 / net (€430 gross).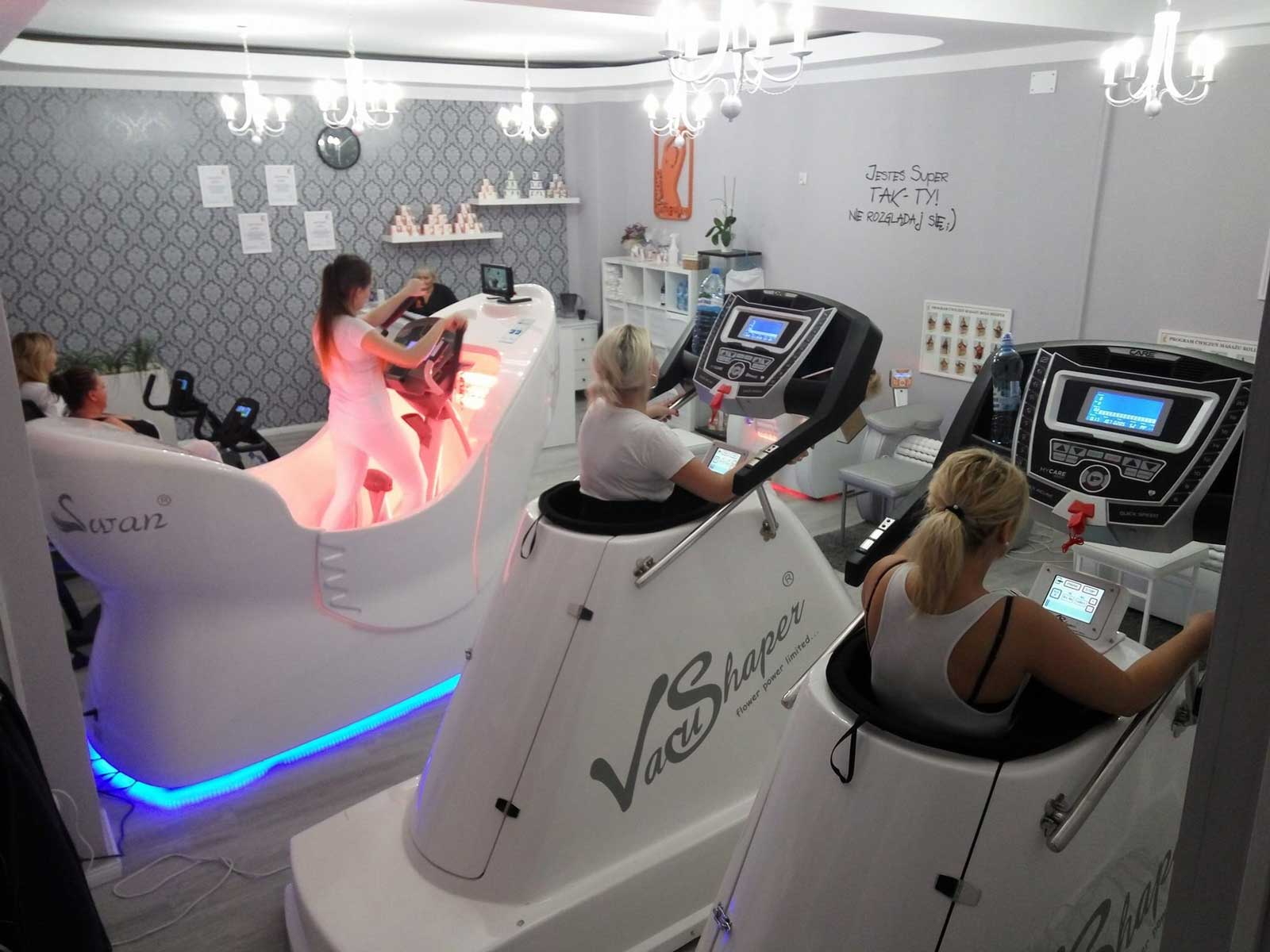 Make a grand opening /
According to the concept of SF, the studios earn money in their first month after opening thanks to their well-constructed marketing plan which is implemented 2-3 months before opening the studio.